Disney Plus Poster for 'Aladdin: The Broadway Musical' Leaks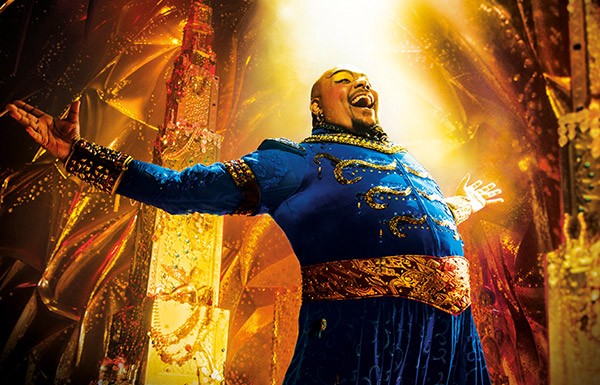 Last year we reported that Disney Theatrical had recorded their musical smash hit Aladdin for future release. Whilst we're still waiting for Disney to officially announce that the show is coming to Disney+, a poster for Aladdin: The Broadway Musical has appeared online, confirming that the stage adaptation will hit the streaming service later this year.

First spotted by a sharp eyed fan on Twitter, a page for the musical is apparently showing up if you search for it on Apple TV. The play button is tauntingly visible but the link currently just takes you to Disney+ where the show is (for now) no where to be found.
⭐ FIRST LOOK – ALADDIN: THE BROADWAY MUSICAL – DISNEY+ ⭐

A little sneak peek of the highly anticipated filmed performance of Disney's Aladdin: The Broadway Musical 💖

Confirmation that we should be seeing it very soon ✨ x x x pic.twitter.com/ZvXAEfBwPH

— Theatre Fan (@ShaunTossell) September 20, 2020
Over the summer rumors swirled that Aladdin was heading for Disney+, and I can confirm that if things had gone to plan we would have been enjoying the show this month, but this is 2020 and plans change. Right now the only release date is "2020", as seen on the poster, but hopefully this is a sign that Disney will be making an official announcement soon. Current speculation is that Aladdin could be hitting the streaming service in December, which makes sense to me as the show would be a perfect holiday release for families to enjoy over Christmas.
Recorded live in the West End last year, Aladdin: The Broadway Musical stars Trevor Dion Nicholas as Genie, Ainsley Melham as Aladdin, Isabelle McCalla as Princess Jasmine, Jonathan Freeman (yes, that Jonathan Freeman) as Jafar, Don Darryl Rivera as Iago, Brian Gonzales as Babkak, Robert Tripolino as Omar, Brandon O'Neill as Kassim, Irvine Iqbal as the Sultan, and the West End ensemble of Aladdin. First staged at Seattle's 5th Avenue Theatre in 2011, Aladdin is directed and choreographed by Casey Nicholaw from a book by Alan Menken. The musical adaptation features music by Alan Menken with songs by Alan Menken, Howard Ashman, Tim Rice, and Chad Begulin. The show opened on Broadway in 2014 before going on to receive Disney Theatrical's fastest ever international rollout.
Aladdin: The Broadway Musical will begin streaming on Disney+ later this year.