Aaron Sorkin's 'The Trial of the Chicago 7' Debuts First Trailer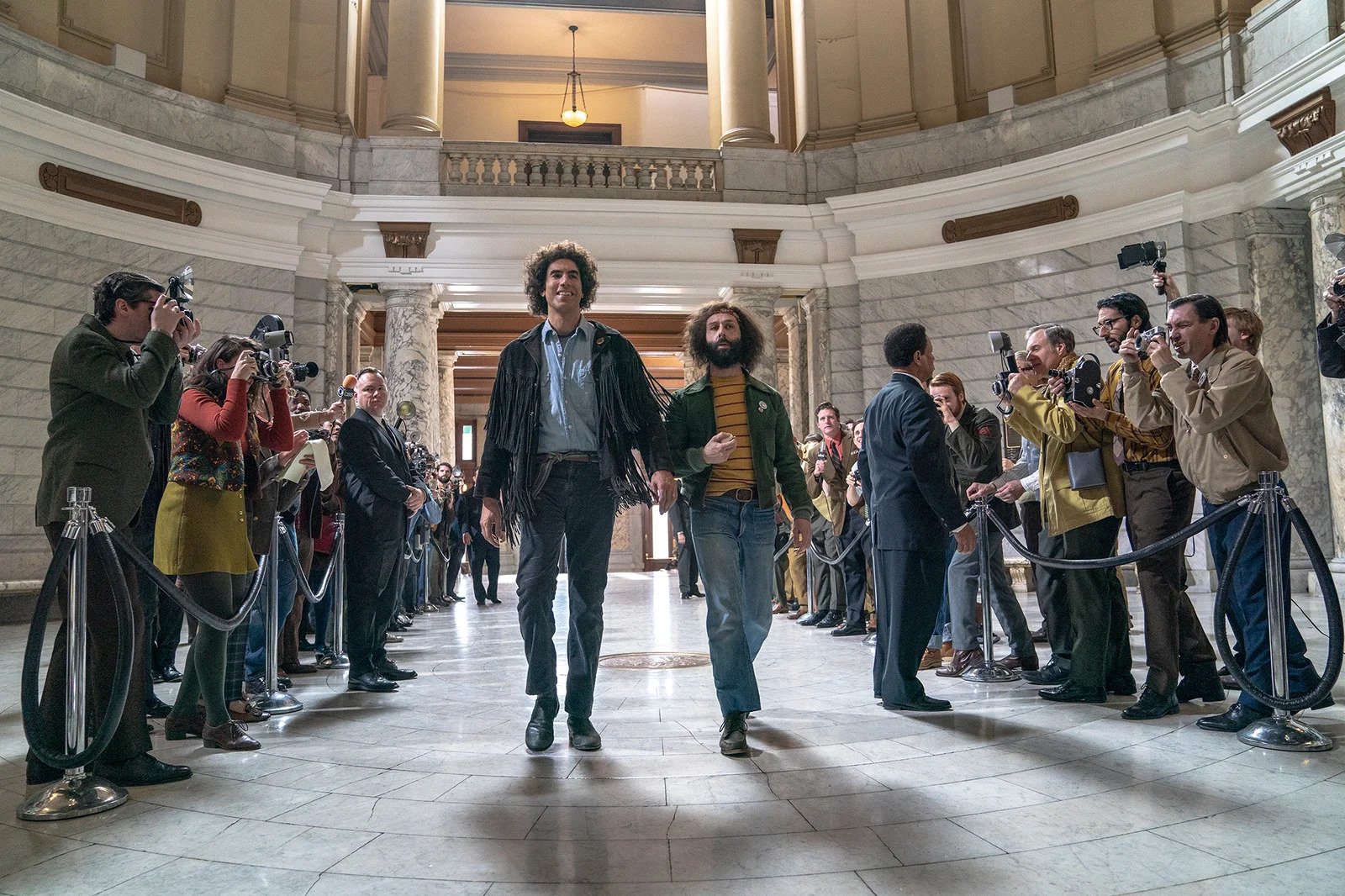 Aaron Sorkin's long-awaited directorial follow-up to Molly's Game is getting ready to be released by Netflix in October. After debuting several pictures from the movie over the summer, our first teaser trailer is here.
To sum it up in five words: the whole world is watching. Netflix intends this movie to play a part in the upcoming elections in the US, and the message couldn't have been louder with this trailer. The whole world is watching, so beware, don't mess this up now. And, at the same time, the whole world is waiting to see what Aaron Sorkin, who has built his career on the political commentaries The West Wing had through the dialogues he meticulously crafted, surprises us with next.
The teaser is already giving you the feels Sorkin wants to transmit through his movie – it's a call to arms, a wakeup call, a "get on the streets" message. Reject thet things you find unfair because that's what people are supposed to do. It's been 50 years since the events depicted by the movie, but they still feel too relevant.
So far, we only have a teaser trailer, which is a marketing tool that has only one goal, despite what everybody thinks: tell the world this movie is coming out, and in doing so, tell them what they can expect from it. And not in terms of plot, but in terms of story, what the movie's heart is going to be. And the message this movie wants to give the viewer is pretty simple: the whole world is watching. And if nothing else, I'd say the trailer succeeded at conveying that message.
Here's the official synopsis for The Trial of the Chicago Seven:
What was intended to be a peaceful protest at the 1968 Democratic National Convention turned into a violent clash with police and the National Guard. The organizers of the protest—including Abbie Hoffman, Jerry Rubin, Tom Hayden and Bobby Seale—were charged with conspiracy to incite a riot and the trial that followed was one of the most notorious in history.
The Trial of the Chicago 7 is written and directed by Aaron Sorkin, produced by Marc Platt, Stuart Besser, Matt Jackson, and Tyler Thompson, and executive produced by Laurie MacDonald, Walter Parkes, Marc Butan, Anthony Katagas, James Rodenhouse, Nia Vazirani, Kristie Macosko Krieger, Maurice Fadida, and Shivani Rawat.
The film stars Eddie Redmayne, Alex Sharp, Sacha Baron Cohen, Jeremy Strong, John Carroll Lynch, Michael Keaton, Yahya Abdul-Mateen II, Mark Rylance, Joseph Gordon-Levitt, and many others. It debuts on Netflix on October 16, 2020, and it will have a short theatrical run as well.
Miguel Fernández is a Spanish student that has movies as his second passion in life. His favorite movie of all time is The Lord of the Rings, but he is also a huge Star Wars fan. However, fantasy movies are not his only cup of tea, as authors like Scorsese, Fincher, Kubrick or Hitchcock have been an obsession for him since he started to understand the language of filmmaking. He is that guy who will watch a black and white movie, just because it is in black and white.