Courteney Cox Set to Return as Gale Weathers in 'Scream 5'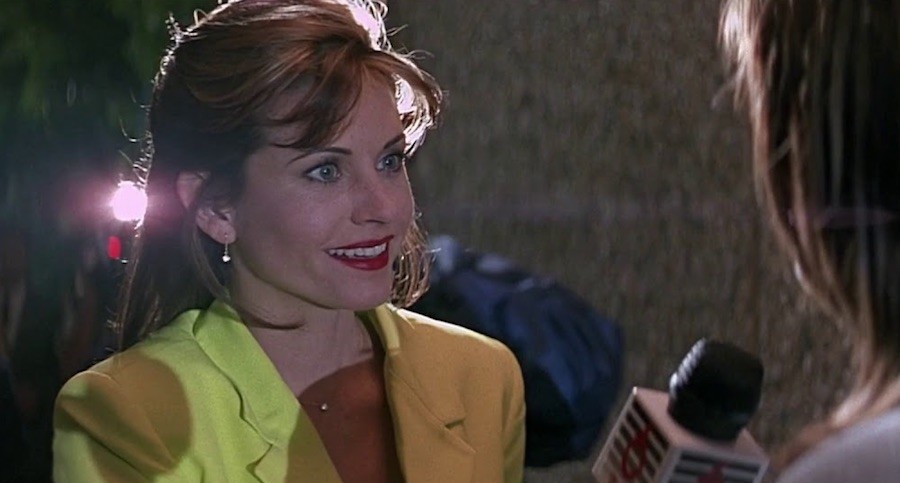 Gale Weathers is returning as your favorite horror news reporter from the Scream franchise.
As reported by Collider, Courteney Cox is set to return as the popular news reporter Gale Weathers from the fictional town of Woodsboro in the next installment of the Scream series. So far the only other confirmed returning star is David Arquette, who plays Dewey Riley, deputy sheriff in the Scream films. However, it is highly expected that the rest of the original cast will return in some fashion.
The next installment in the series will be directed by Matt Bettinello-Olpin and Tyler Gillet, with the screenplay being written by James Vanderbilt (Zodiac, The Amazing Spider-Man). The filmmaking group Radio Silence had this to say about her return:
"We can't imagine 'Scream' without the iconic Gale Weathers and are so incredibly thrilled and humbled to have the opportunity to work with Courteney. We're absolute mega fans of her work and we're so excited to join her in the next chapter of the 'Scream' saga!"
Cox was best known for her role as Monica Geller in the ever so popular Friends television show. Recently, Cox also starred in ABC's Cougar Town. The Scream franchise doesn't look to be slowing down anytime soon, as past installments from the late Wes Craven have gone on to make over $600 million in worldwide box office totals. After the death of Craven, doubt was cast on the survival of the franchise as the last installment was released nine years ago. But, with backing from Spyglass, Lantern Entertainment, and Warner Bros. Pictures, the Scream franchise will live on to see another major theatrical release in the near future.
No release date has been announced for the new film, although it is aiming for a 2021 debut. Obviously, this is subject to change due to the pandemic, as the project has not started filming.
Zach is a business analyst by day and a freelance writer by night. Currently residing in the Los Angeles area, he is a movie fanatic and avid traveler who also enjoys lounging around the house with his best friend/cat Nala.