The Movie News Network – Jude Law as Hook, 'Batman' Spin-off, 'Black Widow', and More!
On this episode of The Movie News Network (the new podcast put together by the MNN team), we discuss the biggest film news of the past few weeks: Jude Law as Captain Hook, a spin-off of Matt Reeve's The Batman, Javicia Leslie as Batwoman, Black Widow news, and much, much more!
Writers for the site David, Miguel, and Alex assemble for this episode of the podcast. Take a listen below, or look for the show on Apple Podcasts, Spotify, or wherever you get your podcasts!
Shownotes:
Intro
News Stories (1:10)
Quickfire News (30:10)
What We've Been Watching (37:15)
Alex: The Imagineering Tale, It's a Dog Life, BlacKkKlansman, Ocean's 8
David: Infinity Train, The Legend of Korra, Hamilton, Palm Springs
Miguel: Space Force, Dear White People, Bojack Horseman, Breaking Bad, The Gentleman, Inception, Onward, Jumanji: The Next Level, Chasing Amy
What We're Hung Up On (55:45)
David: Julia Sawalha is recast for Chicken Run 2
Miguel: Movies dates being pushed back again
Alex: Janelle Monae campaigns to play Storm in MCU
Wrap Up (1:04:20)
Follow David on Twitter, Instagram, and Letterboxd at @davis_wally.
Follow Alex on Twitter at @New_macca and Instagram as @newmacca
Follow Miguel at Movienewsnet.com
In continued support for the Black Lives Matter movement, click here for links to petitions, educational materials, and places to donate.
If you enjoyed the show, take a look at our previous episodes. Also be sure to subscribe, leave us a review, and share it with your friends. See you next time!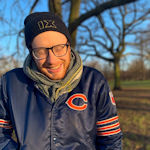 Alex Newman is huge Star Wars fan and loves to keep up to date with the canon. He's also loved movies for as long as he can remember. He's a massive Disney and superhero fan but will watch anything. He's worked at a cinema, a comic book store and at Disney World but is currently working in radio in London! You can find him at @New_macca on twitter.