Get 'Woke' With the First Teaser for the New Hulu Comedy
Fans of Who Framed Roger Rabbit will definitely get a kick out of this upcoming series, but it also looks like a poignant social commentary on race, policing, and apathy.
New Girl's Lamorne Morris stars in the new Hulu comedy Woke, which follows a cartoonist named Keef who starts seeing things after a run-in with the cops. Objects in his daily life start talking, forcing him to reshape his worldview (and question his sanity). Based on the trailer below, it looks like a hilarious blend of comedy, animation, and social commentary. In light of recent events, now seems like the perfect time to discuss the issues brought up in the show. Plus, the way the comedy handles it all just seems fun as hell.
Morris is joined by cast members T. Murph, Blake Anderson, Sasheer Zamata, and Lara Goldie, as well as plenty of other talented folks behind the scenes. The series was created by cartoonist Keith Knight, who the show is loosely based on, and Marshall Todd, known for the Barbershop films. Jay Dyer is serving as showrunner, and will executive produce with Maurice "Mo" Marable, Aeysha Carr, Richie Schwartz, John Will, Will Gluck, and Eric Christian Olsen. The show is a co-production from ABC Studios and Sony Pictures Television and will be premiering in September on Hulu.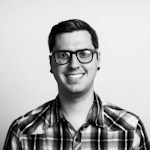 David is a video editor, stop-motion animator, freelance writer, and movie addict. He currently lives in Michigan with his wife and two dogs and can be found obsessing over director commentary tracks and collecting movie memorabilia. In addition to writing for Movie News Net and Star Wars News Net, he also hosts podcasts like The Movie News Network and The No Guff Podcast.