'Infinity Train' Season Three Will Jump the Track to HBO Max
Fans of Cartoon Network's anthology series Infinity Train will have to get a brand new ticket to hop on board season three.
HBO Max is continuing to expand its original animated content with the newest season of Infinity Train. After Adventure Time successfully made the leap to the streaming service with Distant Lands, Owen Dennis's animated series will be following suit. It's unquestionably a great time to be an animation fan, and Warner Bros. is wasting no time in capitalizing on that.
For those not in the know, Infinity Train is an anthology cartoon set on a mysterious never-ending train. Each car is inhabited by bizarre characters and represented by fantastical worlds, and the show tells a pretty epic story in this setting. Infinity Train originally aired in August of 2019 as a mini-series, but the critical reception was so good that it was greenlit for a second season with all-new characters, which aired earlier this year.
The synopsis for this new season (or "Book", as dubbed by the show) can be found below:
In Book 3, Grace and Simon are the leaders of the Apex, an anarchic group of kids on a mysterious train. During one of their destructive missions, Grace and Simon get separated from the rest of the Apex and must find their way back. As the duo navigate through the myriad worlds of the train, they meet Hazel, an optimistic young girl, and Tuba, her gentle gorilla companion. Will Grace and Simon find new inspiration in Hazel's innocence, or will the ways of the Apex recruit yet another aboard the train?"
While the release date is vaguely being teased as "this summer", the first two seasons are up on HBO Max for your viewing pleasure now. This show sounds fantastic, so I'll definitely be jumping aboard ahead of the upcoming season. But for now, be sure to marvel at the new poster: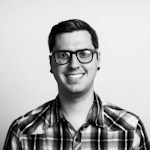 David is a video editor, stop-motion animator, freelance writer, and movie addict. He currently lives in Michigan with his wife and two dogs and can be found obsessing over director commentary tracks and collecting movie memorabilia. In addition to writing for Movie News Net and Star Wars News Net, he also hosts podcasts like The Movie News Network and The No Guff Podcast.