Lord & Miller's Murder Mystery Series 'The Afterparty' Coming to Apple TV+
The brilliant minds behind The Lego Movie, Into the Spider-Verse, and the 21 Jump Street films are back at it again. Phil Lord and Chris Miller's newest project will be a creative spin on the whodunnit, and it's coming exclusively to Apple TV+.
Variety revealed today that the new show will be titled The Afterparty, and that it's already been given the green-light by Apple. The plot revolves around a suspicious death that occurs at a high school reunion afterparty. But like all of Lord and Miller's work, there's much more to it than meets the eye. Each of the eight episodes will be a retelling of the same night, but told from a different character's perspective. To convey these diverse personalities, each episode will be presented in a unique visual style and with a new spin on distinct film genres. Think Knives Out meets Rashomon.
Miller has apparently been developing The Afterparty over the course of nine years, and tweeted his excitement once news of the show broke. He created the series and will be acting as showrunner. He'll be executive producing with Lord through their aptly titled production company, Lord Miller. Producer Aubrey Lee will get the project from script to screen with the help of TriStar TV and Sony Pictures Television.
This is just one of many high-profile endeavors currently under the control of Lord and Miller. Their next directorial effort is Project Hail Mary, a film adaptation of an upcoming Andy Weir novel that will star Ryan Gosling. They're also producing the next Spider-Verse movie and the animated film Connected at Sony. In television, they're executive producing both Hoops at Netflix and Bless the Harts at Fox.
The duo is obviously a hot commodity in Hollywood right now. After their infamous falling out with Lucasfilm over Solo, it's easy to imagine a scenario where all these projects become too much for them. However, I'm confident that they'll push through and give audiences what they're looking for, whatever it takes.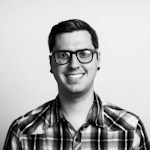 David is a video editor, stop-motion animator, freelance writer, and movie addict. He currently lives in Michigan with his wife and two dogs and can be found obsessing over director commentary tracks and collecting movie memorabilia. In addition to writing for Movie News Net and Star Wars News Net, he also hosts podcasts like The Movie News Network and The No Guff Podcast.