Apple TV+ Shows Off Stunning First Footage for 'Foundation' Series
Isaac Asimov's classic science fiction novel Foundation has long been held up as an unadaptable work. But in 2018, Apple and Skydance Television picked up the material for a television series on their new streaming service, and now they've released an impressive new trailer.
The trailer starts with a behind-the-scenes reel featuring executive producer and showrunner David S. Goyer (Batman Begins, The Dark Knight) talking about the massive impact of the novels on American culture. He then goes on to pat Apple on the back for producing the show, which to be honest just feels a little gross and out of place. Finally, we get into the footage around 0:43 seconds in, and that's where the hype sets in. Check it out below:
The look of the show is nothing less than breathtaking, and it's obvious Apple has put a lot of money into the effects budget. Thankfully, it seems like all of that is in service of Asimov's colossal story. Ominous music carries us through the trailer, creating an uneasy mood that will likely set the tone for the show. We also get glimpses of actors Jared Harris (Chernobyl) and Lee Pace (Pushing Daisies), as well as newcomer Lou Llobell, who looks like she'll be carrying a lot of the show on her back.
It's not clear how many of Asimov's Foundation novels the show is planning to span, but since it's not a mini-series, it's safe to say Apple is in this for the long haul. In addition to Goyer, the show will be executive produced by David Ellison, Dana Goldberg, Marcy Ross, and the author's daughter Robyn Asimov. Rounding out the cast are Laura Birn, Cassian Bilton, and Terrance Mann. Production on the series was halted in March of this year due to COVID-19, but Apple is sticking to their 2021 release date. With this Foundation series in the works, as well as Denis Villeneueve's upcoming Dune adaptation, fans of classic sci-fi literature have plenty to look forward to in the very near future.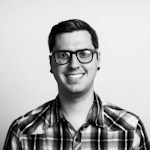 David is a video editor, stop-motion animator, freelance writer, and movie addict. He currently lives in Michigan with his wife and two dogs and can be found obsessing over director commentary tracks and collecting movie memorabilia. In addition to writing for Movie News Net and Star Wars News Net, he also hosts podcasts like The Movie News Network and The No Guff Podcast.