UDPATE! 'The Flash' To See Michael Keaton Play Batman, May See Ray Fisher Return As Cyborg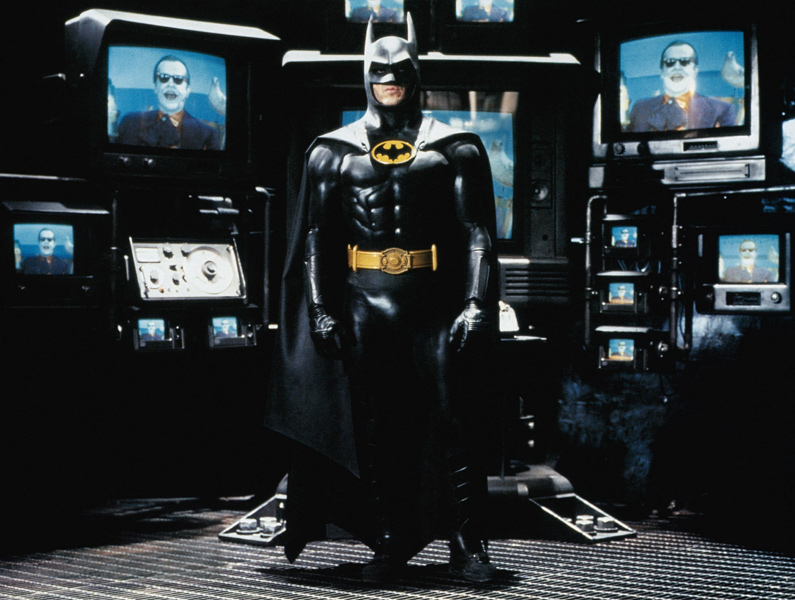 Say hello to the DC Multiverse. The Flash is apparently getting crazy with potential cameos from both Jeffrey Dean Morgan as the Flashpoint version of Thomas Wayne and Michael Keaton as an elderly Bruce Wayne, while Ray Fisher is set to return as Cyborg after his debut in Justice League.
Earlier rumors from DanielRPK (hat tip DCEU Mythic) suggested that Cyborg would be making a reappearance in the DC Films universe after plans for a solo movie with the character have gone nowhere. Back before The Flash underwent a massive period of development hell, Rick Famuyiwa (who went on to direct The Mandalorian) teased that Cyborg had a role in this story, and that may still be the case. One of the film's producers has strongly implied that this is the case. More recently, there was a rumor suggesting that we'll see Jeffrey Dean Morgan play Thomas Wayne's version of Batman in The Flash surfaced days ago on The Cinema Spot, with some buzz suggesting that fellow Batman v Superman: Dawn of Justice alumni Lauren Cohen could return as Martha Wayne's version of the Joker. While neither of those things have been confirmed for the time being, they certainly have received a huge boost in probability with today's update.
That update, courtesy of The Wrap, is a doozy: Michael Keaton, the star of 1989's Batman, is in discussions to make a return to the role in The Flash. The only way that this is remotely possible is if the movie takes inspiration from Flashpoint and opens up the DC Multiverse, which is certainly something that Ezra Miller's surprise cameo on The CW's Crisis on Infinite Earths suggested. But that's not all: if a deal happens, then Keaton may have multiple DC movie appearances going forward in a "Nick Fury"-type role, including a role in the long-gestating Batgirl project. If so, then expect his iteration of Bruce Wayne to play a similar role to the one seen in Batman Beyond, paving the way for a younger apprentice.
Meanwhile, Robert Pattinson will be the main Batman actor going forward, although it's not 100% clear if his movies will connect to whatever becomes of the DC Films shared universe after The Flash. It's been clear from the start that his version would be a new cinematic iteration of Batman, but The Flash could easily be used to justify changes in the shared setting thanks to its rumored Flashpoint inspiration, and the time travel/dimension travel elements that The Hollywood Reporter are describing. (Ideally, crossovers would be minimal prior to the completion of director Matt Reeves's intended trilogy.) Zack Snyder's Justice League is meant to be the finale to the so-called "Snyderverse", while the setting going forward will distance itself from those adaptations and keep what most audiences agreed that worked. Meanwhile, it's entirely possible that the creative team on The Flash incorporates Henry Cavill's Superman in a cameo or a supporting role, given that the movie is now clearly more than just a standalone about the Scarlet Speedster.
UPDATE!
According to The Wrap's Umberto Gonzales, Jeffrey Dean Morgan is unlikely to return, as the Thomas Wayne character has not been in several of the most recent drafts that The Flash has gone through as a result of the creative changes on the project:
There is no Thomas Wayne Flashpoint Batman. He hasn't been in the script for years. Now you know the reason why.

— Umberto Gonzalez (@elmayimbe) June 22, 2020
Curiously, Morgan did tease a "masked comeback" for a future movie, so perhaps it's not entirely out of the question that we could see a second alternate version of Batman in The Flash:
Gus found the comedian mask. Still fits like a glove. And looks extra extra with my badass bifocals. Here's to a masked comeback in 2020. pic.twitter.com/Df7WHuaNnN

— Jeffrey Dean Morgan (@JDMorgan) December 31, 2019
Word going around is that this movie is not being used as a way to make Pattinson's Batman the main universe version of the character, meaning that the actor will portray the character for three movies and what happens after that will be unclear. Given that The Flash is opening the door to alternate universes and timelines, DC Films could easily pull the stunt they're doing now with the forthcoming Batman trilogy after Matt Reeves has completed his work with the character.
The Flash is to be directed by Andy Muschietti (both IT movies) and written by Christina Hodson (Birds of Prey (and the Fantablous Emancipation of One Harley Quinn)), and will also be produced by Barbara Muschietti (both IT movies) and Michael Disco (Game Night). The movie is tentatively set for a June 3, 2022 release date, although that may change due to production delays caused by COVID-19.

Grant Davis is a freelance writer who has covered entertainment news for more than four years. His articles have frequently appeared in Star Wars News Net as well as as other entertainment-related websites. As someone who grew up on Star Wars and comic book movies, he's completely thrilled with the current era of genre entertainment.