First Teaser For 'Zack Snyder's Justice League' Features Glimpse At Darkseid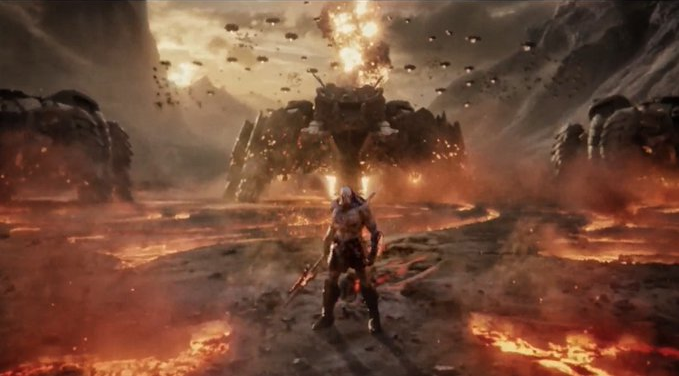 When Zack Snyder's Justice League was first announced, the director took to Twitter to reveal the above image, shown in color for the first time. Now, he's shared a very short teaser hyping up Darkseid's role in his director's cut of the movie he filmed back in 2016 and 2017.
The short look at the new cut of the film, consisting entirely of unused footage from the theatrical release, features Diana Prince (Wonder Woman) looking through some catacombs, finding a mural of Darkseid (then known as Uxas). The scene then flashes back to ancient times, during the initial Apokoliptian invasion of Earth, as Darkseid leads an invading force into the planet. Accompanied with the footage is a repurposed version of some dialogue from Batman v Superman: Dawn of Justice, when Lex Luthor told Batman about the threat that was coming to Earth following the temporary demise of Superman. It's just over thirty seconds, but you can check it out below:
First ever sneak peek at JL. Get ready for more at DC FanDome. @hbomax #releasethesnydercut #DCFanDome pic.twitter.com/WIWwFo4Xnt

— Zack Snyder (@ZackSnyder) June 18, 2020
This clip is likely the teaser that he's been hinting at for the past few weeks, and with Zack Snyder promising to show more off at DC FanDome in August, there will be plenty more where this came from. What's been described about the movie has indicated that Darkseid's role is something of an extended cameo throughout the film, and the movie itself is being described as a "closed loop" with no further plan to make any additional sequels. Nonetheless, Darkseid is confirmed to have a presence in the forthcoming New Gods movie, so there's a chance that that movie will build upon this version of Justice League in some way.
Zack Snyder's Justice League will release on HBO Max sometime in 2021. Meanwhile, the studio's version of the film is available to watch on Blu-ray, DVD, digital, and streaming formats. Zack Snyder's Justice League will be released in the same year as The Suicide Squad, The Batman, and Black Adam, presuming that no further delays on any project take place.

Grant Davis is a freelance writer who has covered entertainment news for more than four years. His articles have frequently appeared in Star Wars News Net as well as as other entertainment-related websites. As someone who grew up on Star Wars and comic book movies, he's completely thrilled with the current era of genre entertainment.