'Jurassic World: Dominion' to Be the First Movie to Resume Production in the UK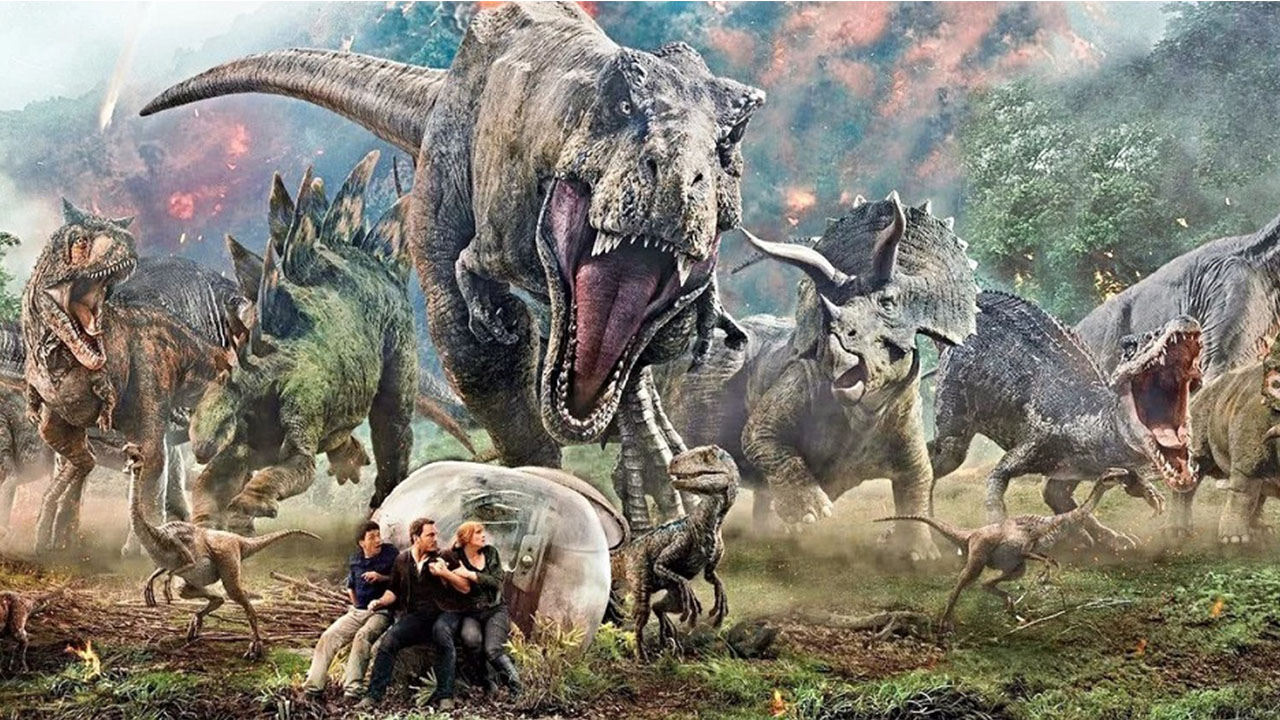 After the UK government gave its blessing for film productions to start happening in its territory, it now looks like Universal's Jurassic World: Dominion will be the first major Hollywood production to do so.
Deadline is exclusively reporting that the third installment in the Jurassic World saga, which may be expanding its storytelling beyond three movies, will resume production as soon as July 6, at Pinewood Studios. This was fully expected, just as we stated in our article from last month, saying that the movie would be resuming production as soon as possible.
Colin Trevorrow, who is back at the director's chair, had completed four out of twenty weeks of principal photography before they were forced to shut down production due to coronavirus concerns. This piece of news comes on the heels of last month's announcement by the UK government about film production being allowed again, as long as safety protocols are strictly followed. More on this later.
While Dominion is the first Hollywood movie to officially have a day to come back, it is expected that others will follow soon. Most likely, the first ones to do so will be WB's The Batman, which had been filming since January before it shut down on mid-March, and Fantastic Beasts 3, which halted principal photography days before it was supposed to start. Also, Disney's The Little Mermaid was warming up to begin shooting in the UK before the crisis as well, so that is also expected to start soon. Deadline is saying that many construction crews are going back to work on several productions, meaning many more announcements like this one will follow soon.
When it comes to safety protocols, Universal will spend up to $5 million to ensure that everyone on set is safe and healthy. This budget will cover thousands of tests that will be done during the remaining of principal photography for everyone involved and the hiring of an entire medical crew that will make sure everyone is safe and will take care of anyone associated with the production that may feel sick. Anyone with symptoms will be immediately isolated and sent home right after.
Several members of the cast and crew, including Chris Pratt and Bryce Dallas Howard, flew back to the US when the hiatus happened. They will be sent back to the UK as soon as possible, and they will be quarantined for two weeks following government rules.
One of the key elements that has allowed this to happen is that the insurance hired by Universal before the pandemic hit will remain with no changes for this second part of filming. This is extremely important, as insurance is no doubt one of the most important parts of any film production, and not having it all cleared up could cause major delays for any movie to resume filming. Another key element to bear in mind is that Pinewood Studios has been charging Universal holding fees while production was shut down, meaning that, to minimize costs, they were forced to go back in as soon as possible.
It is also important to understand that the budget Universal has set for health coverage for this movie might not be the case for every movie that will resume filming this summer or this fall. Dominion is a very high-budget feature, and throwing in another $5 million, while it is indeed a lot for the studio, will not represent that big of an increase of its production budget. However, for more independent films, this could represent a major problem. 2016's Moonlight, which went on to win Best Picture, had a production budget of $1 million, for example.
We have to keep in mind that these numbers are linked to Dominion having a very big set, which means that one normal day of filming could have hundreds of people on set. According to Universal's protocols, they all must be tested multiple times during filming. Also, having so many people there will cause many doctors and nurses to be hired, which will also cost a lot of money. In addition, hiring a cleaning crew to take care of such a big set will also cost them a great deal of money. Indie productions will most likely not have to deal with all of this.
To film movies like Moonlight or Call Me By Your Name, you probably don't need more than a dozen people on set, which reduces the costs of testing and medical crews a great deal. Also, the sets aren't as big, so you probably don't have to hire that many people to clean it afterward. While the studios will have to put in more money, it will probably be much less for smaller movies. However, this is all speculation, and there is nothing in the Deadline article to back it up, but I think it's pretty logical.
According to the article, these are the protocols that have been set by Universal, which are created following the UK's government rules but most likely will vary slightly from studio to studio:
A private medical facility called Your Doctor will be created to manage the entire crew's medical requirements.
Your Doctor will test everyone before production resumes, and then they will perform several other tests during the rest of the production, including antibody tests.
Everyone from the crew will have its temperature tested before they go to work every day and will not be allowed until the test is complete. There will also be additional temperature test stations set up on location.
1,800 signs will be set up at various points at Pinewood studios in order to remind the crew that, at some points, only a limited amount of people is allowed, to remain social-distant from each other (6 feet apart), and to guarantee one-way walks.
Everyone in the crew must take a full COVID training program before filming resumes.
There will be 150 hand sanitizer stations set up at various points in Pinewood Studios, and everyone in the crew will be given an extra hand sanitizer bottle before filming resumes.
The studio will double the cleaning recommendations given by the government and will employ a very large cleaning team to guarantee that every place is extremely ready for use. Props, cameras, and several other instruments required for filming will be specially taken care of.
A 'greenzone' will be set up, and it will have an especially enhanced testing environment. No untested member of the crew will be allowed in.
Extra security measurements will be taken to guarantee temperature checks and stop untested members from going into the greenzones.
Jurassic World: Dominion is being directed by Colin Trevorrow, from a script written by Trevorrow and Emily Carmichael, based on a story by Trevorrow and Derek Connolly. Chris Pratt and Bryce Dallas Howard return for the third installment, which will have Laura Dern, Sam Neill, and Jeff Goldblum back as their characters from the original movie. Currently, the movie is set to open on June 11, 2021, but we won't be surprised if it gets pushed back a few months after losing around three months of production.
Miguel Fernández is a Spanish student that has movies as his second passion in life. His favorite movie of all time is The Lord of the Rings, but he is also a huge Star Wars fan. However, fantasy movies are not his only cup of tea, as authors like Scorsese, Fincher, Kubrick or Hitchcock have been an obsession for him since he started to understand the language of filmmaking. He is that guy who will watch a black and white movie, just because it is in black and white.