The Movie News Network – 'Justice League', 'Wolfman', 'Tenet', & More
On this episode of The Movie News Network (the new podcast put together by the MNN team), we discuss the biggest film news of the past few weeks: the Snyder cut of Justice League, The Avatar sequels, Wolfman, and much, much more!
Writers for the site David and Alex assemble for this episode of the podcast. Take a listen below, or look for the show on Apple Podcasts, Spotify, or wherever you get your podcasts!
Shownotes:
Intro
Big News Stories (01:11)
Quickfire News (29:15)
Doug Liman to direct Tom Cruise movie filmed in space
Ruby Rose leaves Batwoman
Disney reportedly working on Snow Queen movie
Scott Derrickson to direct Labyrinth 2
Safdie Brothers have signed two year deal with HBO
What We've Been Watching (34:20)
David: Hello Dolly, Daddy Longlegs, Dick Tracy, Adventure Time, The Good Place, Ru Paul's Drag Race, The Dark Crystal
Alex: Pleasantville, MCU Rewatch, Funny Girl,  Pitch Perfect Trilogy, The Lighthouse, The Shining, Disney Gallery: The Mandalorian, Community, Rick and Morty, Rapunzel's Tangled Adventure.
What We're Hung Up On (47:26)
Alex: Some Good News sold to CBS
David: HBO Max cropping their movies to 16:9
Wrap Up (55:13)
Follow David on Twitter, Instagram, and Letterboxd at @davis_wally.
Follow Alex on Twitter at @New_macca and Instagram as @newmacca
If you enjoyed the show, take a look at our previous episodes. Also be sure to subscribe, leave us a review, and share it with your friends. See you next time!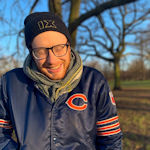 Alex Newman is huge Star Wars fan and loves to keep up to date with the canon. He's also loved movies for as long as he can remember. He's a massive Disney and superhero fan but will watch anything. He's worked at a cinema, a comic book store and at Disney World but is currently working in radio in London! You can find him at @New_macca on twitter.