Killing Eve S3/E7 Review: 'Beautiful Monster'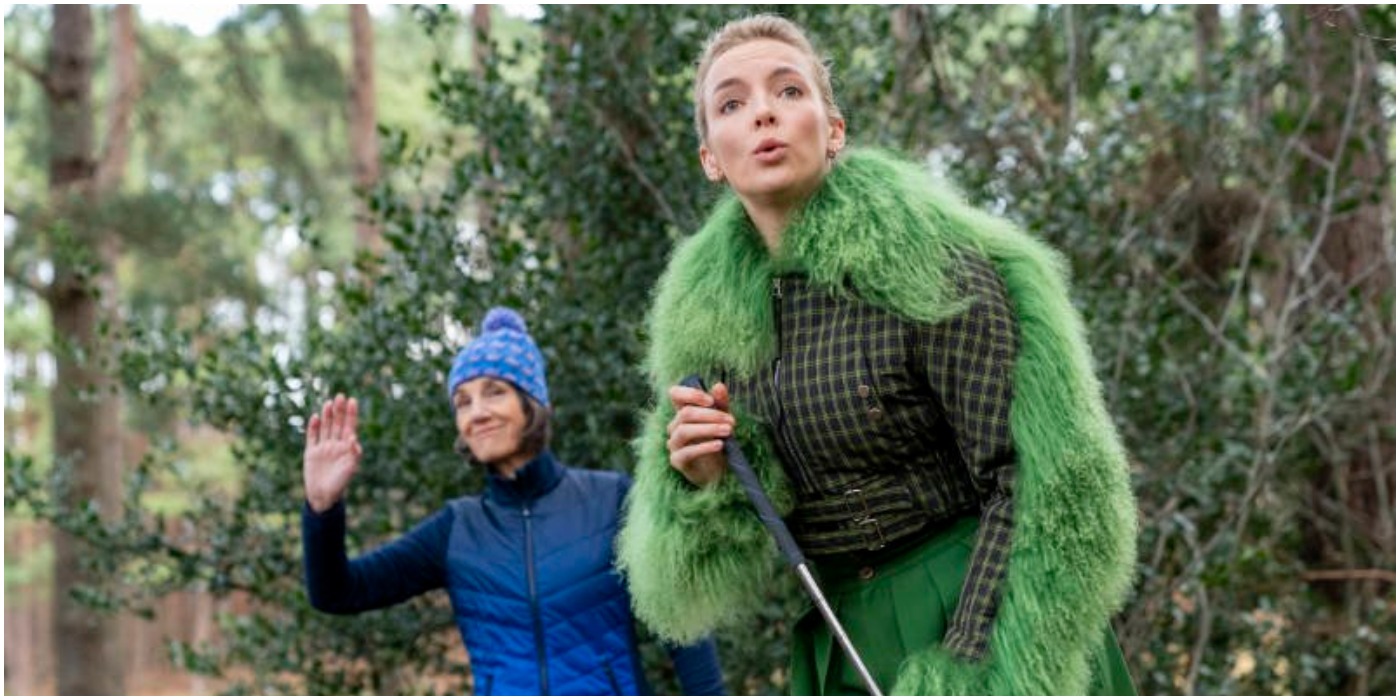 Killing Eve can never go back. The music says so. The characters say so. The gravity of these two magnificent lead characters – the assassin and her dogged pursuer – says so. What's up is down and what's down is Villanelle's stock with the shadowy Twelve.
The penultimate episode of the season opens with Villanelle paying a visit to Helene, the mysterious figure representing The Twelve. The scene takes place with a Kubrickian mood, as Villanelle is dwarfed in the giant, antiquated space filled with art, weapons, and Medieval armor. Villanelle has lost her armor. It's plain to see for everyone.
Jodie Comer continues to deliver an outstanding performance as Villanelle, who is in full tailspin after the murder of her family back in Russia. Last week, she decided she didn't want to kill anymore but a late-inning attempt to get back in the game ended with her uncharacteristically being injured. Now Helene is judging whether Villanelle is still worth the trouble.
Villanelle convinces Helene, shadowed by another female assassin, to let her do another job. This time she'll take Dasha. This entire season has been about Villanelle's need to grow. In order for her to become who she is, she has to know who she was, and both of those things are not what she hoped. Her link to Eve, which has to this point seemed primarily sexual, now becomes something much more complex. Does Eve represent a maternal figure Villanelle seems to seek out (and ultimately destroy)? Is she a lover? A friend? That becomes even more complicated in this episode.
Eve has been on her own journey. Since the beginning of the series, her arc has been more obvious than Villanelle's. Eve is a straight shooter, staid, comfortable, deeply confused by her fascination with an international assassin. I questioned the decision to leave Nico alive, as it undercut a much-needed opportunity for growth for Eve. That relationship is going nowhere, and so was the plot Dasha concocted to (almost) kill him. Eve immediately knew it wasn't Villanelle.
Without the pinch of Eve suspecting Villanelle of Nico's death – and Kenny, lest we forget him – the urgency and tension in her arc this season seems short-circuited. But the show recovers as the paths of the two women literally and figuratively cross in Aberdeen.
Villanelle hits the links in what has to be her most outrageous outfit yet – a cropped coat with enormous green shearling sleeves – in order to take down her target. Dasha accompanies her as they lure the stereotypically loud American into the brush so Villanelle can do the deed. But she can't. As Dasha teases right before, Villanelle has lost it. Not quite. Villanelle turns her golf club on Dasha and makes a final, bloody break with The Twelve, and perhaps, with a life of wanton murder.
Eve is literally minutes away as this happens. She's tracked Villanelle to Aberdeen after digging the box of the cake Villanelle sent her for her birthday out of the trash, and doing some detective work with the bakery. Well, Bear does most of it at The Bitter Pill, in what feels like a stab at making this part of the season's plot relevant. The show hasn't done anything with them or really with Kenny's murder, despite the fact that it's ostensibly driving everything.
Eve comes across the shell-shocked American mark on the road, and she beats it to the sixteenth hole, where Dasha remains, unconscious. Eve rouses her, only for Dasha to twist the knife by implying she attacked Nico. This is enough for Eve's last string to break and she plants her foot squarely on Dasha's chest. Since the beginning of the show, Eve has drifted closer and closer to the chaos Helene says Villanelle represents – a 'beautiful monster' – and now she's crossed paths with Villanelle.
She doesn't kill Dasha – that's interrupted for the time being at least – but the seeds planted in season two with her (justified) ax murder of another Twelve operative bear fruit. Eve is released. It's not Kenny's murder she's chasing anymore, as Carolyn correctly identifies in their brief meeting at the top of the episode. Of course the show doesn't care about who killed Kenny; Eve doesn't. She cares about finding Villanelle, and about completing something she doesn't understand. But now she wants it.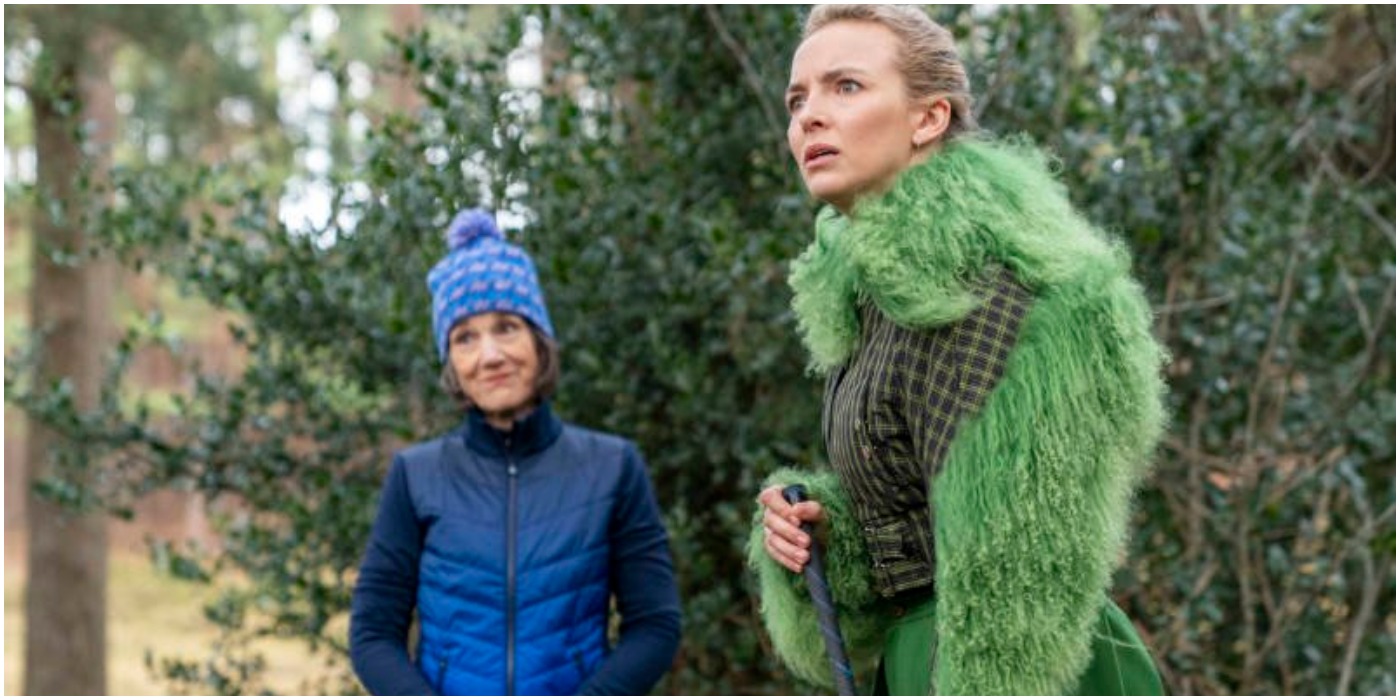 What does Eve want? Carolyn warns her that the hero only gets the girl in Hollywood. Eve flinches at this, but as usual, Carolyn is onto something. Eve's romantic feelings for Villanelle are so deeply buried they continue to surprise her – that kiss shocked her more than Villanelle – but any kind of relationship has a lot going against it. Huge Problem #1 is that Villanelle is now AWOL.
Konstantin arrives to pick her up on the road out of the golf course, but he's got his own problems. His daughter ran over her mother's boyfriend last week, and the prospect of her turning out to be another little serial killer – something she is way too giddy about – gives him chest pains. Konstantin is under enormous pressure. He's stealing from The Twelve, killing to cover his tracks, and trying not to be discovered as he prepares to make his final escape. His daughter complicates that.
His heart gives out in the train station as he and Villanelle attempt to flee Scotland. I don't want to die, he keeps saying, and Villanelle doesn't want him to. This is a man she's tried to kill. Killing her mother has completely broken her, but she still has her instincts and she takes the info she needs to get Konstantin's money and gets on the train. Eve arrives, just in time for them to wave to each other.
Back in London, Eve gets a call from Villanelle. Normally, these calls and cakes and teddy bears are threatening but not now. Eve smiles, knowing their fate is to meet again, and that the tables have turned. Eve sold the idea of going after Villanelle to Carolyn as closing in on The Twelve. That's the farther thing from her mind in the closing moments of the episode. All that matters is Villanelle.
Parting Shots:
The show opens with the same unusual title sequence it did in episode two, but with a song that has caused a bit of a stir online. The song, "Look What You Made Me Do," is a 2017 track from Taylor Swift. This cover version is attributed to Jack Leopards and The Dolphin Club, except they don't seem to exist.
The silent assassin accompanying Helene does advance the plot regarding Kenny a little, by murdering Carolyn's aide Mo. He was on his way to give Carolyn big news.
His death finally breaks the brittle ice Carolyn has been encased in since the death of her son. Challenged by her daughter – who is the weak link this year – to feel something, Carolyn smashes her bedroom up and then calmly walks out.
Konstantin ends up in the hospital – laughing – but his delirious guffaws end when he realizes Dasha is on the other side of the curtain.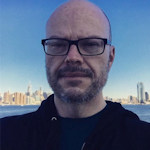 Darby Harn is a contributor for Screenrant, CBR.com, Star Wars News Net, and Movie News Net. He is the author of the sci-fi superhero novel EVER THE HERO. His short fiction appears in Strange Horizons, Interzone, Shimmer, and other venues.