Before Elsa and 'Let It Go' took the world by storm in Frozen, Disney Animation was working on a more traditional version of The Snow Queen. Now it looks like Disney is taking another crack at the classic Hans Christian Anderson tale as The Disinsider is reporting that the House of Mouse is in early development on a live action version of The Snow Queen.

Whilst it's now impossible to imagine Frozen as anything other than the story of two sisters, the fairy tale proved to be a tough one for Disney to crack, with Disney Legends like Glen Keane and Alan Menken involved in earlier attempts at a more direct adaption of Anderson's story for animation.
According to The Disinsider, this new live action feature is being developed for theatrical release and will not be an adaptation of Frozen. Instead, the film is said to be an original adaptation of the classic tale with Christopher Robin and Cruella's Kristin Burr on board as producer. The Disinsider notes that The Snow Queen is one of Anderson's longest stories. Perhaps this is one reason why Disney Animation's earlier attempts at a more traditional adaptation of the story failed. With the benefit of a longer run time, a live action adaptation will have more room to tell the story and flesh out the characters and their relationships.
Disney's next live action adaptation is Mulan. Bringing together elements from both Disney's animated adaptation and the classic Chinese poem The Ballad of Mulan, the action adventure is currently due to hit cinemas on July 24, 2020.
The concept art at the top of this article comes from one of Disney's early attempts at developing The Snow Queen for animation.
SOURCE: – The Disinsider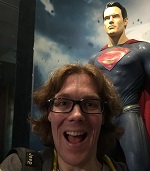 Chris is a lifelong fan of Disney, Star Wars and super heroes who can't quite believe this golden age of movies and TV we're living in. Having written blogs dedicated to Disney's Aladdin musical and Star Wars Celebration, Chris is excited to be part of the MNN team.