New Spike Lee Movie 'Da 5 Bloods' Gets a Trailer
Spike Lee shared a thirty second teaser trailer for his new film Da 5 Bloods which is set to premiere on Netflix June 12. The trailer shows us some striking imagery from the movie, teases the release of a full trailer sometime in the next 24 hours and gives us our release date. UPDATED: Full trailer released.
Spike Lee is known for his powerful films including Malcom X, 25th Hour, and most recently, 2018's BlacKkKlansman. Da 5 Bloods tells the story of four Vietnam Veterans as they return five decades after the conflict has finished. A recent Vanity Fair interview with Spike Lee said this:
The men's reunion has a purpose beyond just reminiscing about not-so-good old days. The men are gathering for their fallen squad leader, who didn't get the chance to grow old. He's still buried in one of the jungle valleys, and they want him to get a proper burial back in the States. Also, there's something else buried near him that the men want: gold bars lost long ago by the CIA in the war zone.

After a firefight, the Bloods found the gold and hid it at the site of a plane crash where Norman lost his life, and now they see the fortune as reparations of a sort—money that could help fund good causes for civil rights and equality back in the U.S. Or…maybe they themselves are good enough causes. Greed and betrayal becomes a factor. "Gold! There's gold in them hills," Lee said. "Gold does strange things to people."
The films stars Chadwick Boseman as the fallen commander and Delroy Lindo, Isiah Whitlock Jr., Clarke Peters, and Broadway star Norm Lewis, as the four man platoon returning to Vietnam. Lino, Whitlock and Peters have worked with Lee before on projects.
AwwwwwwwwwwwwwwwwwwSheeeeeeeeeeeeeeeeeeeeeeettt. pic.twitter.com/frV4xhHg0Y

— Spike Lee (@SpikeLeeJoint) May 18, 2020
The edges are cut off on the Tweeted video but still set the scene for what should be an interesting, and confronting, film about brotherhood, patriotism and the weight behind those words. The full trailer drops soon and we'll be sure to update you when it does.
Update: The full trailer has been released!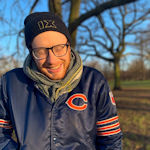 Alex Newman is huge Star Wars fan and loves to keep up to date with the canon. He's also loved movies for as long as he can remember. He's a massive Disney and superhero fan but will watch anything. He's worked at a cinema, a comic book store and at Disney World but is currently working in radio in London! You can find him at @New_macca on twitter.