Robert Downey Jr. Producing 'Sweet Tooth' Adaptation For Netflix
There isn't a ton going in Hollywood at the moment, but the future of streaming content looks bright. Robert Downey Jr. and his wife and producing partner Susan Downey are bringing an adaptation of the DC Vertigo comic book Sweet Tooth by Jeff Lemire to Netflix.
According to Deadline, Netflix has picked up an order of eight, one-hour episodes. The project had previously been at Hulu but ultimately didn't go forward there. The upcoming streaming series is based on the critically acclaimed comic book by writer and artist Jeff Lemire. Sweet Tooth follows the adventures of Gus – part deer, part boy — who leaves his home in the forest to find the outside world ravaged by a cataclysmic event. He joins a ragtag family of humans and animal-children hybrids like himself in search of answers about this new world and the mystery behind his hybrid origins.
Team Downey is bringing a lot of talent to bear on the project. Hap and Leonard co-creator Jim Mickle, Arrow showrunner Beth Schwartz lead the creative team. Both will co-showrun and Mickle will direct. Christian Convery (Beautiful Boy), Nonso Anozie (The Laundromat), Adeel Akhtar (Les Misérables) and Will Forte (The Last Man on Earth) head the cast with veteran actor James Brolin as the voice of the narrator. Team Downey is producing in association with Warner Bros. Television.
Sweet Tooth is just one of many well-received comic book projects that Jeff Lemire has created over the last decade. His other notable titles include the superhero focused Black Hammer (for Dark Horse Comics) and sci-fi Descender (for Image Comics), which both would also be ideal for streaming series should this one work out. Lemire teased on Twitter today that a new Sweet Tooth comic is in the works, which would be the first since the regular series ended in 2013.
It is happening again…that candy bar you liked is going to come back in style. @DCComics pic.twitter.com/9vLDA27W5C

— Jeff Lemire (@JeffLemire) May 12, 2020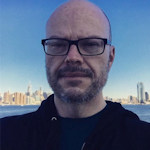 Darby Harn writes for Screenrant, CBR.com, Star Wars News Net, and Movie News Net. His sci-fi superhero novel EVER THE HERO debuted in January. His short fiction appears in Strange Horizons, Interzone, Shimmer, and other venues.