AMC Stock Skyrockets Amid Rumors of Amazon Merger
Another week, another huge twist in the evolving saga of AMC Theatres. But after a long string of tough news, the word on the street says that things are finally looking up for the world's largest cinema chain.
If the rumor mill is to be believed, the future of AMC might just rely on a good old fashioned merger. Daily Mail is reporting from their sources that the retail giant Amazon is currently in talks to purchase the theater chain. It's unclear which direction the chats are heading, and the trade says that they're not even sure if discussions are still underway. Regardless, just the thought of this sent a burst of enthusiasm right into the heart of Wall Street.
A day after the Daily Mail report, AMC's stock increased by 30% to $5.32 per share. This is the highest its been since March 4th, which is particularly promising in such a period of fiscal concern. Obviously, since it's still just a rumor, investors might be overreacting. The stock market is a fluid entity, particularly right now, so I wouldn't put too much faith in the idea of Amazon taking over yet.
But this onslaught of news is no surprise. It's a time of economic uncertainty for big and small theaters, and AMC has had it particularly rough. Rumors have been circulating that they're ready to close up for good. Just last week we reported on the ongoing feud with Universal, and AMC's refusal to play the studio's films. And while that strategy may be a good negotiating tactic, it won't be viable in the long term. Now is their moment to put together a levelheaded plan for the company's future, and perhaps to get a little creative.
Not everything is peachy for the consumer, however. The more big mergers in the entertainment industry, the less choice we might have at the box office. Last year saw the merger of two of the biggest movie studios. Efforts have been ongoing by the Justice Department to allow studios (like Amazon) to own theaters. As the film-going public, we must be aware of what's happening in the industry, and to stay diligent.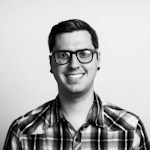 David is a video editor, stop-motion animator, freelance writer, and movie addict. He currently lives in Michigan with his wife and two dogs and can be found obsessing over director commentary tracks and collecting movie memorabilia. In addition to writing for Movie News Net and Star Wars News Net, he also hosts podcasts like The Movie News Network and The No Guff Podcast.