Review – 'Better Call Saul' S5/E7: "JMM"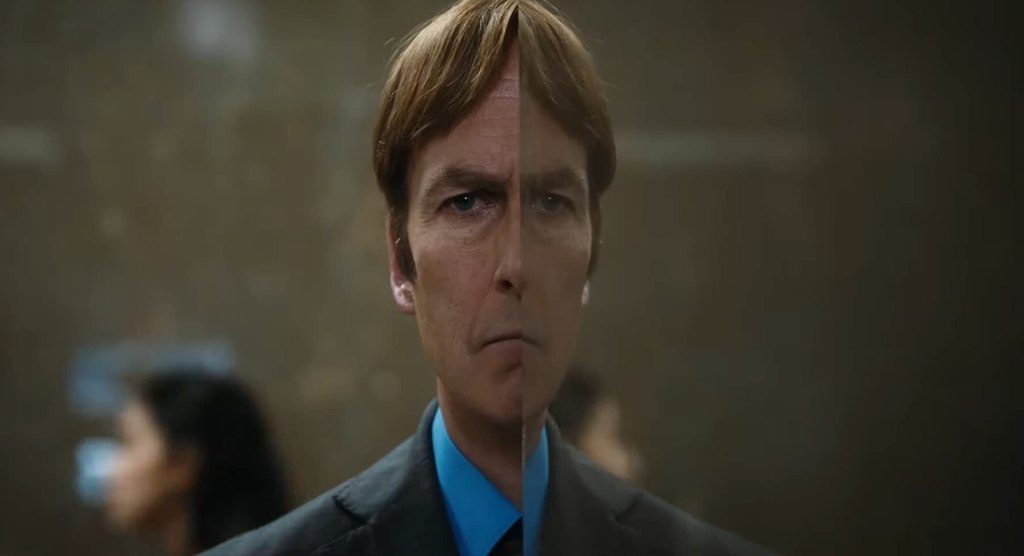 "JMM" takes on multiple meanings in episode 7, as Jimmy fights an internal battle between himself and Saul Goodman in a character-defining episode of Better Call Saul.
SPOILER WARNING
So… they got married! Jimmy Morgan McGill (J.M.M.) and Kim tied the knot with Huell as Jimmy's witness, no less. The reason for the marriage is that Kim won't have to testify against Jimmy if he gets in trouble. The marriage is all business and relatively awkward, but there is emotion behind it. From the preview for this episode, I thought they were showing up in court for a different reason, but it turned out to be a courthouse wedding with short vows and no rings.
In another epic Kim moment, Kevin calls Rich and Kim into his office to discuss his disappointment in their lawyering, and even tells Kim she could do better than Jimmy. At first, Kim just takes it and walks out, but then she turns around, walks back into Kevin's office, and tells it like it is: Kevin didn't listen to the advice Kim gave him throughout this whole debacle. He must respect her being so direct, because he decides to let them stay on and continue to represent Mesa Verde.
Episode 7 also has some good moments with Mike, as he has assumed his grandfather duties, and even reads Kaylee a story and puts her to bed. This is definitely the Mike we know from Breaking Bad, and it seems he has found his purpose by working for Gus Fring. Mike also might be Nacho's only hope because Nacho wants out. Might we get to see "The Disappearer" once again?
We then catch up with Gus at some type of restaurant conference, where he puts his new curly fries on display. When he knocked on the neighboring door of his hotel room, I was shocked to see Lydia on the another side. Another cameo from Breaking Bad, Lydia was the character who supplied Gus (and eventually Walt) with methylamine. Gus and Mike discover that Lalo (from jail) orders Nacho to burn down Pollos Hermanos. So, Gus does the only sensible thing and helps Nacho burn it down himself. I'm not sure what Gus's endgame is here, but I'm definitely looking forward to finding out!
The final piece of this plan is to have Jimmy get Lalo out on bond, which ultimately gets set at 7 million dollars. However, this is no problem for Lalo, apparently. The scene in the courtroom with Jimmy and Lalo is particularly poignant, as it is the first time we really see Jimmy struggle with being Saul Goodman. My heart broke for Jimmy as he stared at the family of Lalo's murder victim, who just want justice. Jimmy's mantra has been "Justice Matters Most", another meaning of "JMM", and this moment is definitely at odds with what Jimmy stands for, as he is defending a murderer and member of a drug cartel. We even get a nice shot (seen in the featured image above) of Jimmy being split in two. Will "JMM" stand for "Justice Matters Most" or "Just Make Money"?
Easter Eggs/Cameos:
Jimmy's previous marriages are referenced by the clerk who works in the courthouse. Jimmy was married two times prior to marrying Kim.

Peter Schuler (the head of Madrigal Electromotive, the parent company of Los Pollos Hermanos) shows up in this episode, once again doing a taste test. In Breaking Bad, after sampling different dipping sauces, he committed suicide in order to avoid being arrested after hearing about Gus Fring's death.
Lydia makes her first appearance since Breaking Bad, including her Louis Vuitton high heels. 
Josh is a proud father, husband, and freelance writer. Josh is a diehard Star Wars fan, but has an appreciation for all types of film and TV. He is that guy who constantly uses movie quotes in everyday conversations, even when no one else understands the reference. Josh also represents one half of the Star Wars podcast, From a Certain Point of View.