Star Trek: Discovery Post-Production Continues From Home
With Star Trek: Picard winding down its first season this week, and very little on the horizon in terms of new content, you might have been hoping that season three of Star Trek: Discovery was just around the corner. Well. There's good news, and bad news.
The good news is that Discovery, unlike a lot of other film and television productions recently, had completed its production before the Coronavirus really impacted Hollywood. The bad news is that post-production, like all sectors of the entertainment industry, has taken a severe hit as well. All post work on the show has slowed considerably, but some continues, mostly from home.
According to a tweet from Scott Gamzon, an editor on the show, he's working from home (the dog probably had to sign an NDA):
Week 2 of working from home on @startrekcbs. #StarTrekDiscovery pic.twitter.com/fPGcNVqbkr

— Scott Gamzon, ACE (@ScottGamzon) March 23, 2020
This is positive news not just for fans of the series (and diversions!), but for some of the crew. Jobs have been hit hard all across the entertainment industry. While some work continues, and Gamzon notes he's in his second week of work from home, the work is slow. The series was expected to debut as early as May, but that now seems somewhat in doubt.
Actor Anthony Rapp, who plays Lt. Commander Paul Stamets on the series, participated in an Instagram livestream with fellow cast member Wilson Cruz recently and had this to say on a release date:
They're currently editing and doing visual effects for season 3 but it's shifting to work from home so it'll be slower than usual. No word yet on how long that will take or when it will be released.
Certainly CBS All Access, on which the series airs exclusively, would love to have the new season as soon as possible for fans stuck at home during the Covid-19 pandemic. Unfortunately, it seems as though it will be a bit longer than anyone expected.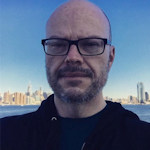 Darby Harn is a contributor for Screenrant, CBR.com, Star Wars News Net, and Movie News Net. He is the author of the sci-fi superhero novel EVER THE HERO. His short fiction appears in Strange Horizons, Interzone, Shimmer, and other venues.