West Side Story: First Look At Upcoming Steven Spielberg Remake
With the entertainment industry in lockdown over the Coronavirus, things seem a little bleak at the moment. Luckily, there is plenty to look forward to. Today, Vanity Fair revealed the first look at the upcoming remake of the classic musical West Side Story, directed by Steven Spielberg.
Produced by Amblin Entertainment with distribution by 20th Century Studios, the $100 million production is an ambitious remake of the 1961 classic. The 1961 film was an adaptation of the 1957 runaway Broadway musical, itself a riff on William Shakespeare's Romeo and Juliet. The story focuses on a pair of star-crossed lovers, Tony (here played by Ansel Elgort) and Maria (Rachel Zegler). Tony is a white teenager affiliated with a gang called the Jets, and Rachel is a young Puerto Rican woman whose family is connected to another gang, the Sharks.
Spielberg has wanted to make his own version of the film ever since he saw it as a young boy. As he told Vanity Fair:
Our entire home was festooned with classical musical albums, and I grew up surrounded by classical music. West Side Story was actually the first piece of popular music our family ever allowed into the home. I absconded with it—this was the cast album from the 1957 Broadway musical—and just fell completely in love with it as a kid. West Side Story has been that one haunting temptation that I have finally given in to.
Though the original film was unique in its time for such a heavy focus on Puerto Ricans and their heritage, the film looks clunky in the rearview mirror with the fact that many of the Puerto Rican roles were played by white actors in makeup (Natalie Wood played Maria in 1961). That's not the case this time, and the new film strives to reflect Puerto Rican culture accurately. Legendary actress Rita Moreno, one of the few Puerto Ricans in the original film returns in a new role, Valentina.
The film, featuring dance choreography by Justin Peck, resident choreographer for the New York City Ballet, is scheduled to open December 18.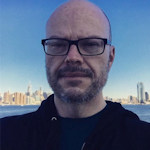 Darby Harn is a contributor for Screenrant, CBR.com, Star Wars News Net, and Movie News Net. He is the author of the sci-fi superhero novel EVER THE HERO. His short fiction appears in Strange Horizons, Interzone, Shimmer, and other venues.