Disneyland's 'Avengers Campus' Swings Into the Park July 2020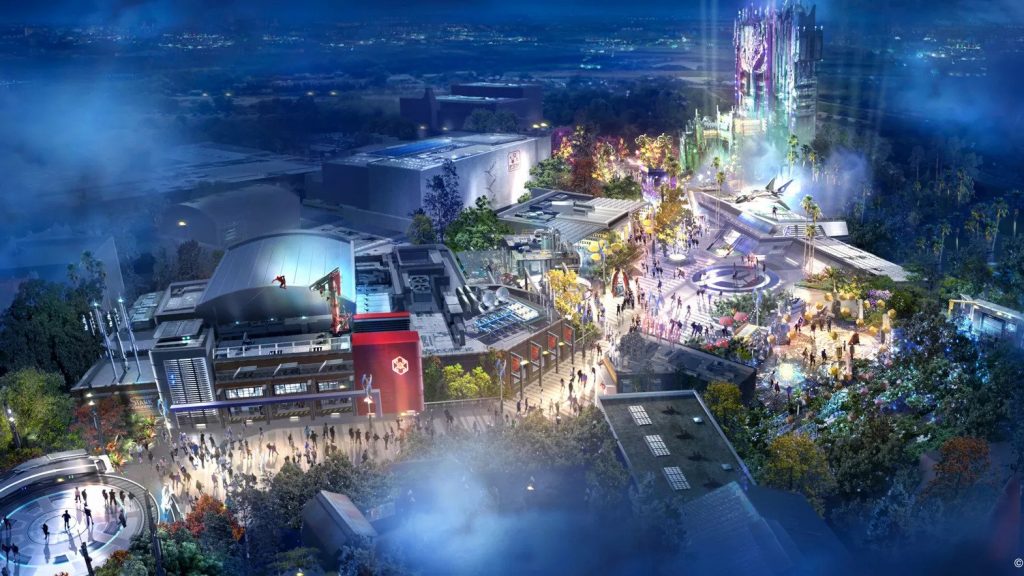 Disney released a lot of information today about the upcoming 'Marvel Land' in their California Adventure park, with information on rides, characters, food and, of course, the all important opening date, July 18 2020.  
There's a lot to unpack here so lets start with the basics! It won't be known as 'Marvel Land' but 'Avengers C.A.M.P.U.S', that oh so SHIELD like acronym stands for 'Centralized Assembly Mobilized to Prepare, Unite, and Safeguard'. This all fits into the theming and storytelling of the new land: The Avengers want to recruit guests in the park and have opened up this campus to teach and recruit new superheroes.
The campus will have five main areas: the Worldwide Engineering Brigade (WEB), the home of the new Spider-man ride; The Collector's Fortress, incorporating the 2017 Guardians of the Galaxy – Mission: Breakout ride; The Sanctum, which will house Marvel's mystic Doctor Strange for meet and greets; Pym Test Kitchen and Tasting Lab, the main dining location; and the Avengers Headquarters at the centre of it all, a stage for live shows and future home of an attraction involving the flying of a Quinjet with Black Panther and going to 'Wakanda and beyond', although details are low for this yet unbuilt attraction.
These five areas allow for future proofing as the MCU expands, there's space, magic, and science/tech allowing for placements of new characters as time goes on and phase 4 of the films progresses.
Avengers Campus will eventually have three attractions (rides) in total. With Guardians of the Galaxy having been opened for three years it falls to Spider-man to bring the hype. 'Web Slingers: A Spider-Man Adventure' will be the opening attraction with Tom Holland reprising his role as the masked web-slinger.
The guests will enter WEB and be greeted by Peter Parker and a team of young inventors, 9-year-old Lunella Lafayette (aka Moon Girl), Harley Keener (who appeared in Iron Man 3 and at the end of Avengers: Endgame) and Doreen Green (aka Squirrel Girl).
They start showing you all they've been working on and then one of their inventions, the Spider-Bot, malfunctions. "They are self-replicating. They are devouring all the technology in Peter Parker's lab, and they are beginning to escape across the campus," says Walt Disney Imagineering Executive Creative Director Brent Strong. "And so he calls on us to help.'
In a mix of virtual backdrops and augmented reality mixed with practical sets, eight guests at a time will board a vehicle, put on 3d glasses and have virtual webslingers for them to stop the Spider-Bots. Luckily, the ride doesn't have a height limit, so anyone can help save the day.
It wouldn't be a Disney park if you couldn't meet characters. While Star Wars' Galaxy's Edge is set at a fixed moment in that universe (between The Last Jedi and The Rise of Skywalker to be exact), meaning you can only meet characters that would/could be at that place/time in the story, Avengers Campus has decided to go for a more flexible approach. Imagineering creative executive Scot Drake said this regarding the decision:
'We definitely want to play the long game, so we're not following the exact storyline of any of the films. But we are definitely going after the tone and the heart to make sure that — at its core — it's correct and authentic.'
It's makes sense considering the amount of new characters on Marvel's film horizon (The Eternals, Shang-Chi and not to mention any unexpected fan favourite's from the upcoming Disney+ series') that they don't want to get bogged down in timeline restrictions.
This doesn't mean however that they'll be nothing new to look at, both Iron man and Spider-Man are getting new exclusive suit designs for the opening; with Tony Stark rocking a 'Mark 80' suit and Peter Parker showing off his new threads in an acrobatic display up to 60 feet off the air through a new type of acrobatic robot dubbed as a 'Stuntronic'.
Characters announced for the campus so far include: Iron Man, Thor, Black Widow, Captain America, Doctor Strange, The Guardians of the Galaxy, Ant-Man and the Wasp. Loki will appear, walking the line of hero and villain as we'd expect nothing less.
General Okoye (leader of the Wakandan Dora Milaje), will be training recruits and, the villain Taskmaster will be causing trouble on the rooftops of Avengers Headquarters. By no coincidence, Taskmaster is set to be the villain in the upcoming Black Widow movie, so a great marketing move there.
Finally, we get to the food. I want to mention this because the idea makes me chuckle. In the 'Pym Test Kitchen and Tasting Lab' Ant-Man and the Wasp have been using the Pym Particle's that they use to change size on food. So you can order the giant vegetarian meatballs, that come in a big spoon with a tiny fork
Or the Not So Little Chicken Sandwich which is a small bun with a gigantic piece of chicken!
For all you easter egg fans there will be giant cans of Pingo Doce soda (the soda Bruce Banner accidentally drips blood into during The Incredible Hulk).
"Just like every film in the Marvel universe, we have built in a million Easter eggs,"
says Senior Merchandiser Cody Hampton. Of course, in the ultimate ode to the fans, there's a place to get shawarma on Campus (the food the Avengers enjoy in their first post credits scene together).
It's a lot of info but it all looks very exciting and with the new stuff planned over the next few years, we're in for a ride.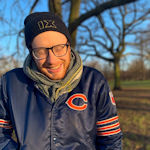 Alex Newman is huge Star Wars fan and loves to keep up to date with the canon. He's also loved movies for as long as he can remember. He's a massive Disney and superhero fan but will watch anything. He's worked at a cinema, a comic book store and at Disney World but is currently working in radio in London! You can find him at @New_macca on twitter.