'Star Wars: Rise of the Resistance' – A Guide Through Imagineering's Finest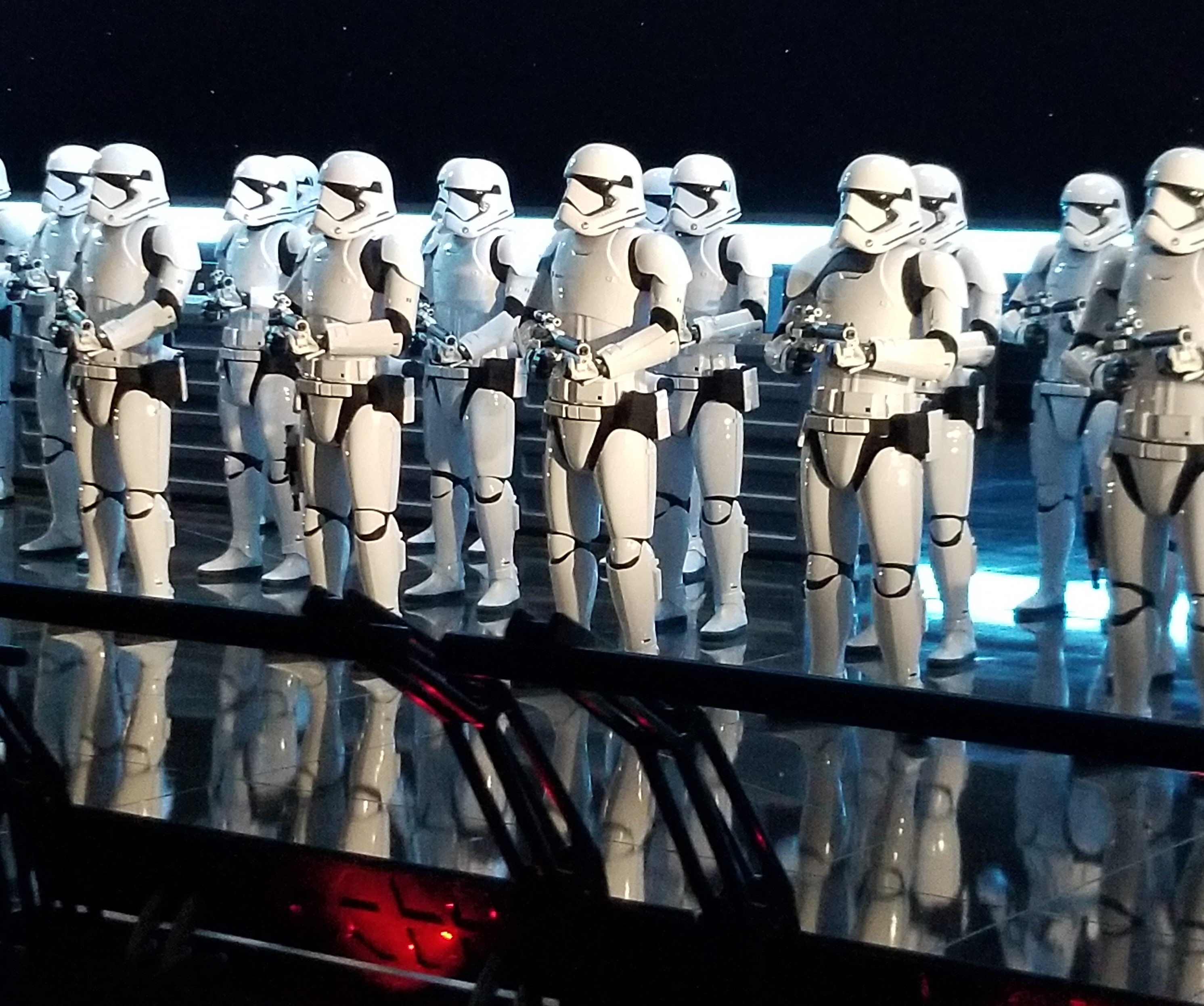 Rise of the Resistance, the new attraction at Disney's Galaxy's Edge is not just a ride, no… it is a completely immersive Star Wars experience in which you the rider are caught smack in the middle of a thrilling entanglement between The Resistance and The First Order. As emotional and exciting Rise of the Resistance is, the journey to the experience was an adventure in and of itself, filled with both heartache and pure joy.
Before we get into all of the magic and awe that is Rise of the Resistance, I thought this would be a great opportunity to share with you my experience of getting on this wonderful new feat of Imagineering. My goal here is provide the tips and secrets that I have just learned to any of you Star Wars fans planning to get to Disneyland or Hollywood Studios in the near future. There are no fast passes and there is no standing in line for this ride. Let me just say that it is nigh impossible to get on Rise of the Resistance if you do not heed my advice. Ye be warned (Sorry, I rode Pirates of the Caribbean right before Rise of the Resistance….yarr.)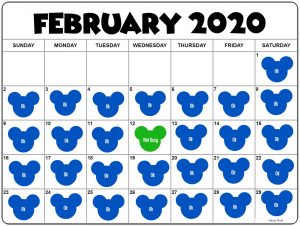 First and foremost, if at all possible, pick a day that is typically not that crowded. Check the park hours for the day you choose as hours can vary. Watch out for "Magic Hours". All who stay on Disney properties get to enter the park an hour early or stay late depending on the day. This is not everyday but I highly recommend staying on property and pick a day that has early magic hours. If  you do not stay on property, avoid these days as they will draw a larger crowd. I am telling you this because I just visited Disneyland this past weekend and did the exact opposite of what I just said….I did not stay on property and picked a day that had early magic hours.
Rise Early, You Shall…
And Get to the Park an Hour Early!
Now, I am a huge Star Wars nerd (figuratively speaking). It is a love that goes back as far as I can remember. From the brilliant to the cringe-worthy to everything in between, I have been a die-hard fan. Needless to say I was super excited to get the opportunity to visit Galaxy's Edge. I tried to tell myself to not be disappointed if I could not get on either Rise of the Resistance or Smuggler's Run. "Don't worry about it…at least I'm here", I said. But when I realized I had chosen a magic hour day, the fear began to set in.
6:00 am – Two hours before the park opened for us non-property staying shlubbs, I peered out my hotel room window to see many people already making their way towards the Disneyland entrance. "Maclunkey"! Quickly, my fiancee and I got ready and out the door we went.
6:45 am – Thankfully, our walk to the entrance from the hotel was about five minutes. The masses were getting larger as we made our way down the bustling Harbor Boulevard in Anaheim, CA. As we approached the gate to Disneyland, I witnessed a sea of humanity already waiting in two massive groups. Closest and to the right were the magic hour guests. Heart racing ever faster, we made our way through to the left crowd and staked our claim in line. The wait had begun.
While we wait, another
absolute must
to get on Rise of the Resistance…
YOU NEED THE APP!
I thought that while we stand in line (dancing in impatience) it would be a great time to talk about the app.  The Disneyland and Disney World apps (yes, there is an app for each resort) let you get the most out of your Disney experience. You can plan every event in your day from meal reservations to special events to fast passes. It is truly an amazing thing. Frankly, I cannot imagine going through the parks without the app but apparently you can. Download the app, sign in and have it open when you enter the park. As seen above in Step 1, the home screen of Disneyland's app shows the Rise of the Resistance boarding access, followed by the "Find Out More" button. This is the screen you want open when the park opens.
The process essentially works like this;
You have to join a boarding group to get on Rise of the Resistance. 
You cannot join a boarding group unless you are physically in the park. You've gone through bag check and your park ticket has been scanned.
The "Join Boarding Group" button, as seen in Step 2, does not work until the park officially opens at 8:00 am. The very second the clock strikes 8:00 am, press that "Find Out More" button. The screen in Step 2 will appear with an active "Join Boarding Group". Press that button like it's hot and follow the rest of the instructions quickly, which is merely confirming who all in your party is boarding with you. If you are one with the force, you will be notified that you've joined a group and will receive a notification on when you are to report to the ride.
Do not press the "Find Out More" button before 8 o'clock. If you do that, the "Join Boarding Group" will not refresh and therefore will not activate. Seconds are crucial. The ride will be booked for the day within minutes, if not less time. This is why I stress the importance of getting to the park an hour early…so that you are in the park and ready to press those buttons at 8:00 am. Staying on property and getting that extra magic hour only ensures you are in the park on time, you cannot join a group early. The more you know…
7:30 am – As I stood in what seemed to be the farthest point from the bright center of the universe, the suspense inside me was growing. The general feeling from my nearest line mates was hopeful but leaning towards disappointment. All of the magic hour folks have gone in, yet the crowd increased in mass. Forty five minutes in a line that does not move does something to a person. It lets you think about what you've done and what you should've done better to ensure your admittance to the ride you came for. "There's no way I'm getting on", I thought, "bummer". Just then, at my most discouraged point, the cast members started letting the general admission people in. "We're Moving"! Okay, there may yet be hope…
Yub Nub…Victory Celebration!
Please enjoy some music during this next  section: https://youtu.be/II04E2GEJG8
7:45 am – Tickets scanned,  we are finally in the park and we're moving. Like wild creatures on their migration, we instinctively went in the direction that most people were headed. Where were we going…who cares? It doesn't matter. I am in the park over ten minutes early and my Disneyland app is ready. It dawns on me after a few minutes that we are headed to Galaxy's Edge…of course we were. I was was so caught up with getting into the park and joining a boarding group that I didn't even realize we were inadvertently rope dropping Smuggler's Run. Fantastic ride, by the way…but that's a good story for another time.
7:59 am – Just as we entered Galaxy's Edge, the final minute came upon us. The entire park fell into an eerie silence as most guests slowed to focus on their phones. I was no exception. With thumbs quivering over my cell phone, I licked my lips and waited like a runner for the gunshot. BOOM….the clock struck 8. I instantly pressed the "Find Out More" and "Join Boarding Group" buttons, selected who was joining me, and before I knew it a notification came across my screen saying I had successfully boarded group 53. I did it! With hands raised I let out a yell of celebration. Cheers of joy erupted throughout the park as other groups of families and friends received the same news. I imagined an aerial shot panning over different sections of Disneyland at that moment would look a lot like the ending of Return of the Jedi. The app told me that they'd send a notification when it was time to board, and that you get a two hour window to get back. Cool…we got right on Smuggler's Run and then were free to see the rest of Disneyland. What a great day!
Now, even if you get a boarding group, it still does not guarantee that you will get on. On the day that I went (and this may vary from day to day and park to park) Disneyland was only "guaranteeing" the first 80 groups…and that is only if the ride stays working and everything goes smoothly. Groups 81 and above would only be called if the first 80 got on. I have read that the park averages about 105 to 115 boarding groups a day. That makes sense because I received my boarding group at 8 am sharp. I did not get called to board until 2:58 pm and had until 4:58 pm. Nearly seven hours just to get to group 53! Keep an eye on your app. The "My Status" button will tell you what groups are currently boarding and how fast they are getting through the groups.
Warning: Spoilers
Rise of the Resistance
Rise of the Resistance is like nothing I've ever experienced before at Disneyland or Disney World. It is a complex and beautifully detailed 18 minute long adventure that combines the very best Imagineering already has to offer in the parks with brand new, unbelievable technology. It is a walk through, a flight simulator, a trackless car ride, and even a little bit of a drop ride like Tower of Terror. Rise of the Resistance showcases massive practical sets, lifelike animatronics, and magical projected illusions.
Let us take a walk through this marvel of an attraction….come, come!
Set in the outskirts of the village Black Spire Outpost on the planet Batuu, you are part of a new group of recruits for the Resistance. In the control room of the Resistance encampment, your group is debriefed with a mission by Rey, Poe, BB-8, Mon Calamari Lieutenant Bek and Nien Nunb. There, you learn that Finn has infiltrated a First Order Star Destroyer which has discovered the Resistance outpost on Batuu and is on it's way. Rey explains that you are to be evacuated immediately to General Organa's secret base on the planet Bakara by means of a transport waiting outside. Lieutenant Bek and Nien Nunb will pilot the transport while Poe will be your escort.
This first part in the control room is a staple at a Disney park attraction. Not only does this brief introduction with familiar characters serve as a practical buffer that allows the previous group to clear out onto their next section, it helps the rider become fully immersed in the story. Seeing Daisy Ridley and Oscar Isaac reprise their rolls as Rey and Poe was really a treat, and the room itself felt like a real Resistance control room. Disney's attention to detail is of the highest quality. At no point since stepping foot in the control room did I feel like I was in a queue. From the start I felt fully engaged and immersed in the story.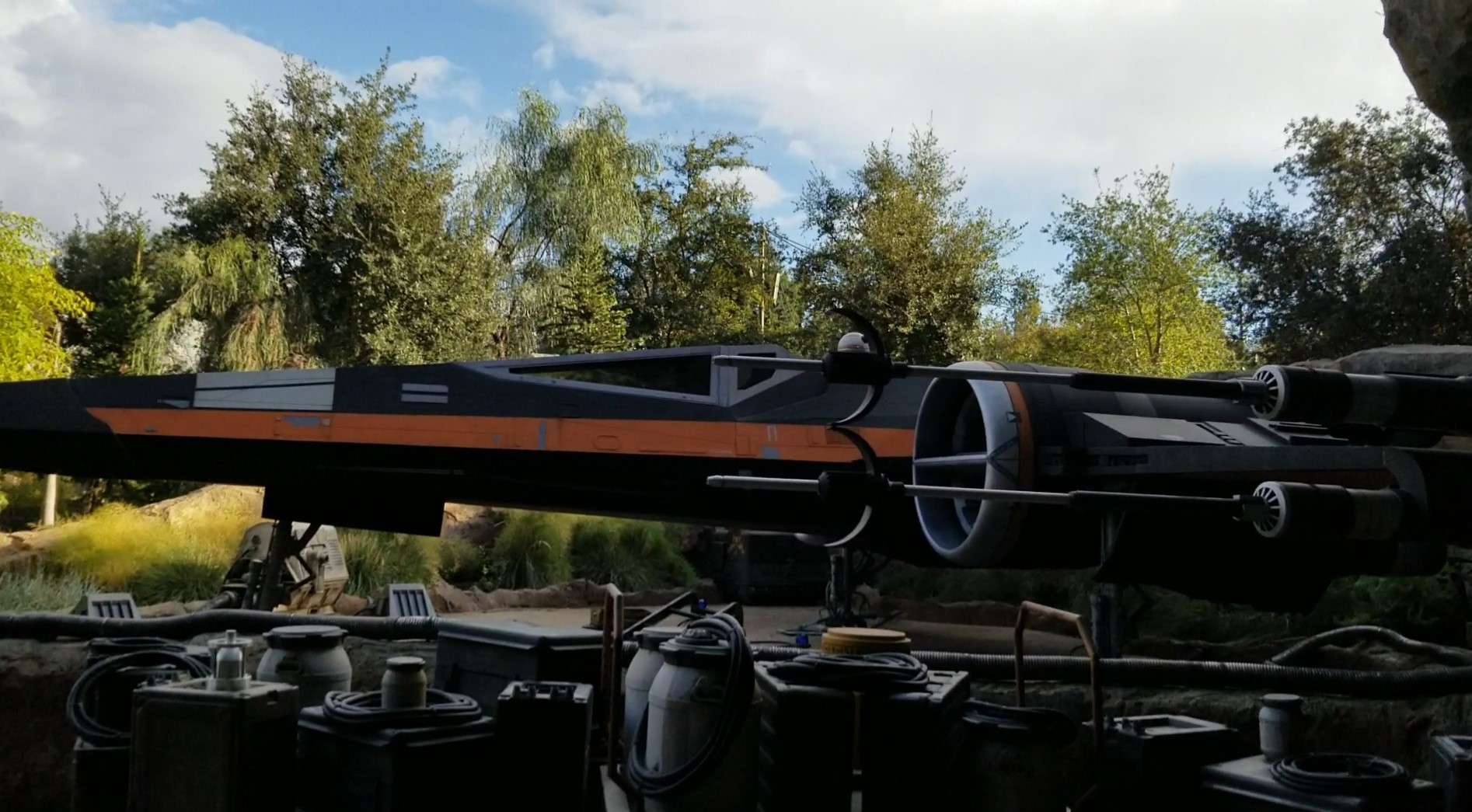 From the control room you are led outside to the awaiting transport which happens to be parked right in front of Poe's X-Wing. BB-8 is loaded and firing up the ship for takeoff. Man, this is so cool! The transport is a standing room only, seat-less shuttle equipped with rails to hang on to. Lieutenant Bek and Nien Numb are already in the cockpit…doors close and you're off. Since there are no seats or restraints, you can feel the takeoff but the movement is nice and gentle. You get a nice wide view out of the cockpit window almost like Star Tours as well as a view port at the back of the ship. Seeing the takeoff from two vantage points inside the ship added much depth to the experience, especially as the blue sky dissolved into starry space, you could turn around and watch Batuu disappear behind you.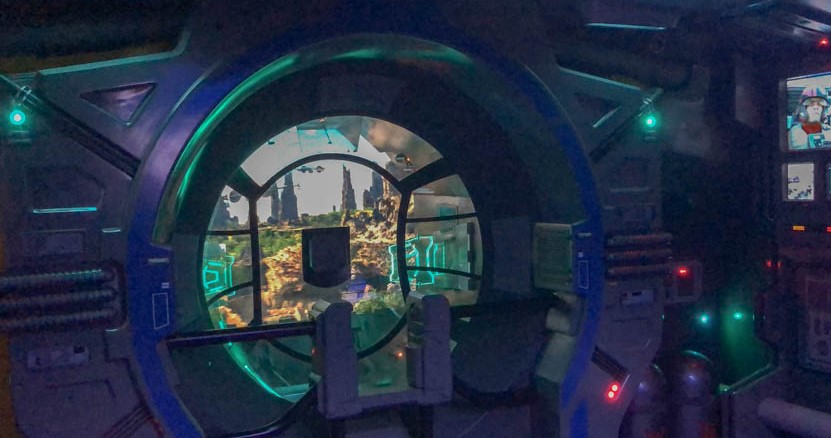 In what felt like immediately entering the void of space, a cavalcade of First Order TIE Fighters come screeching into view, guns blazing. Poe and the other escort pilots immediately engage and a dogfight ensues.  Inside the transport is a maelstrom of activity. Lights are flashing all over the place, there is a cacophony of urgent chatter between Lieutenant Bek, Poe and the other pilots, and the transport itself is rattling from the barrage of laser blasts and TIE Fighters buzzing by. Action can be seen from both bow and stern. I didn't know what to focus on…there is too much going on! I must've looked like a front row spectator at a tennis match. Then, the First Order Star Destroyer comes into view and it's too late for the transport. We are already caught in it's tractor beam. The Resistance fighters were helpless at this point. We were going in…
Communications ceased between the Resistance pilots and the transport. A First Order officer appeared on screen telling us to prepare to be boarded. Bek questions the officer on who's authority were they being boarded and detained. Just then, Armitage Hux butts the officer out to answer Bek. "By the authority of the First Order, Resistance scum. Now bring down your shields and prepare to be boarded", he says aggressively. Yes, Domhnall Gleeson reprises his roll as well. Excitement grew inside me for I knew what was about to happen. I have seen it on videos from some of the lucky few who were invited to ride the attraction before it opened to the public and up until this point, was what I was anticipating the most. The transport slowly entered the hangar bay of the Star Destroyer and landed. The doors to our ship opened and in walked a First Order officer, who informs us that we were to proceed down the ramp and to the right for interrogation. But as the officer walked in, an awed hush swept through the group. Not for the wonderful cast member doing a fantastic job at being a cold, emotionless officer, but for the expansive sight behind her…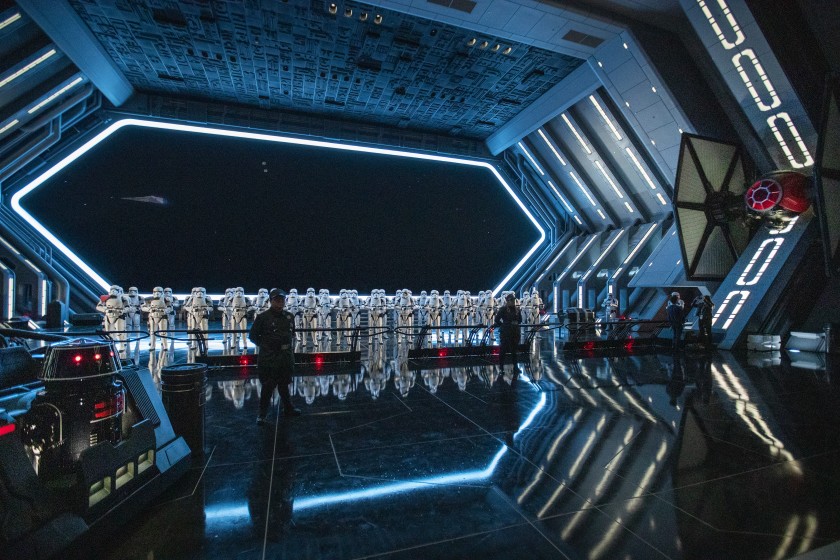 The hangar bay – There is something quite remarkable in this experience. Normally,  you end a ride at the exact point you began.  On Rise of the Resistance, you enter the transport, the door closes, and opens again to this…this MASSIVE bay.  There has to be at least fifty Stormtroopers standing in front of you along with a handful of officers. There is a full size TIE Fighter still docked above your head and the ray shielded hangar bay door is most impressive. I could have spent an hour there but we were quickly pushed passed the hangar to the right. "Alright….Alright!"
It feels like you truly are on a Star Destroyer…Unbelievable.
From the hangar you are pointed down a hallway and told to stand in line against the wall and to wait until they finish processing the rest of the recruits. Dare not lean against the wall, though. The officers do not take kindly to Resistance scum mucking up their highly polished Star Destroyer interior. After a few minutes, doors on the other side of the hallway open and you are told to get in and await interrogation. It is a prison cell with no windows or doors save for the one you came in through and a second level balcony that overlooks your cell. Kylo Ren and General Hux visit from the balcony very cleverly done in projection/screen technology. Ren tells your group that he will be back to interrogate you personally. Cute. Oh, and yes, that is Adam Driver's voice. After they walk away, muffled voices can be heard on the reverse side of one of the prison walls. "What in blazes is going on", I thought. Now, I cannot explain how Disney did this, nor am I going to look it up because it was just so cool, but a giant hole begins being cut in the wall that the voices could be heard through. Like it was being cut by a giant plasma torch, a red hot line melted away the steel prison wall in a 10 foot, jagged square. The cut section pulls away and Resistance fighters run in telling the group to follow them. Finn can be seen as an animatronic in Stormtrooper gear, covering your escape…reprised by, you guessed it, John Boyega.
Here's where the fun begins..
You are led into an 8-seat First Order Fleet Transport vehicle that the resistance has hijacked. Driven by an R-5 unit, you are back in communications with Bek who guides you deep within the Star Destroyer to the escape pods. This is the craziest part of the experience. Buckled in, the trackless vehicle freely maneuvers you down corridors of the ship. When faced with danger, the vehicle can stop and turn around to take another route. During the trek you encounter a Probe droid, as well as Stormtroopers who open fire on your vehicle which actually looks like incoming blaster fire using the same screen/projection tech from the prison cell. Quickly, the vehicle scurries away, turning into another massive bay, this time housing two full size AT-ATs. The group audibly gasps, "holy maclunkey!" The surprises never end. I mean, the scale and scope of Rise of the Resistance is mind blowing.
At this point things get a little fuzzy. There is SO much going on and to see, that with only one ride I am straining to remember what happens next. Okay, so blaster fire is reigning down from the Stormtroopers on second level balconies. Finn is again seen covering us in the AT-AT hangar. The vehicle is then lifted up to the second level where you are face to face with Troopers in one of the First Order Walkers. The AT-AT immediately opens fire, as we back up into another corridor, hurriedly. After a couple turns you find yourself approaching the lower deck of the main bridge where you see an animatronic Kylo Ren and Hux looking outward to the vast space battle still going on. Ren discovers your transport and begins to pursue as the vehicle again backs outta there and scrams. A live action (screen/projection) Kylo Ren jumps in front of the transport just as you enter a turbo lift, doors closing. Whew…safe at last. Wrong!  Seconds after the lift doors close and you start to descend, a thud comes upon the roof of the lift. Kylo's snarling, red lightsaber blade slices down from above and begins to cut the top of the lift…
How was that possible?!? The blade is physically coming through the top of the lift. I mean this is insane! With seconds to spare before we were captured, the lift stops and the door opens up to a large gun port room with three huge cannons firing out at the Resistance. It was amazing…like a scene straight from Revenge of the Sith, the sounds of the cannons, the many ships flying by spraying laser bolts, the sirens and lights flashing…I cannot begin to describe how truly awesome this part was.
Getting past the cannons, a relentless Kylo Ren waits for you, determined to get the whereabouts of the new Resistance base. With nowhere left to go, it seems we are to be captured. But what is this?? A TIE spinning out of control from the ensuing battle outside crashes into the Star Destroyer creating a gaping hole and a vacuum strong enough to cause debris to fall around Kylo. Let's get out of here!
The escape pods were just ahead. The transport drives right into the pod and the door closes. Looking out of the pod's view port, the space battle in front of you rages on. For the briefest of moments, you could sit in peace, just gazing out into the action. Head spinning from everything that just happened, it was nice to take a breath. After a few seconds, the pod releases from the mechanism holding it to the ship….AAAHHHHH!!! The pod drops a few hundred feet, and begins flying downward back towards  Batuu. Your escape pod weaves in and out an open section of a Star Destroyer and then just like that you've mad a crash landing back in the village of Black Spire Outpost. The First Order Fleet Transport exits the escape pod, drives outside, comes to a stop and just like that the ride is over.
It can't be…it can't be…what am I supposed to do with myself now? I just got as close as I (most likely) am ever going to get to physically being in a Star Wars film and now I am just expected to be done?? I feel so lost. I want more, and I know I shouldn't….Alright, alright. WOW!!! That was THE greatest amusement park experience of my life! Now, Flight of Passage in Animal Kingdom is so incredible it brought tears to my eyes, and to this day is still the best ride in Disney, in my opinion, but Rise of the Resistance is not a ride…it's an experience. It is eighteen minutes of one mind blowing visual after another. Your senses are completely inundated in the sights and sounds of Star Wars… the laser blasts, TIEs screeching by, the Stormtroopers missing their targets, the familiar heroes and villains, all of it. Heck, don't ask me how but it even smells like Star Wars. The care and attention to detail Disney and the Imagineers put into Rise of the Resistance is above reproach. I applaud and commend anyone who worked on it. Wonderful, wonderful job.
To all of you Star Wars fans out there, do yourself a favor and go if you can. If you are one of those lifelong fans who wish to get back the same feeling Star Wars used to give you as a kid, Rise of the Resistance just may make that happen for you.
Whew….what a day. I'm beat. Think i'll go get a double blue milk..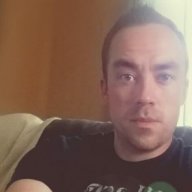 Bobby Long is a life-long fan of Star Wars, The Lord of the Rings, The Marvel Cinematic Universe, Disney and The Simpsons who spends much of his free time running through all his favorite films…again and again. He has a beautiful fiancee, a beautiful daughter, and two of the cutest doggies you'd ever seen. He is eternally grateful to MovieNewsNet for giving him the opportunity to write about his passion.