Review – 'Better Call Saul' Season 5: "The Guy For This"
In my favorite episode of the season so far, Saul finds himself out of his comfort zone, Kim shines in the face of a challenge, and we are treated to yet another Breaking Bad cameo.
SPOILER WARNING
Picking up from the cliffhanger in the previous episode, Saul is taken by Nacho to see Lalo. Saul fears the worst as he scans the car for weapons and an escape route. To his surprise, Lalo requested to meet Saul for his lawyering skills to get Krazy-8 out of the predicament he's in. Saul does what he does best and uses his mouth to negotiate a big pay day for himself. It's a ton of fun to watch Saul talk his way out of pretty much any situation he's in.
After Saul's introduction to Krazy-8, we are treated to the best cameo of the season with the return of Hank Schrader, played by Dean Norris. The cameo is played seamlessly as he steps right back into the role like he's riding a bike. This whole scene was so well written, and I laughed out loud at the casual conversation between Hank and his buddy Steve Gomez about Marie (Hank's wife) immediately throwing things away on the day they expire.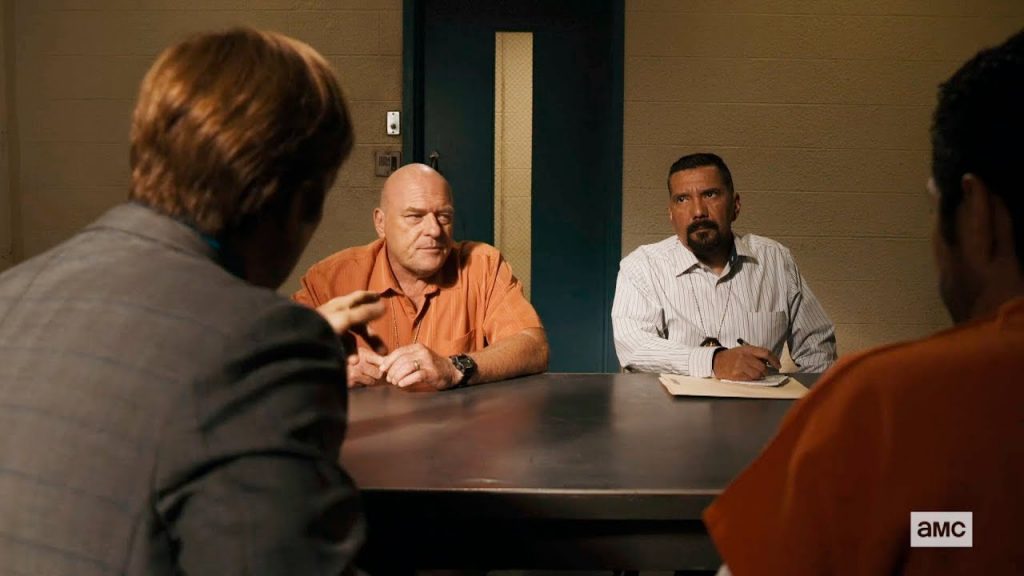 Saul, of course, is able to play the situation in Krazy-8's favor as they convince Hank and Gomez (despite some skepticism) that he has enough information to earn their protection and secure his release. This was one of my favorite scenes of the episode, and Bob Odenkirk continues to nail the role of Saul Goodman.
"The Guy For This" once again featured the struggling Mike, if only for a brief moment. In this episode, we see Mike over-drinking in a bar and then engaging in a fight with a gang on the streets.
The real treat of this episode, though, was seeing Kim in action. This episode really allowed Kim to shine and it was a sight to behold. Shortly after celebrating with Jimmy the night before, Kim was once again called into the Mesa Verde case. Kim comes face to face with a difficult man that is refusing to leave his home, despite the fact that he signed an agreement that he could be bought out of it at any time.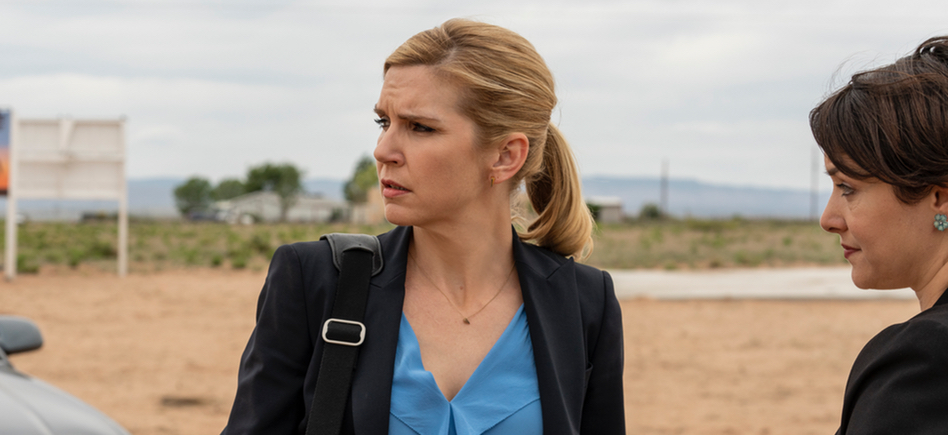 Kim tried to offer him a deal that he wouldn't have received otherwise, and he stubbornly refuses the offer. I was grinning from ear to ear as Kim unleashed all her anger on this old man, telling him to "put his big boy pants on" and face the reality of the situation. Kim being who she is even goes back to the man's house later to try to help him find a new home, and he shuts the door in her face.
It was almost heartbreaking to watch Kim attempt to help this man to no avail. Understandably, Kim had enough at that point and the episode ends with Jimmy and Kim enjoying the comfort of their typical smoke break, and throwing glass beer bottles off the balcony. Season 5 has been excellent so far, and I can't wait to see where it goes from here. 
Easter Eggs/Cameos:
"The Guy for This" features the return of Breaking Bad characters Hank Schrader and Steve Gomez
This episode reveals how Domingo (Krazy-8) became a CI (Confidential Informant) for the DEA
Josh is a proud father, husband, and freelance writer. Josh is a diehard Star Wars fan, but has an appreciation for all types of film and TV. He is that guy who constantly uses movie quotes in everyday conversations, even when no one else understands the reference. Josh also represents one half of the Star Wars podcast, From a Certain Point of View.