Rian Johnson Reveals Apple's One Rule About Using iPhones in Movies
We just got a tantalizing new clue for who the murderer might be in Rian Johnson's Knives Out sequel, and somehow, it has to do with iPhones.
In a recent scene breakdown video he made with Vanity Fair, Johnson let slip an incredibly interesting bit of info about a stipulation Apple has about using their products on screen. The tech giant only lets good guys use their products on screen. Check it out below (with spoilers for Knives Out in the video):
"Also, another funny thing… I don't know if I should say this or not. Not because its lascivious or something but because it's gonna screw me on the next mystery movie I write. But forget it, I'll say it, it's very interesting. Apple, they let you use iPhones in movies, but, and this is very pivotal if you're ever watching a mystery movie, bad guys cannot have iPhones on camera."
Wow, Apple can be very insecure with their brand. After they shelved Dr. Dre's series for their streaming service due to adult themes, it should come as no surprise that the company doesn't want villains using their devices in films. Of course, bad people in the real world probably use iPhones all the time to do nefarious things, so it's obvious Tim Cook is just trying to censor anything that might put the company in a negative light. It's kind of a ridiculous effort all around, but it's expected from a huge company like this.
Even after learning this annoying bit trivia, Knives Out doesn't lose a slice of its intrigue. Although you know the killer can't be Jamie Lee Curtis, Ana de Armas, Katherine Longford, Jaeden Martell, or any of the other characters that use iPhones in the movie, it still is a rollercoaster that is worth watching and re-watching, as I did when it came out on Blu-ray and Digital this week. While I can't imagine Mr. Johnson will let any of his brand new cast of characters use Apple products in the next film, I'll still have my eyes glued to the screen to eliminate any suspects if they do.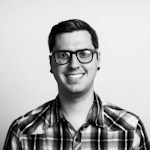 David is a video editor, stop-motion animator, freelance writer, and movie addict. He currently lives in Michigan with his wife and two dogs and can be found obsessing over director commentary tracks and collecting movie memorabilia. In addition to writing for Movie News Net and Star Wars News Net, he also hosts podcasts like The Movie News Network and The No Guff Podcast.