Netflix is Turning 'Bone' into an Animated Series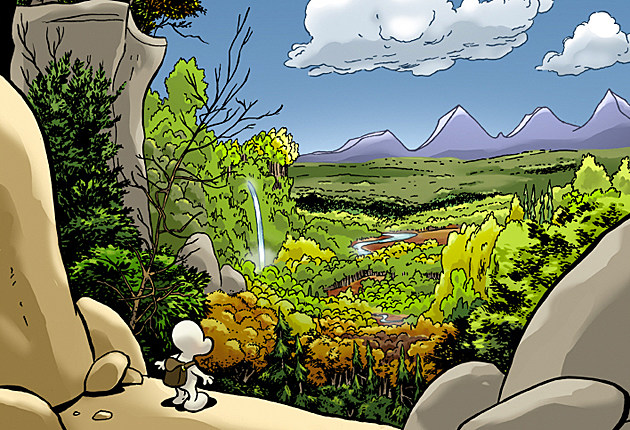 Netflix is turning the nine-volume graphic novel series Bone into an animated series. The independent comic is the best-known work of Jeff Smith.
Per Deadline, Netflix are expanding their library of comic book adaptations from independent publishers with an animated version of Bone. The comic series focuses on the adventures of three cartoonish-looking cousins (Phoney, Smiley, and Fone Bone) who are exiled from their hometown and find themselves out-of-place in the Valley, a fantasy world of more realistic denizens. After being attacked by massive rat-like creatures, the three cousins end up meeting a girl named Thorn and her grandmother at a tavern, who take the trio in. As they adjust to their new lives in the Valley, the cousins must work together to help Thorn realize her true destiny, and help defeat an entity known as the Lord of the Locusts. Netflix confirmed Deadline story in a tweet below:
For a lot of us Jeff Smith's BONE was the first comic that got us into comics, which is why we can't wait to tell you it's getting its own animated series! pic.twitter.com/LwUZui05Xd

— NX (@NXOnNetflix) October 16, 2019
Jeff Smith was enthusiastic about the news, as revealed in an official statement:
"I've waited a long time for this. Netflix is the perfect home for Bone. Fans of the books know that the story develops chapter-by-chapter and book-by-book. An animated series is exactly the way to do this! The team at Netflix understands Bone and is committed to doing something special — this is good news for kids and cartoon lovers all over the world."
Smith previously pushed for his comics to get a series of film adaptations, first from Paramount and later from Warner Bros., and he personally hoped that the project would be hand-drawn in spite of objections from the other studios interested in adapting the stories (as Bone entered development around the time that the all-CGI Shrek 2 made a killing, and several traditionally-animated films disappointed or outright bombed at the box office). Netflix is taking a different approach by making Bone a series of television episodes rather than a series of movies. Deadline does not make any mention of the animation style that will be utilized for Bone, but the streamer is known for being creator-friendly, so Smith may get his initial wish of seeing his characters and setting realized in a hand-drawn format.
Bone is in development at Netflix.

Grant Davis is a freelance writer who has covered entertainment news for more than four years. His articles have frequently appeared in Star Wars News Net as well as as other entertainment-related websites. As someone who grew up on Star Wars and comic book movies, he's completely thrilled with the current era of genre entertainment.