'Maleficent: Mistress of Evil' Review – A Flawed but Enjoyable Sequel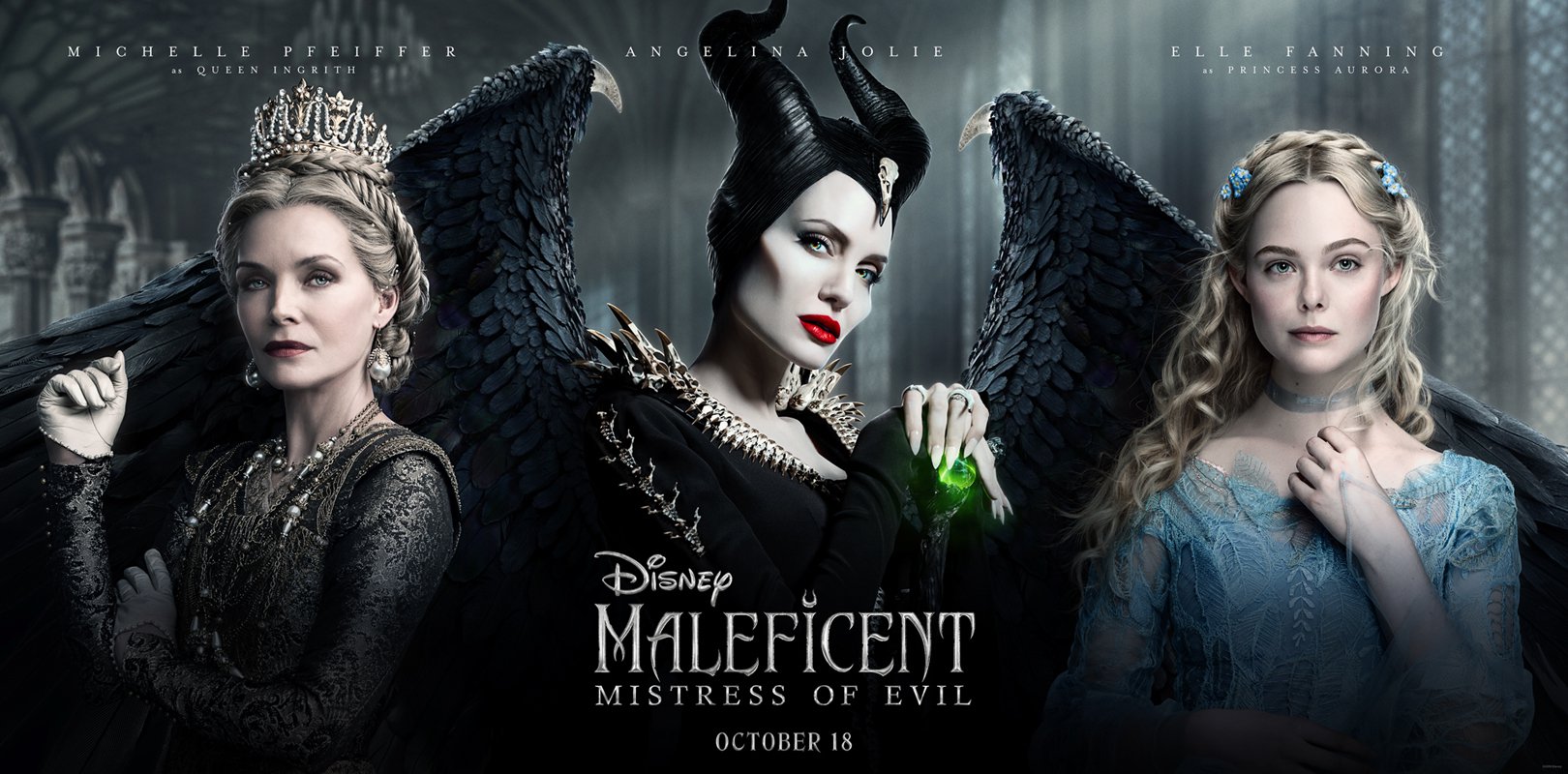 It's hard to believe that it's been five years since Maleficent kicked off Disney's recent stream of live action remakes with its twisted retelling of Sleeping Beauty. After a summer that saw Disney dominate the box office with remakes of Aladdin and The Lion King, the House of Mouse ends the year by returning to the one that started it all with Maleficent: Mistress of Evil. But can the villain turned hero still conjure up Disney magic?

In the fairness of full disclosure I think it's important that I note I was not really a fan of the original Maleficent. I enjoyed it as a generic fantasy movie, but felt like it was a poor retelling of Disney's Sleeping Beauty. It felt like they wanted to do a Wicked version of the story but weren't clever enough to work it around the original, so they just rewrote it instead. There's nothing wrong with that per se, after all some of Disney's recent adaptations are arguably too faithful to the originals. But as a Disney fan I felt it strayed too far, because in altering the story so drastically it was no longer true to the character. Angelina Jolie was a great Maleficent, so I was disappointed that she didn't get chance to really play her as a true villain.
Mistress of Evil's opening narration tries to incorporate both versions of the Sleeping Beauty tale. It's been five years since the first movie, and whilst that was the true version of the story, the legend that has spread throughout the human kingdoms is a slight variation on the classic fable, so Maleficent is viewed as a villain once more. On one hand this is actually a nice way to bring the two stories together, but on the other it does feel a little like wanting to have their cake and eat it. There is a line later in the film that explains why this has happened, but it didn't really convince me that people would believe the fairy tale when the events happened so recently and seemingly right on their doorstep. That said, the opening scene of three human thieves invading the Moors to capture some of the magical creatures that live there only for two of them to be killed by a shadowy Dark Fey, does an excellent job at showing why the humans still fear the Moor Folk and at the same time portraying to the audience that the Moor Folk are simply defending their home.
For her part, Maleficent (Angelina Jolie) couldn't care less what the humans think of her. That is, until Prince Phillip (Harris Dickinson) asks Queen Aurora (Elle Fanning) to marry him, and she and Maleficent are invited to meet his parents, King John (Robert Lindsay) and Queen Ingrith (Michelle Pfeiffer). The distinction between good and evil is always clear. Whilst the trailers teased at two possibilities for the titular Mistress of Evil, the film itself makes no secret of who the real villain is. Whilst Maleficent can be vengeful, she is never portrayed as evil. As Maleficent, Jolie gets to explore the most range of everyone involved, torn between her natural mistrust of humans and her impulse to lash out at those who have hurt her, and the love that Aurora has shown her she is capable of. Whilst there's never really any doubt which side she'll choose, Jolie plays the conflict well. When she meets other Dark Fey, this internal conflict is reflected externally. As Conall and Borra, Chiwetel Ejiofor and Ed Skrein are literally the angel and devil on Maleficent's shoulders, with their Dark Fey wings and horns completing the imagery. No one would ever accuse Mistress of Evil of being subtle.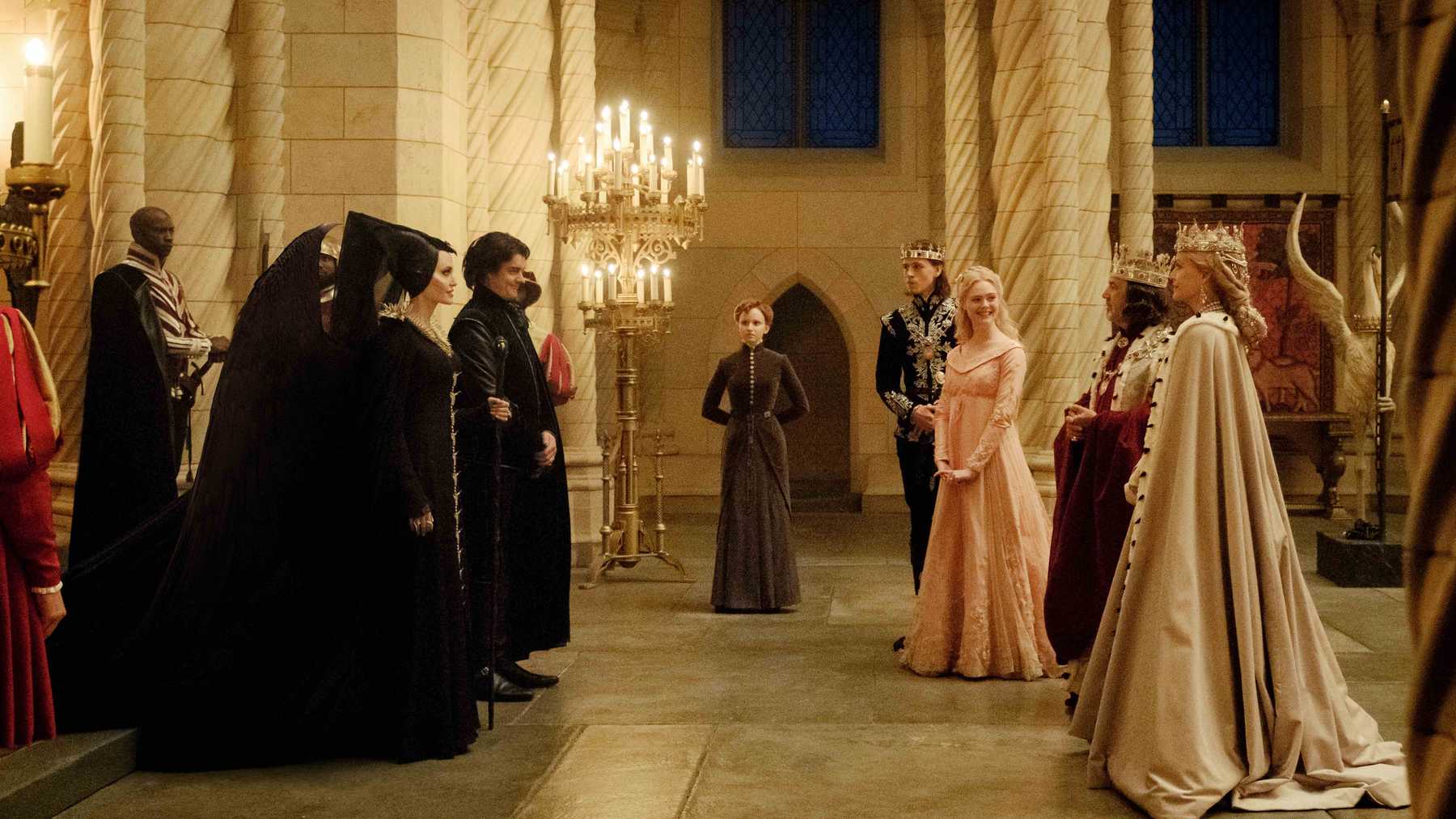 But then it doesn't really need to be. Jolie and Pfeiffer are both in fine form, enjoyably chewing up the scenery in most of their scenes. On occasion this can be a little over the top, but I'm willing to forgive a little extra theatricality in a film like this. As Aurora, Elle Fanning struggles to reconcile the Godmother she knows with the one being presented to her by Queen Ingrith. Whilst I would have liked Fanning to have a little more to sink her teeth into, it was nice to see her more involved in the film's climax this time around (not being under a sleeping curse clearly has it's advantages). With Aurora and Phillip's upcoming wedding driving part of the story, Harris Dickinson's Phillip (replacing Brenton Thwaites) does get more to do and makes more of an impression this time around.
Also amongst the returning cast is Sam Riley as Maleficent's familiar, Diaval, the crow who is frequently transformed into a human. The movie is lighter than it's predecessor with some nice comic moments, particularly between Diaval and his Mistress. One such scene comes early in the story, as Diaval attempts, unsuccessfully, to help Maleficent work on her smile and how to greet the royal family. Also adding some nice comic moments is the addition of Robert Lindsay as King John. I've enjoyed Lindsay's work in Galavant and on stage in the West End, so it was a treat for me to see him on the big screen.
The look of the film is also impressive. Mistress of Evil features a brighter color palette than the original, with the Moors, the kingdom of Ulstead, and the birth place of the Dark Fey all visually unique and striking. The ancestral home of the Fey is especially impressive, with caverns that at first appear designed after their wings giving way to habitats inspired by the desert, the rainforest, and more, as Fey of all colors and creeds soar gracefully through the skies. Whilst the film does descend into the typical CGI climatic battle, it also delivers a moment close to what many fans were hoping for in the first film, which was really cool to see.
Sadly the film's story is a little less impressive. It's not that the story being told is bad, but clocking in at a brief two hours (including credits) it is a rather straight forward affair that lacks any significant depth, and the one moment that genuinely surprised me was quickly undone a few moments later. The cast do well with what they have, but only Jolie's Maleficent gets any real development. And, even though it's been five years, I'm pretty sure that part of the ending contradicts a very important detail from the original film.
Despite these flaws, there's enjoyment to be had in this return to the Moors. Without the weight of my preconceived expectations, I found myself enjoying Mistress of Evil more than I did the original Maleficent. Whilst those hoping to see Disney's Mistress of All Evil in all her villainous glory will remain disappointed, I have no doubt that fans of the original, and those just looking for a few hours escape, will find a lot to like in this belated sequel. It's a fun way to pass a few hours, just don't expect it to stay with you.
Maleficent: Mistress of Evil is directed by Joachim Rønning and opens Friday, October 18th.