'Game of Thrones' Wins Best Drama at Emmy Awards; Ties All-Time Record for Most Best Drama Wins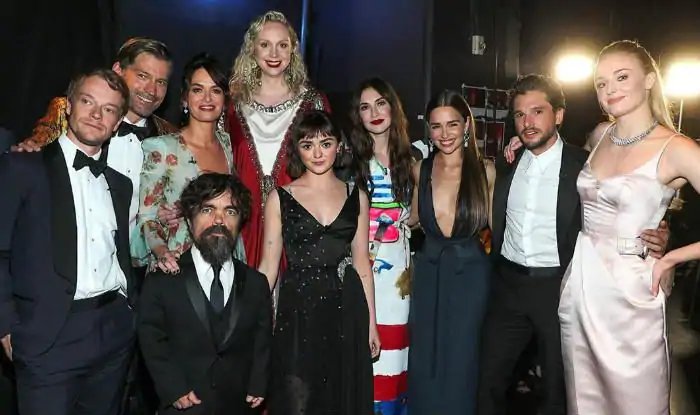 Game of Thrones may have entered the 71st Primetime Emmy Awards ThunderDome with a record-breaking 32 nominations, but for most of the evening, it looked like the HBO fantasy series (based on George R. R. Martin's A Song of Ice and Fire book series) was going to get shut out for its eighth and final season. Fortunately, for the fans, the cast, and the crew, the series won the evening's biggest award of the night, Best Drama.
Even better, the series tied in the Emmy Award category for most Best Drama wins with classic series Mad Men, The West Wing, L. A. Law, and Hill Street Blues. (All five series won four Best Drama awards.) Game of Thrones also was nominated for Best Drama in each of the years it was broadcast, and won for Seasons 5, 6, 7, and 8.
The show's other big win at the Primetime Emmy Awards was for Peter Dinklage's Best Supporting Actor in a Drama (his fourth win for portraying Tyrion Lannister). Dinklage won the acting award of the evening for the show, even though a record-breaking ten actors from Game of Thrones were nominated in various acting categories; the other nine were Kit Harington (Jon Snow), Emilia Clarke (Daenerys Targaryen), Lena Headey (Cersei Lannister), Gwendoline Christie (Brienne of Tarth), Sophie Turner (Sansa Stark), Maisie Williams (Arya Stark), Alfie Allen (Theon Greyjoy), Nikolaj Coster-Waldau (Jaime Lannister), and Carice Van Houten (Melisandre of Asshai).
Game of Thrones won an impressive number of Emmy Awards at last week's Creative Arts Emmys, nabbing honors for Special Visual Effects, Costumes, Make-Up, Casting, Stunt Coordination, Music Composition, Sound Mixing, Editing, Sound Editing, and Main Title Design. All in all, Game of Thrones won 12 Emmy Awards, the most awards of any series this year.
Showrunners David Benioff and D. B. Weiss thanked their cast and crew for their hard work and long production shoots over the past 10 years, noting "It's amazing you are all still alive." Benioff and Weiss now head off to their planned Star Wars trilogy in that galaxy far, far away, along with a lucrative commitment to work with Netflix.
For a complete list of 2019 Emmy Award winners, visit their official website.

Grant Davis is a freelance writer who has covered entertainment news for more than four years. His articles have frequently appeared in Star Wars News Net as well as as other entertainment-related websites. As someone who grew up on Star Wars and comic book movies, he's completely thrilled with the current era of genre entertainment.