'Knives Out' Gets Rave Reviews at the 2019 Toronto International Film Festival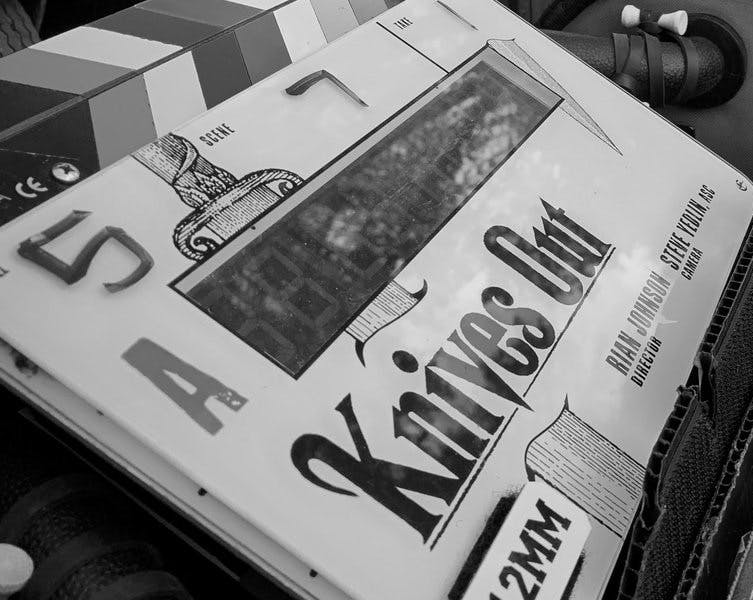 Rian Johnson's Knives Out is generating universally excellent reviews from the Toronto International Film Festival. It's fair to say critics don't have their knives out for Knives Out!
Entertainment Weekly called it a "bloody clever good time," and recognized the murder mystery's sprawling cast, including Daniel Craig (from the James Bond series), Chris Evans (Avengers: Endgame), Jamie Lee Curtis (Halloween), Toni Collette (Hereditary), Christopher Plummer (The Sound of Music), and others. Entertainment Weekly added, "God bless director Rian Johnson for bringing so much equal-opportunity fun to Knives Out, a silly, stabby, supremely clever whodunit."
Slashfilm added: "It's the most fun you'll ever have trying to solve a murder. Gathering together a killer cast of movie stars and character actors, Johnson has crafted a film that's both a loving homage to locked room mysteries and a giddy, laugh-out-loud funny comedy that keeps pulling the rug out from under you just when you think you've found your footing. It's a total blast."
The whodunit was celebrated for its clever writing in numerous reviews. Daniel Craig, in particular, was given multiple shout outs, but Jamie Lee Curtis and Toni Collette received kudos as well.
Justin Chang of The Los Angeles Times said: "Come for the grand cast and the all-you-can-eat-the-rich buffet, stay for a classical whodunit worthy of John Dickson Carr in its hilarity and sheer ingenuity of construction. Goodness, what a delight."
Erik Davis of Fandango added: "Knives Out is flat-Out awesome in every way. The funniest film I have seen this year — clever-as-hell writing and glorious performances (Daniel Craig steals the film)."
As it stands, Knives Out currently has a 100% approval rating on Rotten Tomatoes with 49 reviews.
Knives Out has an ensemble cast that is made up of the likes of Daniel Craig, Chris Evans, Lakeith Stanfield, Michael Shannon, Ana de Armas, Don Johnson, Jamie Lee Curtis, Toni Collette, Christopher Plummer, Jaeden Lieberher, Katherine Langford, Riki Lindhome, Edi Patterson, Raúl Castillo, and Noah Segan. The movie slices its way into theaters November 27, just in time for the holidays. Watch the trailer below.

Grant Davis is a freelance writer who has covered entertainment news for more than seven years. His articles have frequently appeared in Star Wars News Net as well as as other entertainment-related websites. As someone who grew up on Star Wars and comic book movies, he's completely thrilled with the current era of genre entertainment.