Disney Studios D23 Recap

After a record breaking year at the box office, Saturday saw Disney Studios present their upcoming film slate to an eager audience at the D23 Expo in Anaheim. From new animated features to live action remakes, the MCU to a galaxy far, far away, the panel was packed with new footage and special guests.
Whilst there were fewer surprises than in 2017, in part because live action and animation shared a panel this time, the Disney Studios panel still saw some of the biggest reveals of the weekend. And given Friday's monstrous Disney+ panel that's saying a lot!
After a sizzle reel proclaiming "love you 3000" played for the packed Hall D23, Disney Studios chairman Alan Horn took to the stage and wasted no time in welcoming Kathleen Kennedy and JJ Abrams to the stage.
Star Wars: The Rise of Skywalker
Kicking things off with the biggest film on the docket, the cast of Star Wars: The Rise of Skywalker arrived on stage to thunderous applause. After showing off some behind the scenes images, Abrams spent a few moments talking about Carrie Fisher and how she wrote "special thanks to JJ Abrams for putting up with me twice", as if she new he would return to bring the saga to a close.
They then shared a stunning new poster for the movie, with the Emperor looming large over Rey and Kylo Ren.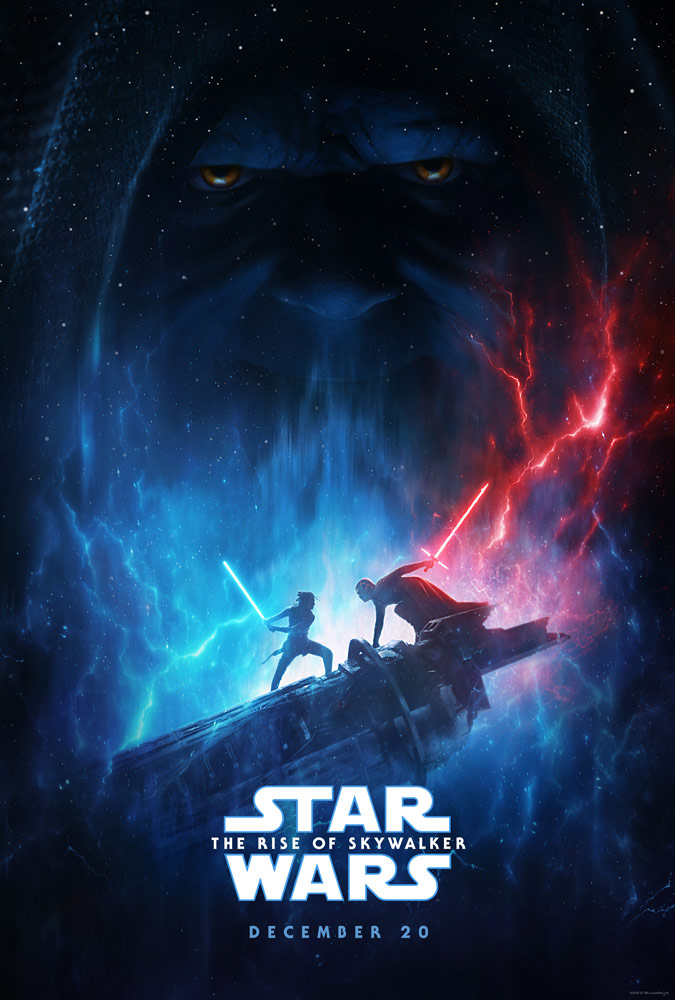 And then shared the footage which the internet has been talking about ever since it landed online on Monday!
I could fill the rest of this post just talking about that preview but that's not what this post is about, and our sister site Star Wars News Net has already done a fantastic breakdown of the new footage. Star Wars: The Rise of Skywalker hits theaters December 20th, 2019.
Marvel
If that massive SDCC slate reveal wasn't enough for you, Kevin Feige came out on stage next and brought with him director Ryan Coogler, who announced that Black Panther 2 will be hitting cinemas on May 6th, 2020. I guess that makes the eagerly awaiting sequel the first movie of Phase Five!
Whilst they couldn't say much more about Black Panther, the cast of The Eternals joined Feige on stage to reveal that Gemma Chan and Kit Harrington have joined the cast as Cersi and Dane Whitman respectively. And then it was time for an exclusive look at Black Widow. Introduced with a video from Scarlett Johansson and the cast, exclusive preview featured Natasha Romanov (Johanson) and her sister Yelena (Florence Pugh) in Budapest, fighting against and alongside each other before concluding with Natasha coming face to face with Taskmaster. Black Widow releases May 1st, 2020.
Disney Live Action
After that exhilarating preview, it was time to go up the river with Disney's live action division as Dwayne Johnson sailed in on a Jungle Cruise river boat to introduce another exclusive preview, this one for Disney's latest ride turned movie, Jungle Cruise.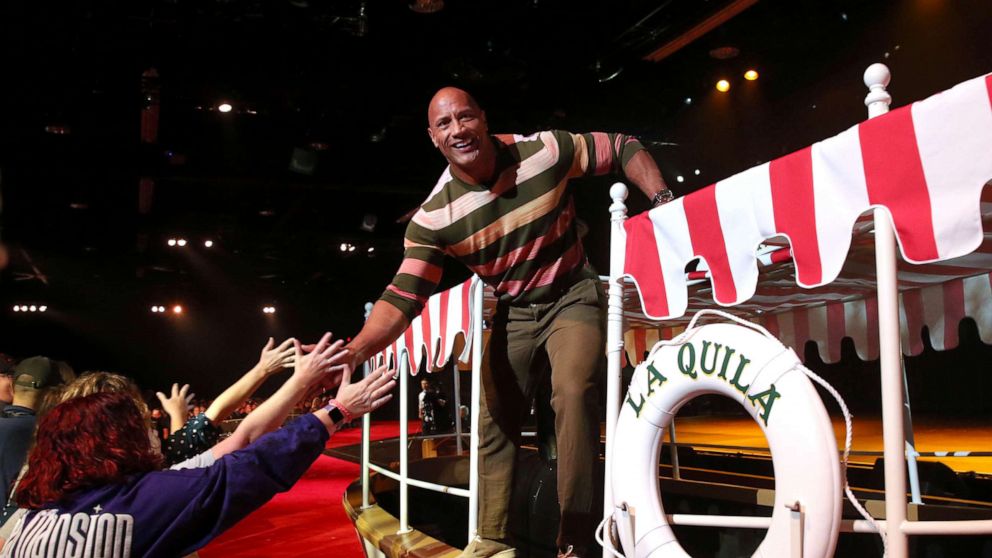 Opening with a nod to the classic attraction, with Johnson's Frank ominously narrating the river cruise, the footage cuts to Lily (Emily Blunt) offering him a large sum of money for an adventure as the audience was shown clips of action from the movie. According to Slash Film, Johnson compared the film to Romancing the Stone, "a movie about a man kicking ass and saving the girl", before Blunt came out and set the record straight with a second exclusive preview, this one from Lily's perspective with Frank not looking quite as flawless as he did in the first. Jungle Cruise sails into cinemas July 24th , 2020.
Angelina Jolie returned to the stage as the focus turned to Maleficent: Mistress of Evil. Whilst the first film told the story of how Maleficent and Aurora came together, the sequel will see their differences being pointed out and explore what truly defines family. The footage show exclusively to those in Hall D23 featured the dining hall scene glimpsed in the film's recent trailer as Maleficent (Jolie) and the Queen (Michelle Pfeiffer) followed by a sizzle reel of other footage, including Chiwetel Ejiofor as Maleficent's Dark Fae brother. Maleficent: Mistress of Evil hits theaters October 18th, 2019
Next up; Mulan as director Niki Caro took to the stage to introduce another D23 exclusive, an extended preview of next year's live action adaptation. According to Slash Film, the footage opened with Mulan preparing for her meeting with the Match Maker. It's a scene that sounds like it will make Disney animation fans very happy as it featured Cri Kee! From there we get the declaration of war and Mulan's father, Hua Zhou, declaring he will fight. We see Mulan watching her father, echoing his movements, as she declares in voice over "I will bring honor to the family." More footage shows her training with hundreds of soldiers, racing across rooftops, and riding on horseback as she finishes; "I will bring honor to us all." According to the panel, Mulan will feature over 500 actors in order to bring it's battle scenes to life. The scale of this sounds incredible. Mulan hits theaters March 27th, 2020.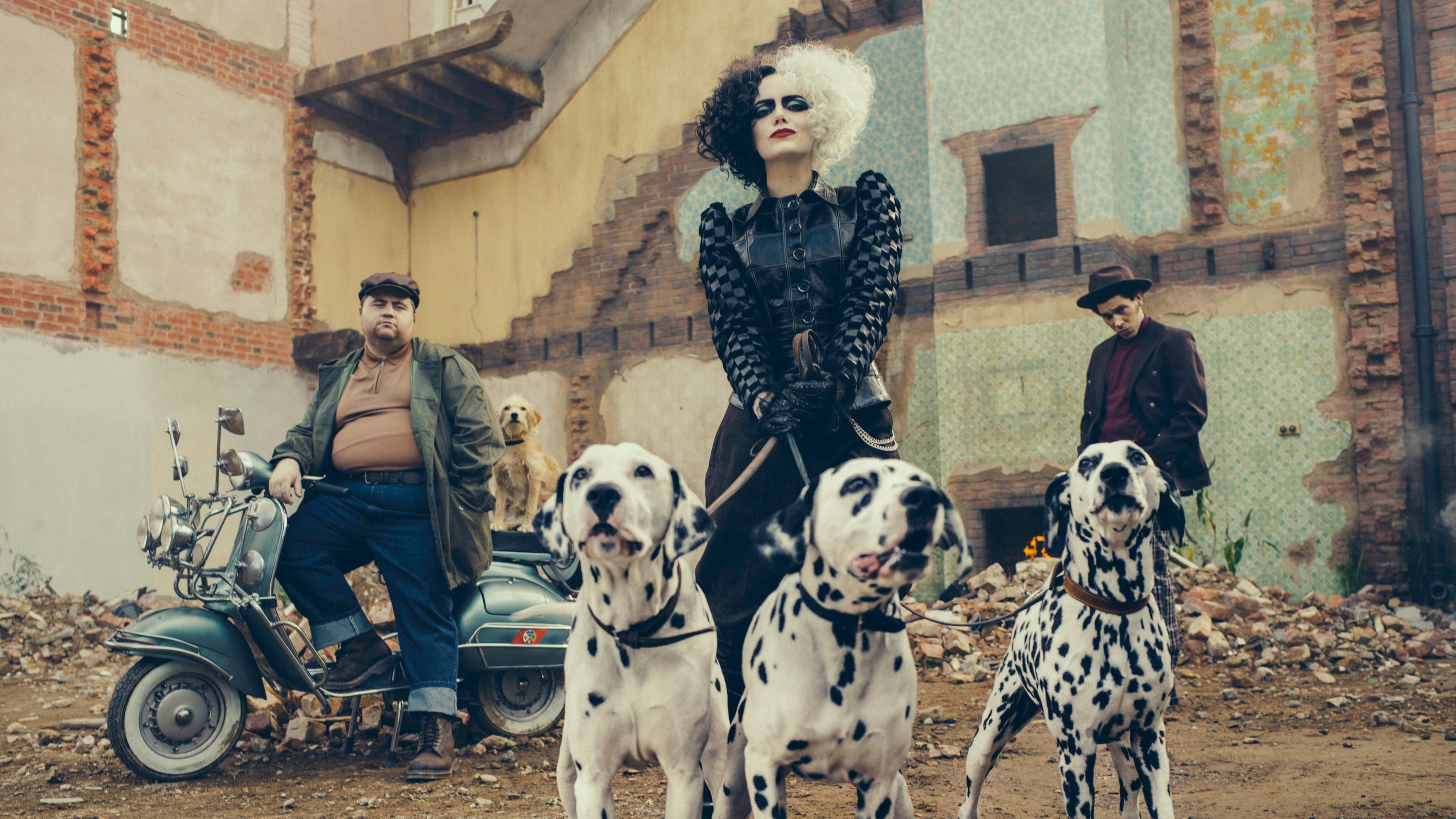 Last up for live action – Cruella. There's no footage to share yet, star Emma Stone delivered a video message from the first day of production in London, but Disney did share the first image of Stone's Cruella along with Joel Fry (Jasper) and Paul Walter Hauser (Horace) as Disney's Sean Bailey told the crowd the film will explore how Cruella got so cruel. Cruella opens May 28th, 2021.
Pixar
Pixar CEO Pete Doctor came out next to give the audience an exclusive look at Pixar's two films coming next year.
Soul will see Pixar trying to answer a question as old as humanity – "why am I here?" – as an accident lands band teacher Joe Gardner (Jamie Foxx) at The You Seminar, where all souls are trained and given purpose. There he meets 22 (Tina Fey), a soul who things Earth is terrible and has spent centuries at The You Seminar rather than graduating and joining the world. Together they must find Joe's way back to Earth and help him live the life he was meant to live. Due for release on June 19th, 2020, Soul will feature original jazz music by Jon Batiste and a score by Trent Reznor and Atticus Ross.
But before Soul, Pixar's next release is Onward, a quest of two brothers in a world where magic meets modernity. I said when the teaser came out it was probably my favorite Pixar teaser in a long time, and hearing what was shown at D23 I can't wait to see this film! Tom Holland and Chris Pratt came out to thunderous applause to introduce almost ten minutes of exclusive footage from the movie.
The footage opened with Ian and Barley's mother (Holland, Pratt, and Julia Louis-Dreyfus respectively) presenting a gift to the brothers. It's a wizard's staff, left to the brothers by their father before he died, along with a spell that can bring him back for one day so that he can see who they grew up to be. When the spell goes wrong and they only bring back his feet, they have 24 hours to find another Phoenix Gem and bring back the rest of him. The next scene picked up with the brothers on the road, their van out of gas and no station for miles. Magic might be the solution, if only Barley would shut up long enough for Ian to concentrate. Predictably it all goes hilariously wrong.
Onward opens March 6th, 2020.
Walt Disney Feature Animation
Disney Animation CEO Jennifer Lee kicked off the Disney Animation section of the panel with the announcement of Raya and the Last Dragon.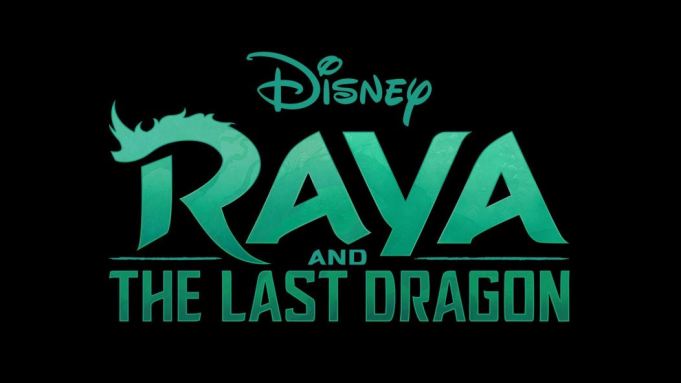 Set in the mythical land of Kumandra, inspired by Southeast Asia. According to Deadline the exclusive preview footage began with a voiceover proclaiming "Our world was created by dragons, before they left they hid a gift for the people. A powerful but dangerous gift. One that could save an entire kingdom or bring it to an end. The question is what will we find? Hope or destruction?" The film itself will answer that question as it follows Raya, a lone warrior on a quest to find the last dragon and save her home. Raya will be voiced by Cassie Steel and Sisu, the last dragon, will be voiced by Awkwafina. When we first meet Sisu, she will be human, searching for a way to regain her dragon form. Raya and the Last Dragon is due for release November 25th, 2020.
Chris Buck then joined Jennifer Lee on stage to talk about Frozen II, which they promised will answer questions of the past – How did Elsa get her powers? Does Anna have powers? Where were their parents going? –  in a way that makes Frozen and Frozen II a single complete story. Making a joke about Disney movies killing off the parents, Buck introduced Evan Rachel Wood as Elsa and Anna's mother, along with Sterling K. Brown who will be playing Lieutenant Mattias.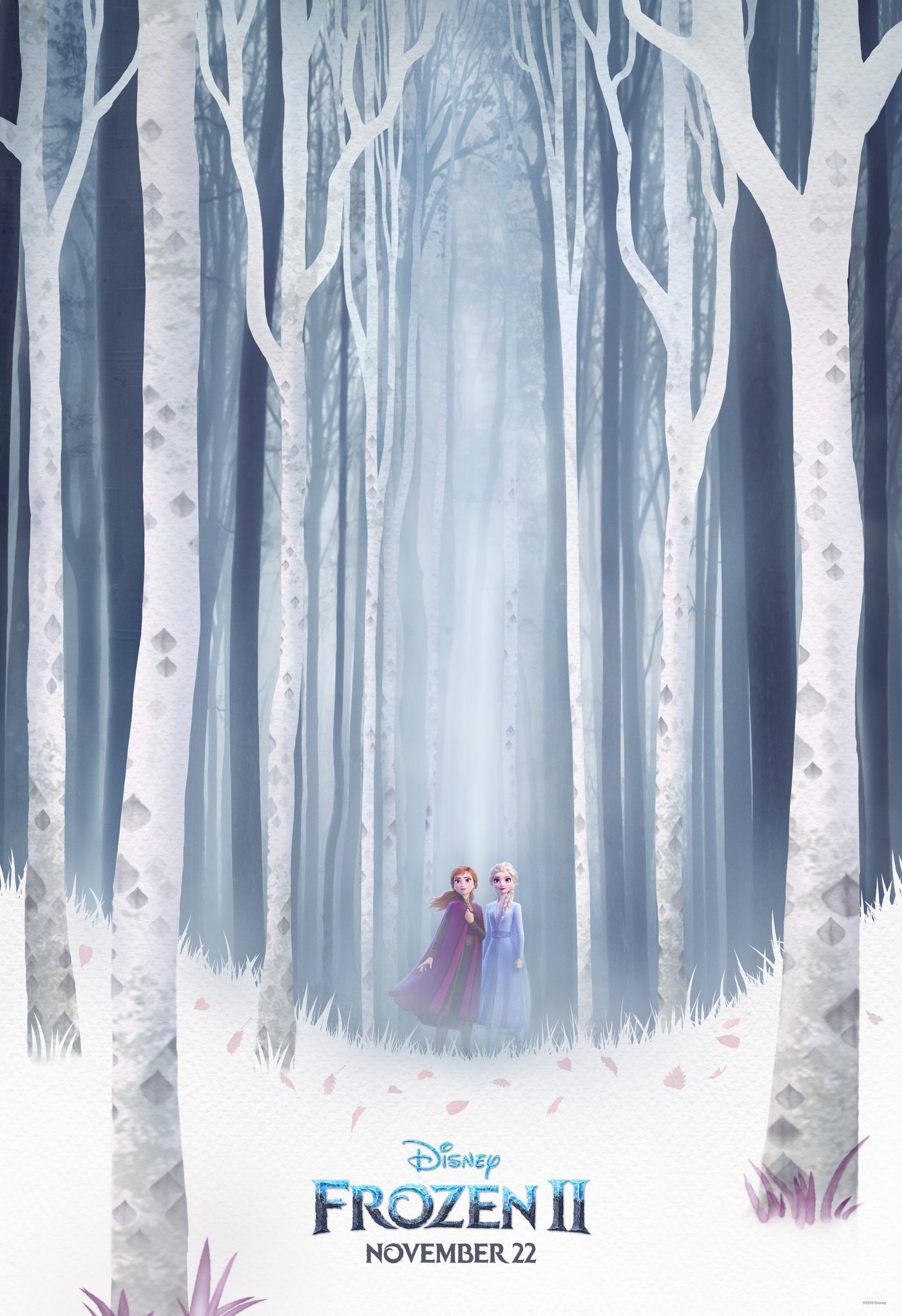 The first clip is a flashback, the opening of the film was the Queen sings to a young Anna and Elsa. Then a short clip of Anna and Brown's Lieutenant Mattias. Then the audience were treated to a longer scene featuring Elsa, Anna, Kristoff, and Olaf playing charades before Elsa is distracted by a voice only she can hear. As Elsa and Olaf leave, Kristoff proposes to Anna, but she's distracted, worried about her sister. The two sisters are then shown singing the song their mother sang to them in the opening flashback before Elsa hears the mysterious voice again, singing this time, leading into Elsa's big new number, "Into the Unknown".
Elsa's number ended the preview, but there was still one more exclusive surprise in store for those in Hall D23 as the original cast – Idina Menzel, Kristen Bell, Josh Gad, and Jonathan Groff – came out to perform "Some Things Never Change", a new quartet from the sequel. Frozen 2 opens November 22nd, 2019.
Thanks to Hypable for the live panel coverage.