Trailer Released for 'Wonder Woman: Bloodlines'

DC's animated movie universe hit the ground running in 2014's Justice League: War. There was no time for origin stories as the world's greatest heroes had to come together to face the threat of Darkseid. Now, we're going back to explore the events that brought Diana of Themyscira to man's world in the first trailer for Wonder Woman: Bloodlines, the next installment in the DC Animated Original Movie line.

The official synopsis for the film, which is co-directed by Sam Liu (Reign of the Supermen) and Justin Copeland (Batman: Hush), makes the film sound like an origin movie:
In Wonder Woman: Bloodlines, Amazon princess Diana of Themyscira chooses to save fighter pilot Steve Trevor and return him to his home in America – setting in motion one of Wonder Woman's most captivating chapters. Fulfilling the role of both ambassador as well as protector, Diana soon earns the name Wonder Woman from the gracious people of Earth. Equally strong in body, heart and will, she makes it her mission to help a troubled young girl enlisted by a deadly organization known as Villainy, Inc., whose criminal members have their sights set on invading Themyscira, Diana's paradise home. Prepare for a thrilling quest packed with brutal battles, mysterious mythology and endless wonder!
Despite this, if you watch the trailer closely, it appears that Diana's origin story will be either a flashback or prologue for the movie. Steve Trevor is younger and clean shaven on Paradise Island, and Diana is wearing a Wonder Woman costume that looks inspired by her current live action and Rebirth look rather than the New 52 inspired outfit she has worn in previous movies and can be seen sporting for most of the trailer.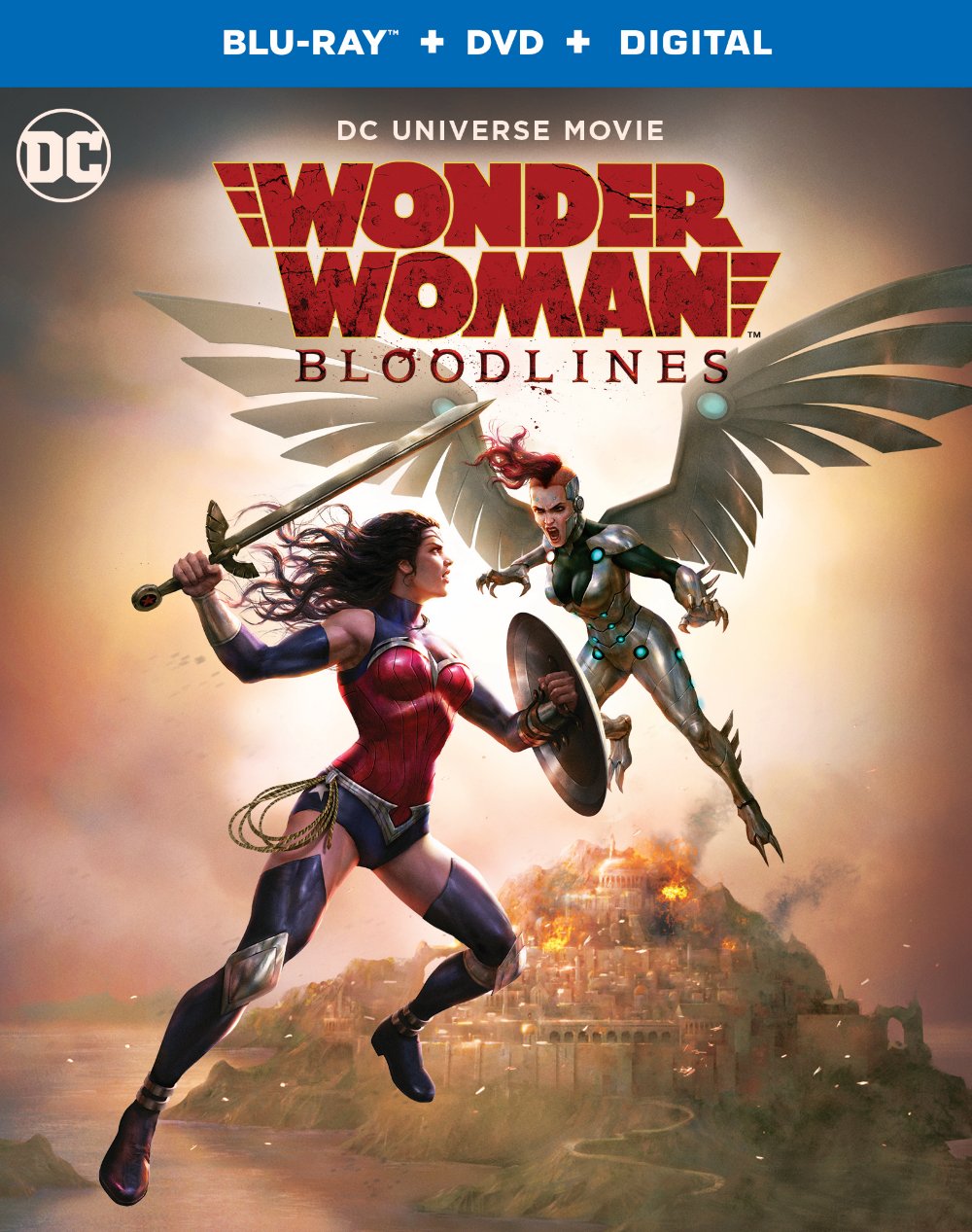 Wonder Woman: Bloodlines will see Wonder Woman (Rosario Dawson, voicing the Amazing Amazon for the sixth time), Steve Trevor (Jeffrey Donovan), Etta Candy (Adrienne C. Moore), and Hippolyta (Cree Summer) confront some of Diana's greatest villains, including Silver Swan (Marie Avgeropoulos), Cheetah (Kimberly Brooks), Giganta (also Kimberly Brooks), Dr. Poison (Courtenay Taylor), Veronica Cale (Constance Zimmer), and Dr. Cyber (Mozhan Marno). Completing the cast are Nia Vardalos as Julia Kapatelis, Michael Dorn as Ferdinand, and Ray Chase as Lead Bandit.
The film will also include the first in a new series of DC Showcase shorts. Death, inspired by Neil Gaiman's The Sandman, is produced and directed by Sam Liu and written by J. M. DeMatteis. The short will follow Vincent (Leonard Nam), an artist with unresolved demons, as he meets a mysterious young girl (Death, voiced by Jamie Chung) who helps him come to terms with his creative legacy and eventual death. In addition to the Death short, Wonder Woman: Bloodlines also includes a new featurette on the Cheetah, Ferocious Archenemy, and a sneak preview of the next DC Universe movie – Superman: Red Son.
Directed by Sam Liu and Justin Copeland, Wonder Woman: Bloodlines features a script by Mairghread Scott and will be released digitally on October 5, 2019, then on 4K UltraHD and Blu-Ray on October 22, 2019. It's Wonder Woman's first animated solo feature since the excellent Wonder Woman in 2009, and her first solo adventure in the ongoing animated movie universe.