DC TV SDCC Recap – DC Universe

DC Universe hit its first major bump in the road earlier this year with the cancellation of Swamp Thing, but the streaming platform came out all guns blazing at SDCC, announcing new seasons for popular shows and hosting the world premiere of Harley Quinn.

With critically acclaimed shows and eagerly anticipated revivals, it's sometimes easy to forget that DC Universe is still in its first year. With four original series already launched, DC Universe doubled down on what worked this SDCC and kicked things off with an exclusive sneak peak at season two of Titans.
Whilst it's not been officially released outside of SDCC, the sizzle reel is said to have recapped season one before premiering footage from the new season.  Guests in the Indigo Ballroom were treated to a first look at Iain Glen's Bruce Wayne, Drew Van Acker's Aqualad, Conor Leslie's Donna Troy suited up as Wonder Girl, and Esai Morales' Deathstroke.
Though the video doesn't appear to have leaked, Titans Brasil have posted some leaked screen shots on social media that show Aqualad suited up alongside Robin, Hawk, Dove, and Wonder Girl, and a very classic looking Deathstroke!
Fans eager to catch up with the team won't have to wait too long as the panel confirmed that the second season will premiere on September 6th, 2019.
Doom Patrol was up next with a sizzle reel showcasing the show's crazy first season. "It was one of those shows we initially didn't think we could do," executive producer Jeremy Carver told the audience. He went on to say that he wasn't familiar with the comics but ultimately "fell in love … because I saw the characters."
Speaking of balancing the show's often irreverent tone and mature themes, Carver praised the shows writers, saying "It starts in the writers room … We have some folks who are huge comic nerds, and we have some who have never worked in the genre. What we were really looking for when we were making the writers room, was people with life experience. That people were willing to go to the line and past the line, in terms of absurdity and trauma and pain."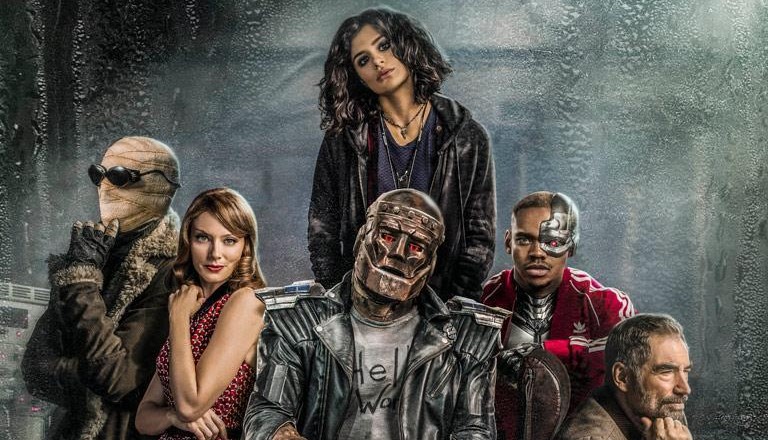 Diane Guerrero recounted her experience on the show, saying of her co-stars "We talk and cry… it's amazing to work with these people," before speaking a bit about her character and what makes the show so meaningful to her; "As a human you deal with things on a daily basis. I deal with trauma, and I feel like people connect to [Crazy Jane] because she rides that internal rollercoaster. We have to deal with these things, and that's why we have to talk about mental health… I cry all the time when I watch this show… it's so important to understand each other and to learn how to forgive each other."
Then came the first big announcement of the panel – Doom Patrol season two is coming! It will be a joint exclusive between DC Universe and the upcoming HBO Max. The first season of Doom Patrol will be on HBO Max when it launches, with the new season premiering simultaneously on both platforms some time next year.
Next came the main event – the world premiere of Harley Quinn. DC Universe's original animated series is due to arrive on the streaming platform in October but SDCC attendees got to see the entire first episode before the cast and crew came out on stage to discuss the show. For those not lucky enough to be in the room, the new trailer gives a good idea of the tone and the zany adventures Harley and friends will go on when the series arrives.
"It's been three years in development," executive producer Justin Halpern told panel as he took to the stage. It was important to the team that they really cracked what the series was about right off the bat, spending six months working on just the pilot. "We took a lot of time getting the pilot just right," Halpern said, "We wanted her to be the center of a weird workplace comedy."
Unlike the live action shows, which can face character restrictions, the team had full access to the DC Universe for Harley Quinn.
Talk turned to the cast as executive producer Patrick Schumacker revealed "Our goal was to have comic actors," since the series is a comedy. The cast is huge and some actors are doubling up, such as Alan Tudyk who is voicing both Joker and Clayface. We'll meet all of Harley's gang by the fourth episode. Kaley Cuoco, who is executive producing alongside starring as Harley, has been onboard since the beginning and was actually recommended by Warner Bros. for the part.
This is a Harley who has broken up with Joker and is trying to move on with her life. "She wants to be the criminal queen of Gotham," Schumacker told the panel, "She wants to get noticed by the Legion of Doom, who are the Yankees of super-villainy. They don't have women on their team, and they're going to notice here." And once they do, that's when you'll start to see some of DC's big villains appearing.
We'll be seeing a lot of Harley's BFF Poison Ivy in the series, her dry sarcasm the perfect foil to Harley's over the top personality.
Surprisingly we'll be seeing a lot of Bane as well. "What is he doing in-between blowing up Gotham stadium?" Schumacker asked, "Does he have someone he hates at Starbucks?" The series gives the creative team the chance to explore super villains in the day to day life when they aren't trying to take over Gotham.
The producers also revealed that Harley's co-creator Bruce Timm had seen the pilot and loved it, which was a big relief for them.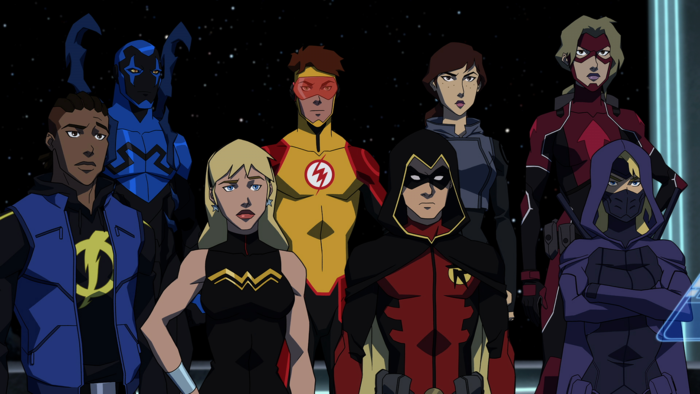 With its third season currently airing on DC Universe, Young Justice was the last show to take the stage at SDCC. And they wasted no time in announcing the big news. Young Justice has been renewed for a fourth season! After the show's early cancellation on Cartoon Network and the long wait for a third season, this announcement was easily my favorite of the DC Universe panel.
As with Harley, executive producer Greg Weisman confirmed that there are no restrictions on the characters they can use, the entire DC Universe is open to them. And Dan Didio has joked they're going to run out of characters at the rate Young Justice is using them. Hopefully one day Warner Bros. will give the same freedoms to their live action series.
Discussing the current season, the creative team said that Joan Garrett's death is going to be hard for Bart and Jay, and that the series will be exploring Luthor's plans along with Gar's plans to combat him using social media. They went on to note that they're using social media in this way because it was the fans' social media campaign that truly saved the show after it's original cancellation.
Whilst they couldn't say too much about season four, they did tease that we can expect to see more from Apocalypse, and that the show would become more character focused with a smaller group of core characters next season.
The panel then ended with an early screening of the next episode of Young Justice: Outsiders.
Thanks to Newsarama and CBR for the live SDCC coverage.