DC TV SDCC Recap – 'Arrowverse' and 'Black Lightning'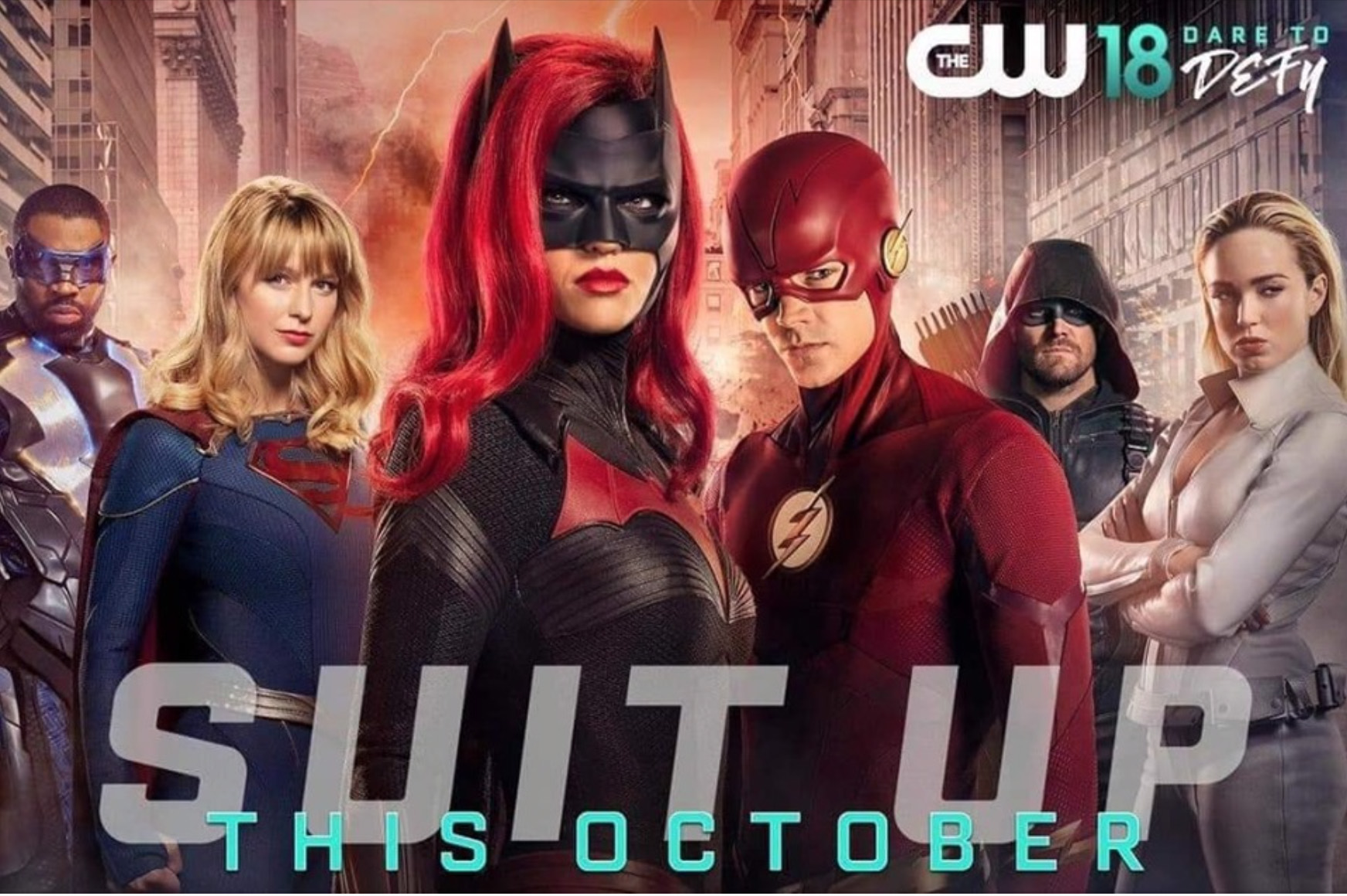 Super Saturday is always my favorite day of Comic Con because it's when we get to hear all about what's coming next in the Arrowverse! This year was no exception, with Arrow taking a victory lap and The CW preparing for Crisis On Infinite Earths.

The CW kicked off their SDCC weekend with a sizzle reel showcasing all six of the DC shows that will be airing on the network this season. With Arrow ending, Batwoman beginning, and Crisis on the horizon 2019 promises to be the biggest yet for the network.
Batwoman
Breaking for tradition Batwoman kicked things off on Saturday morning, separate from The CW's usual afternoon block. Following an encore performance of the show's pilot, which premiered alongside Pennyworth at Wednesday's preview night, executive producers Caroline Dries and Sarah Schechter took to the stage to address the audience.
"Ruby really, really wishes she was here," Dries told the packed crowd, series star Ruby Rose had already posted her apologies to social media the night before, "She's working on Batwoman as we speak… She says hi!"
Discussing the show, Dries praised the original comic book writers, specifically Greg Rucka, citing his Elegy arc as the basis for a lot of the show's first season; "this epic idea of Alice being Kate's sister… Kate's journey through Season 1 will be trying to redeem the humanity inside this monster. Let's just make this what our show is about: it's about Kate and her sister."
Of course, you can't have an Arrowverse panel without talking about Crisis. And wow, did the producers have a surprise in store! "Burt Ward will be making an appearance," Dries told the crowd! Yes, the actor who played Robin in the classic Batman series is coming to the Arrowverse! Whilst there's no word on whether Ward will be playing a new character or an older version of Dick Grayson, it's just a delight to have him back in the DCU and proof that Greg Berlanti and the creative teams are going all out to make Crisis On Infinite Earths the event it deserves to be.
Back to Gotham, the creative team are trying to avoid retreading past ground and repeating villains already seen in the Arrowverse. They also "want to find a different angle" into the show's villains, with Dries revealing that the show will be introducing Hush and showing who he is before he puts on the face wraps.
Whilst Rose couldn't make the panel, the creative team did discuss the influence she has had on the character; "We made Kate a vegan, because Ruby's a vegan," Dries told the audience before adding, "She does a lot of her own fights, the fighting and the kicking. With Ruby, she's able to just kind of learn on the fly… she's actually getting thrown against the wall and punched in the face."
Dries also confirmed that, like Arrow, the show would use flashbacks to jump around Kate's timeline saying "We're going to be all over the place. So much of what made Kate worthy of putting on the Bat suit in the pilot is all these years of trauma."
Speaking of the Bat. "Anything is possible," Dries replied to a fan question, but "Everyone on the room knows how strict Warner Bros. is with the Batman property." So whilst Bruce isn't entirely off the table, don't hold your breath for him to appear any time soon.
And on the subject of embargoed characters – don't expect to see Renee Montoya this season. "We're not allowed to use her because they're using her in a movie coming up," Dries said in answer to another fan question, "Maybe when that movie comes and goes, they'll let us use here." Discussing Kate's love life, Dries added "What's important to us is Kate being gay is just another one of her traits, and we're not going to make it that huge in the story apart from the fact that when she falls in love, it's with a woman."
Batwoman premieres Sunday, October 6th on The CW.
Thanks to CBR for the live SDCC coverage.
Arrow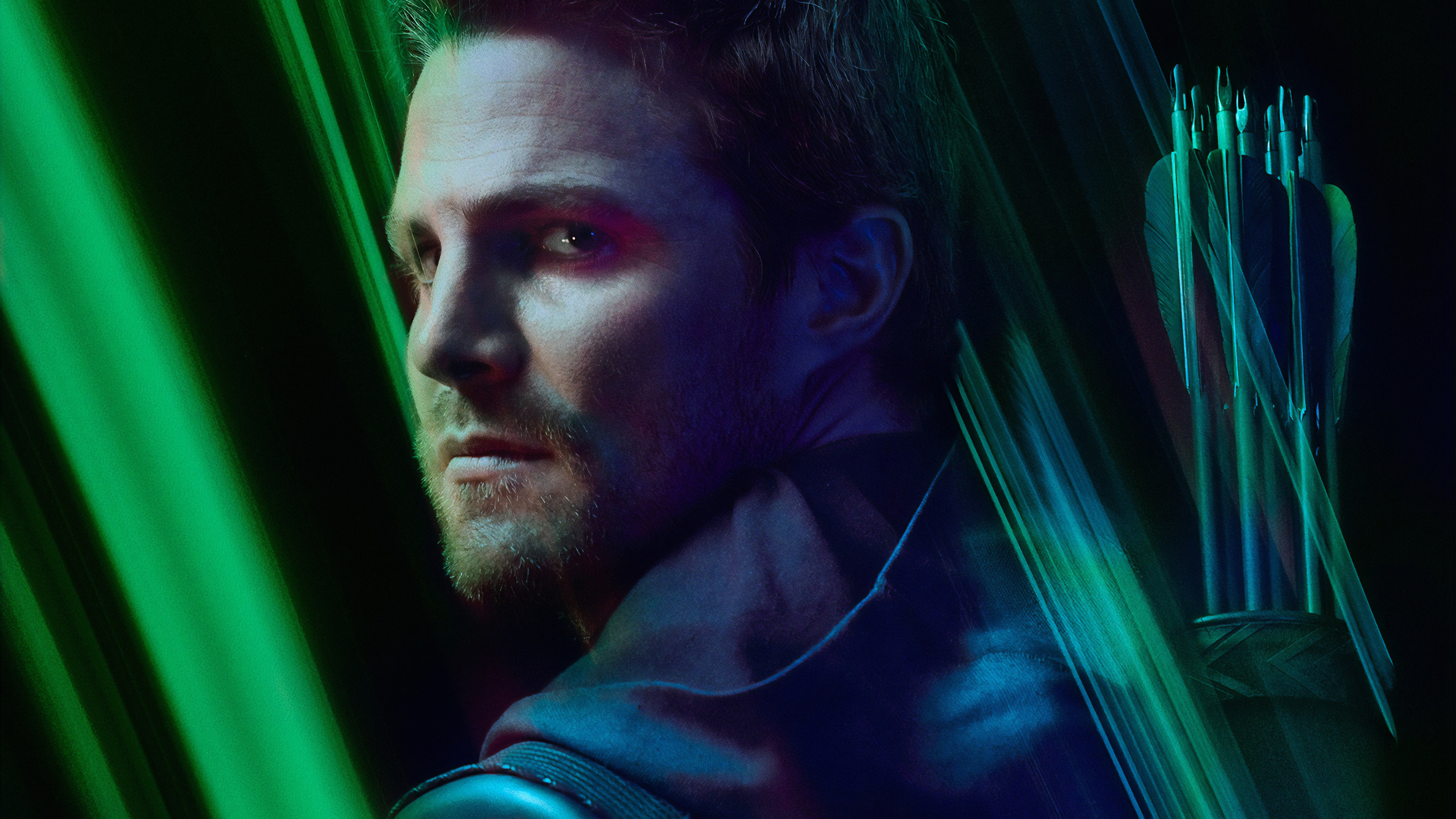 Heading back to Ballroom 20 for what is likely to be the last time, Arrow headed up The CW's traditional afternoon of super heroes at SDCC. With this being the final season, there was a more retrospective tone, as the cast and creative team looked back on their eight year journey.
"I think we all kind of want to leave the party while the party's still going," executive producer Marc Guggenheim told the audience.
Talk quickly turned to series star Stephen Amell. "Stephen came in, very first audition, very first person, and the moment he opened his mouth, we're like, 'We're okay. We're fine,'" Guggenheim recalled.
Amell's co-stars heaped similar praise on him, but it was David Ramsey who summed it up best saying "I'm walking down the hallway, I hear someone say, 'Ramsey!' and it was Stephen. I walk into the room, and Stephen's there shirtless, and he's talking to me about how happy he is about the show… and how he's excited to be working with me… and all I saw was abs… the picture, physically, of that was just someone's dedication. It extended to the set. I've not worked with anyone who cares more about the fans, about the crew, about the writing… It is all because he cares about it… There would not be DC on television after Smallville without Stephen Amell."
Katie Cassidy said she auditioned for Laurel because she wanted it so badly; "I called my manager and said, 'I don't want to read any more scripts. This is it." Prompting Amell to say he knew she'd got the part when she followed him on Twitter.
David Ramsey never thought Diggle would have such a major role in the show. "No, I thought I would die," he joked. He knew his small role in the pilot would expand but he never imagined it would become what it did.
But it wasn't all a walk down memory lane. Charlie Barnett (Russian Doll) is joining the cast this season as John Diggle Jr., playing Diggle's son and the leader of the Deathstroke Gang for the flash forwards. "I think people are going to be really surprised about how we bring him in… and what he does… and particularly what costume he wears," Guggenheim teased the crowd.
Series director James Bamford promised the crowd an epic opening to the show's final season, saying "Last night and Thursday night, every night this week, we've shot sequences that we didn't think we were capable of before … I've never been so impressed with the performances we're getting during the emotional scenes, period. The size and scope is nothing like we've done before, and that's the truth. We're very, very proud and I can't wait for you to see 8.01"
As you can no doubt imagine after the season finale, everything in the show's final season is building to Crisis. And with that in mind the panel had a very special guest as Legends of Tomorrow star Brandon Routh joined them on the stage, confirming that Superman returns! But which Superman?
"Warner Bros., every time they have a costume, they put it in their archives and they don't like to let it out. So we won't be able to use your original costume." Guggenheim told Routh, "We're still figuring it out."
Routh had his own ideas about that;
Yes, Routh will be wearing a suit inspired by Kingdom Come. The suit part is the important distinction. After the panel Routh took to social media to advise that the suit itself is the only reveal;
*#KingdomComeSuit is the only reveal. 😉

— Brandon Routh (@BrandonJRouth) 21 July 2019
Something Entertainment Weekly reiterated on Monday when they revealed that Elizabeth Tulloch would also be returning as Lois Lane. So, Routh could be playing Kingdom Come Superman, but right now it seems more likely he will simply be playing his Superman in a Kingdom Come inspired suit. It wouldn't surprise me too much if they leave it open to interpretation. Crisis is already too big of an event to go into Kingdom Come Superman's story, and a post-Kingdom Come Superman or an older version of the Donnerverse Superman could both easily fit the role of the elder Earth-2 Superman from the original Crisis On Infinite Earths series.
Back to Arrow, the panel struck a very emotional note as Sara, the young cancer survivor who returned Amell's necklace to him last year and was given his bow, returned this year for another heartwarming moment as Amell gave her Oliver's jacket.
The panel ended with the full trailer for Arrow's final season;
Arrow's final season premieres Tuesday, October 15th on The CW.
Thanks to CBR and Newsarama for the live panel coverage.
Supergirl
Whilst Arrow saved it's trailer for the end of the panel, Supergirl launched right into the action;
After that exciting look at what's to come, including Supergirl's new suit in action, Lex Luthor (Jon Cryer) himself took to the stage as the panel's moderator.
"The character I played died," Cryer told the audience, "which is really sad, because, I don't know if you know anything about comics, but if a character is dead, they're dead." As the audience laughed, series producer Robert Rovner confirmed that Lex will be back for Crisis On Infinite Earths, and hopefully longer. As someone who found that Cryer's Lex breathed new life into the series last season, I'm really happy he'll be back, and looking forward to seeing how he interacts with Hoechlin's Superman during Crisis.
As teased at the end of last season, this year's major villain will be Leviathan, the mysterious organization that Brian Michael Bendis recently introduced in his Action Comics run. "This season is going to be about how technology affects us," Rovner told the panel, "We'll be seeing how our villains this season use technology against us and how our heroes bring us back."
The panel confirmed that there will be new cast members joining the show next season. Julie Gonzalo will play the new head of CatCo, Andrea Rojas, Staz Nair will play William Dey, a new character who will be a foil for Kara, and Jesse Rath (Brainiac-5) announced that his sister will be joining him the show, saying "This is a character that will be joining the show this season, something that I've been pitching since I got the role. You can't talk about Brainy without talking about his family… my real-life sister will be joining the show, Megan Rath. She will be playing a female Brainiac-5."
Sadly season five will also see the departure of one of the original cast members as Mehcad Brooks' James Olsen will be leaving the show mid-season.
"I've been here since day one and I can honestly say that I've never done a series before that this many people have been on the series for this long. They're my family. I'm just proud with what we were able to accomplish the past few years. I didn't grow up being able to see a superhero that looked like me, like at all… and then we actually dealt with racism and put it in the context of bullying… Thank you."
As the audience applauded, the cast gave a tearful Brooks a well deserved group hug. A hug Brooks then passed on to Nicole Maines as she discussed how important it was to her to play a trans superhero;
"This past year has been so insane and unbelievable… just the past season of being able to become this superhero for me, personally, was so amazing and I was so fortunate to get to have these cool powers and have this cool suit and work with cool people and tell awesome stories… This in my first trans superhero too… I'm just so happy."
Discussion then moved to Alex's adoption story arc, with Chyler Leigh saying it was an important topic and something they wanted to handle very delicately and very respectfully. Bringing in Azie Tesfai's Kelly Olsen was important to give Alex someone to talk to who was on the same page as her.
"I'm a little terrified," Melissa Benoist said of her directorial debut, before joking that she can only imagine how the process will go whilst she is up on the wires as Supergirl. And Benoist won't be the only series star directing this season as David Harewood will also be directing an episode after making his directorial debut last season.
Speaking of Lex's death and how it will affect Lena this season, Katie McGrath said "You've committed murder and your whole world is done and how do you let everybody know how much that's destroyed you? … How do you illustrate that your whole world is falling apart whilst doing nothing?"
Joking about his death scene, Cryer chipped in saying "I just kept talking. I got shot and I just kept talking." As the audience laughed he added "There was more, by the way. I had about another paragraph and a half."
"I figured I was just comic relief," Andrea Brooks told the audience. Back when she joined the show as Eve Teschmacher she never dreamed that the role would evolve like this; "getting to work with Lex Luthor, once you showed up… that was a dream." The panel then confirmed that Brooks would be a series regular for season five.
The main panel ended with a discussion about Lena learning Kara's secret in the season finale. "I don't want her to [go down a path like Lex's]," Benoist said, "and Kara would certainly not want her to, and I think she'll fight tooth and nail."
"She is ultimately just human," McGrath concluded, "She's flawed. She's brilliant. Ultimately, she just wants to do the best she can. She's been given this horrible news… the question for season five is does that define who she is?"
A brief audience Q&A brought up the topic of plus-sized representation with executive producer Jessica Queller saying it's "a point well taken" and we should see that soon, before Jesse Rath added he wants to see the Legion of Super-Heroes' Bouncy Boy on the show.
Supergirl season five premieres Sunday, October 9th on The CW.
Thanks to CBR and Newsarama for the live panel coverage.
Black Lightning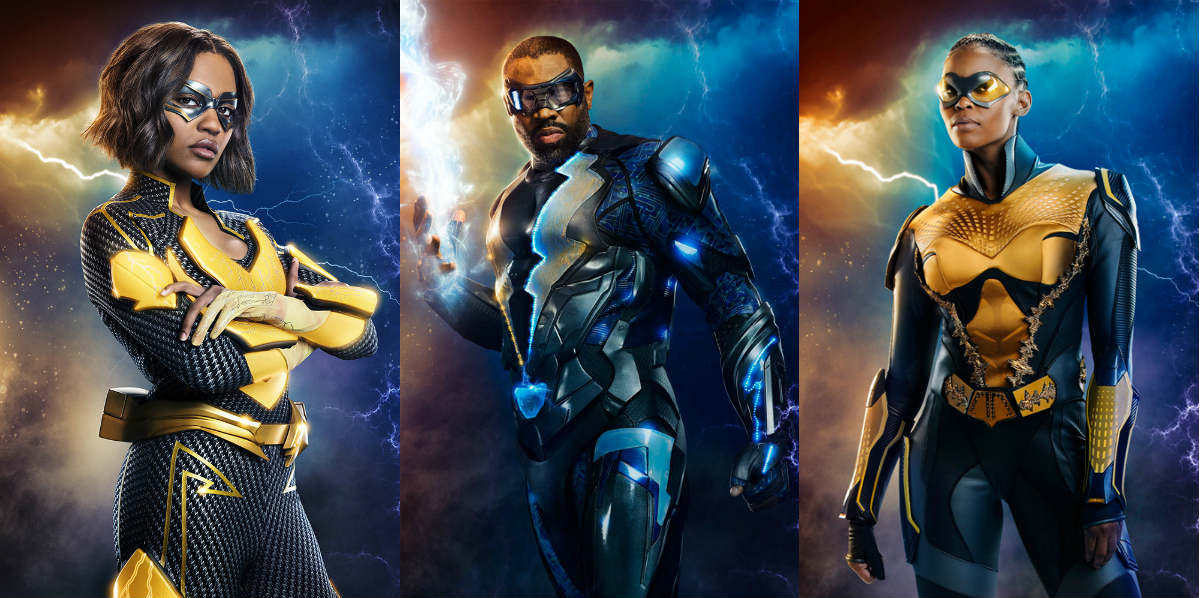 The only CW show that's not, at least for now, part of the Arrowverse was up next with the cast and creative team taking the stage to introduce a sizzle reel of footage from the show's second season;
There's no new footage yet as they only started filming the third season last week.
As the panel began the cast were keen to express that it's a show about a family first, with series star Cress Williams jokingly calling it "a family drama with superpowers sprinkled on top," and that extends to off camera as well.
The cast then discussed their favorite villains on the show, with Williams revealing that his favorite scene was when Jefferson spoke with La La in the classroom.
Williams also remarked that Jefferson and Doctor Jace have been an item in the comics. I'm not sure how Christine Adams' Lynn would react to that if they took the series in that direction!
"I really hope so," said Nafessa Williams (Anissa/Thunder) when discussing her character reuniting with Grace, "I would like to see that, especially for the fans."
Discussing Jennifer's arc last season, China McClain said "She's the most emotional character that I've ever played in my life… It was low key kind of like therapy."
As for that tease of Khalil/Painkiller in a pod as the end of last season, Jordan Calloway sure hopes they're bringing him back, after all "They brought me to my first Comic Con!" But that was a much as he was allowed to say on the matter.
The war between the ASA and the Markovians that was set up over the last season will play out in Freeland as the panel joked that actually going to Markovia isn't in the show's budget.
The cast said it was very rewarding to see a black family on television that multiple generations are enjoying.
Discussion returned to the villains again as Marvin Jones III discussed Tobias' relationships and his potential return next season saying "I think, with Cutter, it's love, but I think Tobias Whale is so narcissistic, even in love, it ultimately is for his own gain and for his own needs to be fulfilled and met … I don't know if she's coming back. I'm in a bit. I don't know how she's going to get me out of there or if she'll want to get me out of there." He then added "Someone is going to have to remove me… and I killed anyone that might have wanted to remove me. They fled for their own safety… hopefully someone will have a change of heart and get me out of that thing!"
But even with Tobias finally behind bars, the streets of Freeland still need protecting. And we'll be seeing Thunder and Lightning team up to do the job!
"Oh for sure!" Nafessa Williams said. Before McClain added "They're really partners in crime. You're going to see them together a lot more in general." Prompting Cress Williams to joke that he doesn't want "Papa Lightning" to be left out.
The panel then opened up for an audience Q&A.
Discussing the music on the show Christine Adams asked "China had a song on the soundtrack. Did anyone notice that? Original song. China McClain." China herself wants to hear "Gangster Paradise" in the show.
As for the Arrowverse; "I want Supergirl to come to Freeland," Cress Williams told the crowd, "So there's been lots of talk… nothing official, but at this point, I wouldn't be surprised." It's almost like there's a big multiversal crossover on the horizon…
The panel ended with Cress Williams talking about the show's legacy, saying that he wants what Black Lightning is doing to just be normal, that's the legacy he wants the show to leave behind.
Black Lightning season three premieres Monday, October 21st on The CW.
Thanks to CBR and Newsarama for the live coverage.
The Flash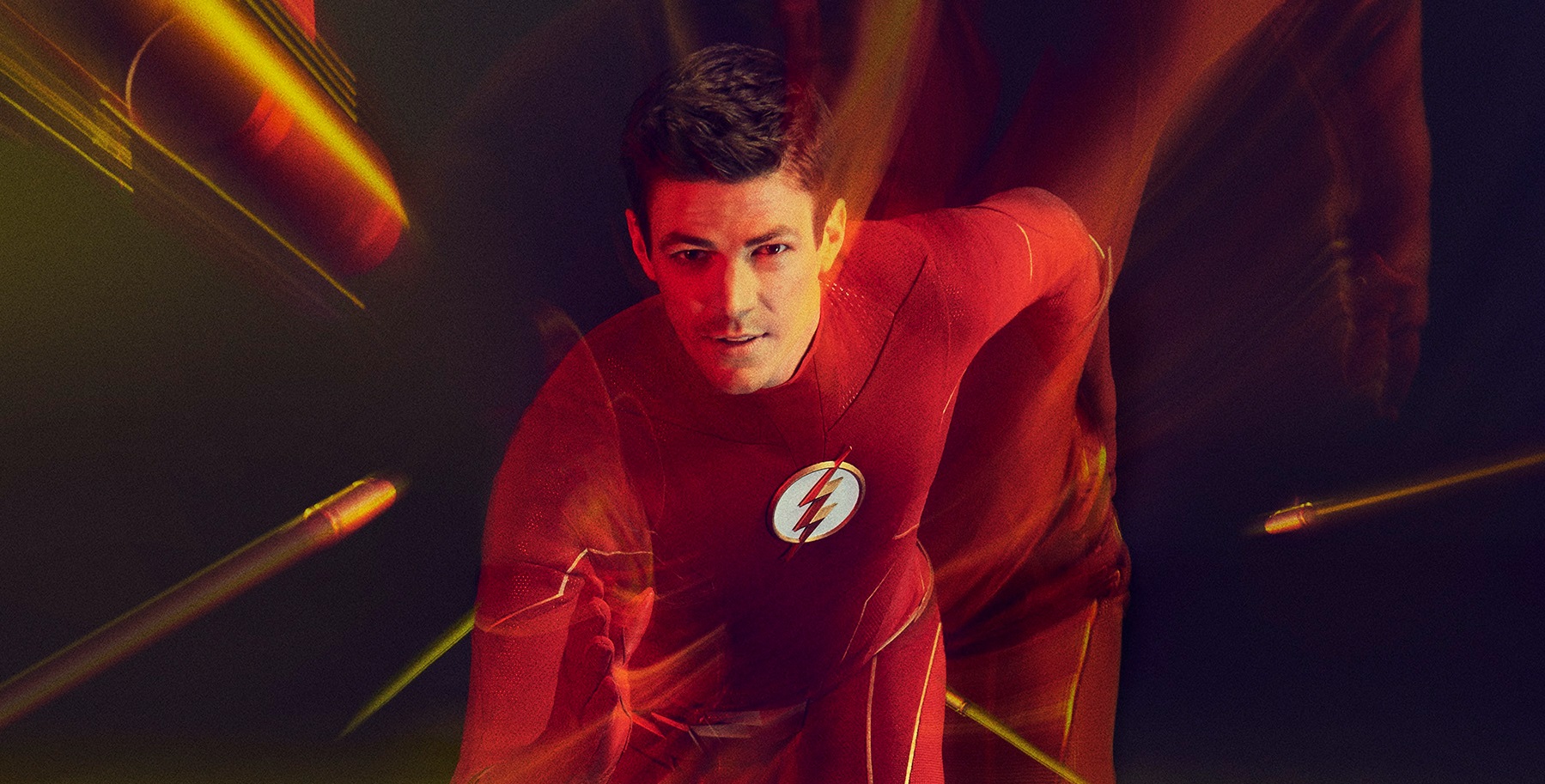 Bringing The CW's Super Saturday to a close was The Flash and they wasted no time in getting started, launching straight into a trailer for the new season and introducing Sendhil Ramamurthy (Heroes) as Bloodwork;
"He will become the most terrifying foe Team Flash has ever faced," executive producer Eric Wallace told a packed Ballroom 20 as the cast took to the stage. Ramamurphy's Doctor Ramsay will be an old acquaintance of Caitlin's, but when he joins Team Flash he becomes a mad scientist.
But Bloodwork won't be the only threat the team has to deal with this season. "We're going to divide up into graphic novels," Wallace said of their new approach, with the first half of the season focusing on Bloodwork and a second big bad becoming the antagonist after the mid season break. And between the two, there is Crisis.
As with Arrow, the impending threat of Crisis will loom over The Flash, and specifically Barry Allen, when the show returns this Fall. "The Monitor shows up in our first episode," Grant Gustin revealed, "I think our connection is our impending demise." Whilst many, myself included, don't believe that Barry will truly vanish in the Crisis never to return, Gustin, perhaps self depreciatingly, pointed out that "They can keep making the show without me."
After giving up his powers last season, Cisco is loving life. "He finds the normality he was aching for," Carlos Valdes told the audience, "He's lending his human powers … his expertise in virtually all things."
After starting her own paper last year, Candice Patton promised that we will see more of Iris the journalist this season. "It's been a long time coming," she told the crowd, "We're finally going to see the Iris West Allen from the comics… I don't want this show to end without seeing the iconic Iris West from the comic book." She also teased that we would meet Iris will get new employees who we will meet very quickly when the new season begins.
Talk then turned to Barry and Iris, and how they're coping with Nora's sacrifice. "We're both dealing with it in different ways," Gustin told the panel. Revealing that the new season picks up moments after the season five finale, Patton shared that "Maybe they're not dealing with it in the best ways… they really have to grieve as a married couple."
With Crisis, and Barry's impending disappearance, the couple will fight to survive together. "Iris is the person he kind of finds his strength in," Gustin told the audience.
As is tradition, a new Wells will be joining Team Flash this season. "This newest edition of Wells will be a bit of a sensual… a bit of an adventurer, a swashbuckler," Tom Cavanagh said of his character's latest incarnation. Will Wells have an accent again? Cavanagh can't promise anything.
As for the rest of Team Flash, Danielle Panabaker promised more Killer Frost this season, and Hartley Sawyer revealed that this season will give us more of Ralph's history, teasing that the file we saw him with at the end of season five is the start of "a journey that will eventually lead us to Sue [Dibney]."
Season five ended with the Reverse Flash free, but don't expect to see him straight away. "Thawne is in the wind," Wallace said, but with the character promising to see Flash at the next Crisis we have a pretty good idea when he might show up.
But Cavanagh won't just be playing Wells and Thawne when Crisis arrives; "He will also be playing Pariah as part of the crossover," Wallace told the crowd, "He works for the Anti-Monitor. In the original miniseries, it's Pariah who is very much integral to releasing the Anti-Multiverse. For Tom to play such a pivotal character… it's just going to tear your guts out and make you cry."
As for why Cavanagh will be playing Pariah, that will be revealed during the first arc/"graphic novel" of the season and will "lead up to a very, very big twist at the end of the Bloodwork case that launches Crisis."
But it's not all doom and gloom, and impending Crisis. The fan Q&A revealed that Wally is coming back! "Kid Flash and Flash fight one of the greatest Flash villains," Wallace promised the audience.
Barry's suit is once again getting an upgrade, with Gustin revealing that they totally reworked the cowl for the first time and calling it "the closest it's been to the comics." Last season's cowl wasn't quite what he wanted in terms of look and comfort, but with the changes they've made this new suit is his favorite.
Next came a question that normally pops up during the Arrow panel – when is Green Lantern coming to the Arrowverse? "I think the desire to bring the Green Lantern into the Arrowverse is great," Wallace replied, "Unfortunately, I have no idea when something like that might happen."
The panel ended with the news that Danielle Panabaker will be directing an episode this season.
The Flash season six premieres Tuesday, October 8th on The CW.
Thanks to CBR and Newsarama for the live coverage.
And that's it for The CW's Super Saturday line up of panels! DC's beloved team of misfits sat out this SDCC as Legends of Tomorrow isn't due to return until after the mid-season break. But that didn't stop them from teasing a new super power for Sara when the cast sat down with Entertainment Weekly at Comic Con.