Andy Serkis is Officially Directing 'Venom 2'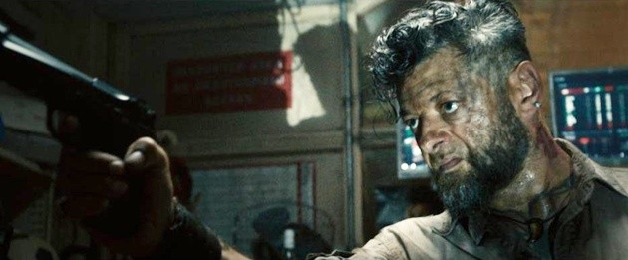 The rumors are true. Introducing the new director of the Venom sequel: Andy Serkis!
Fairly recently, actor Tom Hardy teased the involvement of Andy Serkis on Instagram before quickly taking it down, as if he'd spoken a bit too early. At the time, other directors for the project were in discussions, including Travis Knight (Bumblebee), Rupert Sanders (Ghost in the Shell), and Rupert Wyatt (Rise of the Planet of the Apes). One thing was certain from the outset: after reported conflicts with the original director of Venom, Ruben Fleischer, he wouldn't be returning. (Fleischer jumped at the opportunity to to a sequel to his 2009 horror-comedy hit Zombieland instead.)
But now, The Hollywood Reporter has revealed that Serkis is officially getting his dirty with Symbiote muck, as he'll be taking charge of Venom 2. While predominantly known for his work in the performance-capture field (namely as Gollum in the Lord of the Rings and Hobbit movies), Serkis has taken to directing in recent years, with the indepedent film Breathe and the Netflix and Warner Bros.-produced Mowgli: Legend of the Jungle. Serkis is familiar with the world of Marvel, having played Black Panther villain Ulysses Klaue for two movies, and he confirmed his involvement in the film shortly after THR's announcement:
It's happening. The Symbiote has found a host in me and I'm ready for the ride…Can't wait! #venom #venom2 #marvel pic.twitter.com/unCzmJOjop

— Andy Serkis (@andyserkis) August 5, 2019
In spite of negative critical reaction, Venom turned out to be a monster hit worldwide (rivaling the likes of Spider-Man: Homecoming) that managed to prove that the character doesn't need Spider-Man to succeed on the big screen. It remains to be seen if Sony can pull off that same trick with other movies based on Spider-Man characters without their connection to Spidey himself, as the success of Homecoming and Spider-Man: Far From Home indicate that the partnership with Marvel Studios will continue, and that the character won't be shared unless Sony is able to haggle for shared custody when Tom Holland's contract at Marvel Studios needs to be re-upped. In addition, the animated Spider-Man: Into the Spider-Verse franchise will continue with a direct sequel and a spin-off focused on female alternate universe versions of Spider-Man.
If Venom 2 makes its originally-scheduled October 6, 2020 release date as planned, then it will be the second of Sony's two Marvel releases that year (with the first being Morbius, set to hit theaters on July 10, 2020).

Grant Davis is a freelance writer who has covered entertainment news for more than four years. His articles have frequently appeared in Star Wars News Net as well as as other entertainment-related websites. As someone who grew up on Star Wars and comic book movies, he's completely thrilled with the current era of genre entertainment.