'The Eternals': Salma Hayek in Talks to Join Cast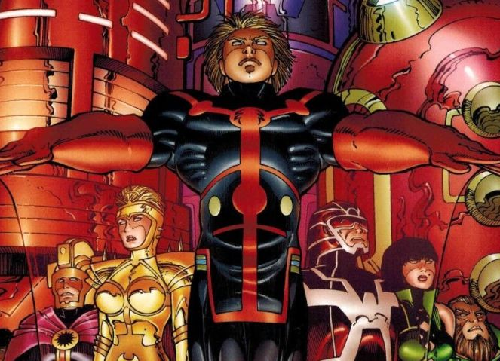 As we get closer to Marvel's big presentation at the San Diego Comic Con, more news about the cast of The Eternals has come to light. If the latest report is accurate, then Salma Hayek will be joining the cast of Marvel's most unexpected ensemble film.
According to The Wrap, Hayek is the latest addition to the Marvel team-up covering the tales of an ancient species of superhuman that once protected humanity. The Eternals, as they are known, inspired many legends across the ancient civilizations of the world, influencing history. The Celestials created them, the Deviants (the archenemies of the Eternals), and the Latents (who would carry the X-Gene, the crucial component that creates Mutants millennia later) in the hopes of advancing life on the planet. But at one point, they effectively vanished, and it is only now that they return, rediscovering identities that they had lost along with their memories.
Aside from Hayek, the movie's cast will potentially be made up of Angelina Jolie, Kumail Nanjiani, Ma Dong-Seok/Don Lee, Richard Madden, and Keanu Reeves. Marvel have stated that future movies will be more diverse to reflect the world that we live in, and so far, the ensemble of roles listed reflects that, with cast members of various genders and ethnic backgrounds represented. While The Eternals, as a franchise, has been obscure to all but the most loyal of Marvel fans, it has serious ties to all sorts of Marvel lore. Among the concepts that these comics have influenced are Atlanteans, Lemurians, Olympians, Mutants, Celestials, Skrulls, Genis-Vell, Phyla-Vell, Moondragon, Thanos, and even the likes of Robert E. Howard's Conan, Kull, and Set. With all that in the backgrounds of these characters, it makes a lot of sense for Marvel Studios to pursue a future where The Eternals will lay the groundwork for dozens of other franchises before they even think about doing a direct sequel.
The Eternals is currently in development at Marvel Studios and is currently without a release date (although it is speculated that it will serve as Marvel's currently-scheduled November 6, 2020 offering). The film will be directed by Chloé Zhao and written by Matthew and Ryan Firpo. As always, Marvel Studios President Kevin Feige will produce the project. Production is expected to begin in September and conclude in January of next year.

Grant Davis is a freelance writer who has covered entertainment news for more than four years. His articles have frequently appeared in Star Wars News Net as well as as other entertainment-related websites. As someone who grew up on Star Wars and comic book movies, he's completely thrilled with the current era of genre entertainment.