The King is ready to return. Tickets for The Lion King go on sale this morning and Disney announced the news yesterday with a new TV spot featuring Donald Glover and Beyoncé Knowles-Carter's rendition of "Can You Feel the Love Tonight?"

In addition to the classic song by Elton John and Tim Rice, the new TV spot also includes new dialogue for James Earl Jones' Mufasa and reveals a first glimpse at the iconic moment where Simba "looks to the stars".
Say what you want about Disney's live action remakes, and whether or not The Lion King technically even counts as live action, but there's no denying that this movie looks gorgeous. Jon Favreau and his team look to be raising the bar for visual effects, and indeed for filmmaking in general, with the work they've done on this movie.
"Disney's 'The Lion King', directed by Jon Favreau, journeys to the African savanna where a future king is born. Simba idolizes his father, King Mufasa, and takes to heart his own royal destiny. But not everyone in the kingdom celebrates the new cub's arrival. Scar, Mufasa's brother — and former heir to the throne — has plans of his own. The battle for Pride Rock is ravaged with betrayal, tragedy and drama, ultimately resulting in Simba's exile. With help from a curious pair of newfound friends, Simba will have to figure out how to grow up and take back what is rightfully his. Staying true to the classic story, Favreau utilizes pioneering filmmaking techniques to bring the iconic characters to the big screen in a whole new way."
The Lion King features an all-star cast including Donald Glover as Simba, Beyoncé Knowles-Carter as Nala, Billy Eichner as Timon, Seth Rogen as Pumbaa, and Chiwetel Ejiofor as Scar, with the legendary James Earl Jones returning as Mufasa.
Tickets go on sale today at 9am PT (noon ET) and The Lion King roars into cinemas July 19th.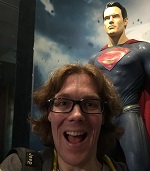 Chris is a lifelong fan of Disney, Star Wars and super heroes who can't quite believe this golden age of movies and TV we're living in. Having written blogs dedicated to Disney's Aladdin musical and Star Wars Celebration, Chris is excited to be part of the MNN team.