'Shang-Chi': Ludi Lin, Ross Butler, and Donnie Yen on Shortlist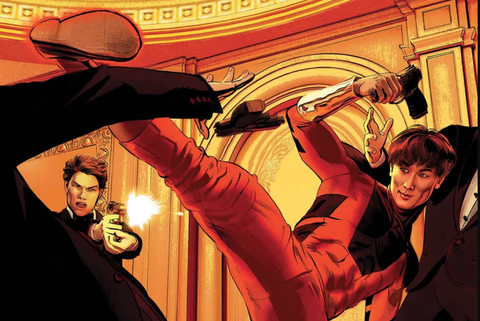 Marvel's Shang-Chi is getting started on the search for the roles of the film's titular superhero and what may be the antagonist of the film. Currently, the studio is looking at three names for the two roles.
According to That Hashtag Show, Marvel are interested in hiring Ludi Lin (Power Rangers, Aquaman) or Ross Butler (13 Reasons Why, Shazam!) for the title role. Both actors in the running for the role have Chinese heritage, which matches with the character's background in the comics. Marvel are likely aiming to respect this aspect of the character (rather than hiring any Asian actor for the role) not just for the purposes of staying true to the source material, but because such a prospect could allow the film's box office to ascend to new heights in the Chinese market. As of right now, the studio has not met with Lin or Butler, but they are said to be interested in doing so soon, since filming reportedly begins late this year (in early November, according to THS's newest report).
The other role of interest is one that's apparently looking at Donnie Yen, who has had a history with working alongside Disney with 2016's Rogue One: A Star Wars Story and 2020's live-action remake of Mulan. Marvel are said to be interested into bringing the actor from the realms of Star Wars and live-action remakes of animated Disney movies into their franchise. Yen is an absolute superstar in China and Hong Kong especially, and his involvement with the project would likely serve as a huge win for Marvel if he signs on. The role he's believed to be sought for is a character described as an elderly statesman; fans have theorized that this may be the Mandarin. The Iron Man villain is a character subject to an abundance of speculation about how he will fill the role that the character formerly known as Fu Manchu filled out in the comics, since that character's copyright status is a mess and the character is seen as an offensive stereotype.
As it stands, the movie is still very early on in the creative process. Official news is likely to get out in the next few weeks as Marvel prepares one of their biggest presentations ever, although the real question seems to be if the new details arrive first at Hall H or through the trades.
Shang-Chi is in development at Marvel Studios. No release date has been scheduled, and it's expected that there will be no announcements for future Marvel Cinematic Universe dates until the San Diego Comic Con or Disney D23. It is speculated that the film may be reserved for Marvel's February 12, 2021 release date, which would coincide with the Chinese New Year.

Grant Davis is a freelance writer who has covered entertainment news for more than four years. His articles have frequently appeared in Star Wars News Net as well as as other entertainment-related websites. As someone who grew up on Star Wars and comic book movies, he's completely thrilled with the current era of genre entertainment.