New Details Surface on 'Hellboy' Production Drama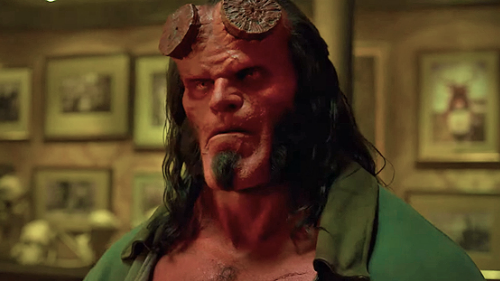 When Lionsgate's Hellboy reboot released last month, it was immediately scorned and derided by critics. The film scored a measly 11% on Rotten Tomatoes, leading many fans to wonder what exactly had happened.
Well, it seems that the production was actually a bit of a mess, with cast and crew alike clashing with each other. TheWrap reports that director Neil Marshall did not get on well with some of the producers at all, and there were arguments over rehearsals and star David Harbour.
Things began to turn hellish when the producers decided to fire Marshall's cinematographer Sam McCurdy. Marshall and McCurdy have a longstanding working relationship, and worked together on Game of Thrones' first ever battle episode, Blackwater. Insiders claim that McCurdy was fired simply for doing what director Marshall asked of him, and after that Marshall fell out with two producers in particular, out of a total 16.
It has been alleged that McCurdy's firing was a political move, a way for producers Lawrence Gordon and Lloyd Levin to let Marshall know that despite the fact he was director, he was ultimately not the one in charge. Of course, Levin's attorney has denied the story and stated that 'While my client will not comment on why Sam McCurdy was fired as that is a private matter, be advised that it was a group decision and it had absolutely nothing whatsoever to do with Mr. Levin supposedly sending any kind of 'message' to Neil Marshall.'
Levin's attorney also accused Marshall of 'encouraging' the alleged story, which in fairness also seems possible as a story like that helps absolve Marshall of any blame placed at his door for Hellboy's failure. Marshall, for his part, has respectfully refused to comment, as has Lawrence Gordon.
This wasn't the only issue during production, however. The film's script was constantly being rewritten during filming and David Harbour reportedly walked off set several times after refusing to do the extra takes that Marshall was demanding. There was even a debate over the design of a particular tree during filming. Marshall allegedly wanted the tree to be asymmetrical, while Gordon wanted it to be symmetrical. Initially Gordon won and the tree was symmetrical during filming, though the tree was later made asymmetrical in post-production.
While these issues help shed further light on why the film flopped, it doesn't provide an excuse and it's always a shame to see beloved properties like Hellboy be ruined by political infighting and squabbling. Ultimately, it's the fans who suffer the most.