Movies Coming Out This Week: 'Pokémon: Detective Pikachu'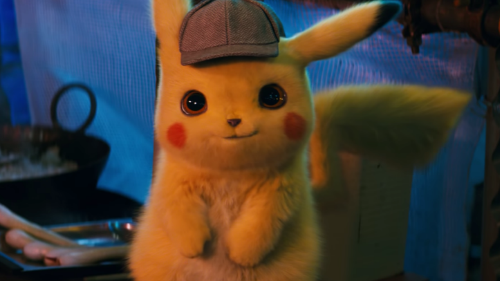 With Marvel's Avengers: Endgame entering its third week in theaters, another popular franchise may just try to take that top spot on the box office charts: Pokémon! The new Detective Pikachu movie is currently trailing Endgame in box office weekend projections, but some outlets are suggesting that the electric fuzzball is not to be underestimated.
Pokémon: Detective Pikachu
Detective Pikachu may not be the first Pokémon movie released in theaters, but it is the first live-action film for the popular franchise. Fans like myself might have have been initially apprehensive about the movie's premise – since the narrative doesn't seem to follow the traditional story found in the Pokémon video games – but I believe mostly everyone has warmed up to this movie following its two great trailers. Detective Pikachu is technically being adapted from a video game of the same name, and though I've personally never played it, the concept is so fun and unique that I can't help but commend the filmmakers for attempting to try something "original" for the first American Pokémon film.
I was also originally worried about who was involved with production of this film. Director Rob Letterman is best known for directing Shark Tale, Monsters vs. Aliens, Gulliver's Travels, and Goosebumps. And Dereck Connelly (one of the four credited screenwriters) has recently been involved with writing Jurassic World, Monster Trucks, Kong: Skull Island, Pacific Rim Uprising, and Jurassic World: Fallen Kingdom. The reception of these movies vary quite a bit, so I was concerned about how Detective Pikachu may turn out. However, the film has been gaining some positive buzz. Detective Pikachu currently holds a 71% approval rating on Rotten Tomatoes, making it one of (if not the) best reviewed live-action video game adaptations to hit theaters. That's quite an impressive feat, and it makes me wonder if video game films will finally make a come up.
Pokémon: Detective Pikachu stars Ryan Reynolds as the voice of the titular role, along with Justice Smith, Kathryn Newton, Ken Watanabe and Bill Nighy as human characters.
Synopsis:
When detective Harry Goodman goes missing, his 21-year-old son Tim, teams up with the adorable super-sleuth, Detective Pikachu, to find out what happened.
The Hustle
In 2016, MGM announced that it was developing a female-led remake of Dirty Rotten Scoundrels – which itself was a remake of Bedtime Story. Jac Schaeffer, who is best known for creating TiMER and aiding in writing Captain Marvel, wrote the screenplay for the film. The Hustle will serve as comedian Chris Addison's feature-film directorial debut, as the writer/actor has only previously directed several episodes of Veep. The film was initially scheduled for a Summer 2018 release, but is finally getting its theatrical run this weekend.
Rebel Wilson and Anne Hathaway both star as the leading con-women.
Synopsis:
Two female scam artists – one low on rent and the other high class – who team up to take down the dirty rotten men who have wronged them.
Tolkien
Fox Searchlight have had plans on developing a film based on the life of author J. R. R. Tolkien since 2013. David Gleeson was tapped to pen the script, but no real headway was made until Dome Karukoski was hired to direct the film in 2017. Karukoski is a very popular and successful Finnish filmmaker, as he has directed several blockbusters in his own home country. Karukoski even seems quite enthusiastic about the subject matter in Tolkien, going so far as to admit that he once dreamed of adapting Lord of the Rings himself. However, the Tolkien estate has recently stated that the family does not endorse the film or its content. Even though the film will focus on Tolkien's early life, it's unclear as to how accurate the story may end up being. That being said, historical accuracy does not inherently make for a good film.
Tolkien stars Nicholas Hoult in the lead role, along with Lily Collins, Colm Meaney, and Derek Jacobi.
Synopsis:
As a young student, J.R.R. Tolkien finds love, friendship, and the artistic inspiration to write the classic fantasy novels The Hobbit and The Lord of the Rings.
Limited Theatrical Releases/Streaming Releases
Wine Country
A comedy about a group of friends who visit California's Wine Country to celebrate a fiftieth birthday. The film is directed by Amy Poehler, who will also star in the movie alongside Maya Rudolph, Rachel Dratch, Ana Gasteyer, Paula Pell, Emily Spivey, Jason Schwartzman, and Tina Fey.
The Professor and the Madman
A biographical drama based on the lives of Sir James Murray and W.C. Minor, who both aided in the creation of the Oxford English Dictionary. It stars Mel Gibson, Sean Penn, and Natalie Dormer.
Charlie Says
A biographical drama about a graduate student who visits three female followers of the notorious killer Charles Manson. The film stars Hanna Murray and Matt Smith, and is directed by Mary Harron – who is probably best known for directing American Psycho.
All is True
A drama directed by and starring Kenneth Branagh, which tells the story of when William Shakespeare returned home to Stratford with his wife after the Globe Theatre had burned down in 1613 during a performance of Henry VIII. The film also stars Judi Dench and Ian McKellen.
Poms
A comedy dance film about a woman who moves into a retirement community and starts a cheerleading squad with her fellow residents. The film stars Diane Keaton, Jacki Weaver, Pam Grier, Celia Weston, and Rhea Perlman.
Pasolini
A drama helmed by Abel Ferrara which chronicles the final days of controversial Italian film director Pier Paolo Pasolini. The film originally debuted in 2014 to compete for the Golden Lion at the 71st Venice International Film Festival, but is currently getting a limited theatrical run for American audiences.
Redcon-1
An action horror film about a massive zombie outbreak, where the zombies have an unconventional ability of fighting back using weapons.
Just Say Goodbye
A teenage drama about someone who is contemplating suicide, and how his best friend takes it upon herself to try to stop him.
Which movies are you looking forward to? Do you think Pokémon: Detective Pikachu stands a chance at dethroning the monstrous box office juggernaut that is Avengers: Endgame? Let us know in the comments section.