Marvel May Have Plans to Continue the Netflix Shows on Hulu, But it Will Be a While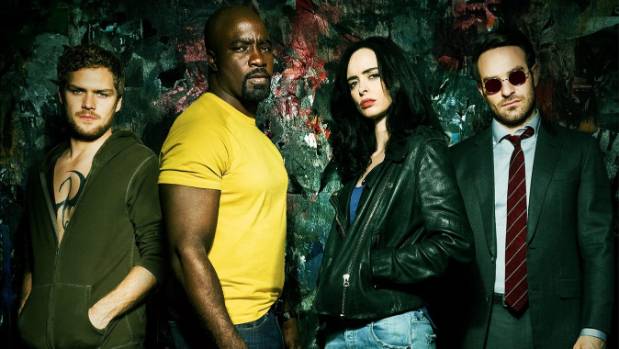 It seems as though fans should keep hope alive for official continuations of Netflix's Marvel series, because lawyers have indicated that Disney may be planning something with the Defenders characters and their shows. Unfortunately, those same lawyers are also cautioning Disney to not do anything with the shows just yet, which means that any revival will be a long ways off.
IndieWire reiterates what a previous report had stated: Marvel TV will have to wait a while before they can use the characters utilized in the Netflix shows in anything else. While the initial word was that it was a two-year wait, IndieWire adds that Marvel can't even think about developing content for Hulu with the Defenders characters until those two years are up, because if they try, then Netflix's lawyers are ready to apply pressure to Marvel. In other words, that's likely a three-year wait between the cancellation of Marvel's Netflix shows until new episodes could be released, presuming that reviving the shows were top priorities for Marvel TV.
With that in mind, it seems as though there could be a place for these shows to continue once the right amount of time has passed, as Hulu is looking to be the home of five adult animated non-MCU series and two MCU-connected horror series (with a third on the way, and possibly more). Both Luke Cage and Iron Fist ended with situations that weren't fully resolved, while Daredevil and The Punisher had conclusions that didn't feel like definitive endings for their respective series, and The Defenders seems like a concept that would be worth revisiting.
Jessica Jones seems to be the odd name out on the list of possible revivals, if rumors are correct, as the show was intended to conclude with its third season even before Netflix started handing out cancellations. Even so, it's likely that the show would migrate to Hulu, along with the other titles, in order to get that entire library in one place. Plus, the characters of that show would likely return in one of the other shows.
As Disney are looking to become a major player in the streaming business, it seems as though they're willing to spend big on developing new Marvel content to keep eyes on Hulu and to put eyes on Disney+ starting this November. The fans of these shows have been outspoken, and it seems like they'd be willing to keep going with these stories after all legal concerns are dealt with.
For now, you can catch every single episode of Daredevil, Luke Cage, Iron Fist, The Defenders, The Punisher, and the first two seasons of Jessica Jones on Netflix. The final collaboration between Marvel and Netflix, Jessica Jones Season 3, will arrive sometime in the Summer.

Grant Davis is a freelance writer who has covered entertainment news for more than seven years. His articles have frequently appeared in Star Wars News Net as well as as other entertainment-related websites. As someone who grew up on Star Wars and comic book movies, he's completely thrilled with the current era of genre entertainment.