UPDATE! 'The Suicide Squad' Casts Polka-Dot Man and is Closing in on Ratcatcher Actress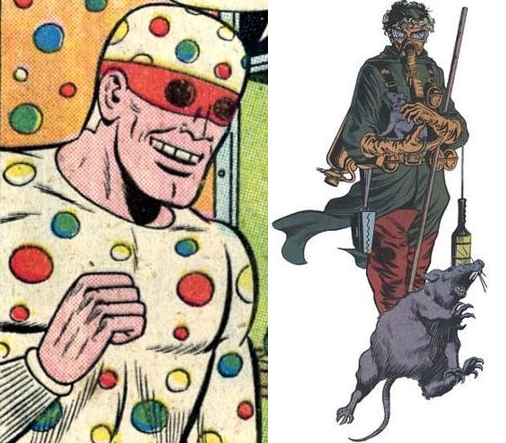 The Suicide Squad has found its Polka-Dot Man in David Dastmalchian, and may be close to finding an actress to play Ratcatcher.
The Hollywood Reporter has learned that Dastmalchian, who is known for his supporting role in the Ant-Man movies as an associate of the title superhero, will be joining the ranks of the Suicide Squad in their second outing, playing Abner Krill/Polka-Dot Man. Krill has the most unusual power of this version of the team: growing polka-dots on his skin that can transform into weapons. Naturally, he finds these powers embarrassing, though useful nonetheless.
In addition, GeeksWorldWide has uncovered a wish-list of actresses for another part: a gender-swapped version of Otis Flannegan/Ratcatcher. Flannegan can control an army of rodents, and her past experiences as an exterminator come in handy, as she makes use of poison gases as well. Flannegan is said to potentially serve as a surrogate daughter to the character that will be portrayed by Idris Elba, which some fans speculate may be Bronze Tiger. The current wish-list for the role, which is looking for an actress of Latinx descent, includes Isabella Moner and Daniela Melchior. (UPDATE! Variety reports that Melchior is indeed likely to get the part.)
One other character that's been cast so far is the Peacemaker, who will be portrayed by John Cena. Currently, DC are looking to cast an actor to portray King Shark, who will be the last major newcomer to the team in this movie. There will be plenty of other antagonists to cast as well, as it sounds like the anti-hero team will end up going against some kind of team of supervillains.
Returning from the first Suicide Squad are Margot Robbie as Harley Quinn, Viola Davis as Amanda Waller, Jai Courtney as Captain Boomerang, and Joel Kinnaman as Rick Flag. Will Smith was set to return as Deadshot, but couldn't make it due to scheduling conflicts; his role in the story was replaced by Elba's character, whose inclusion leaves the door open for Smith to return to the DC setting down the road.
One more thing… James Gunn recently took to Instagram to share his Suicide Squad comic collection (noting that he was a longtime fan of the source material), confirming that his take on the franchise will be heavily inspired by the John Ostrander run:
The Suicide Squad is set to release on August 6, 2021.

Grant Davis is a freelance writer who has covered entertainment news for more than four years. His articles have frequently appeared in Star Wars News Net as well as as other entertainment-related websites. As someone who grew up on Star Wars and comic book movies, he's completely thrilled with the current era of genre entertainment.