'Halo' TV Series Casts Pablo Schreiber as Master Chief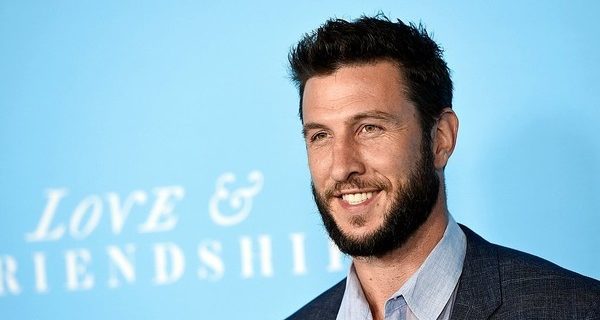 The Halo TV series in production at Showtime has taken a big step forward by casting its lead role.
Pablo Schreiber has been chosen to play Master Chief, the armored super-soldier who takes center stage in the video games. The actor, known for his roles as Pornstache in Orange is the New Black and the King of Luck in American Gods, might not have been at the top of many fan casting lists, but perhaps that's a good thing.
Back when Halo was being developed into a Hollywood blockbuster, a few rumors had Kiefer Sutherland playing the man in Mjolnir armour, but that would have risked distracting audiences from the character himself. A lesser-known actor seems like the best way to go here. Though the discussion might be all for nothing anyway, as it's still unclear whether or not we'll actually get to see his face under Chief's helmet.
The Master Chief's real face has never been revealed in the games, but it's not realistic to have your main character in a TV series wear a helmet and never show his face. It's an old rule in TV and film that audiences find it easier to relate to a main character when they can see their face instead of a mask. Plus, actors tend to prefer not having their faces obscured as it makes them more recognizable (that's why no main characters wear helmets in Game of Thrones fight scenes).
It also seems as though Showtime will be deviating from the plot of the video games, though how much is uncertain. Australian teenager Yerin Ha will be playing Quan Ah, a 'shrewd, audacious 16-year old from the Outer Colonies who meets Master Chief at a fateful time for them both.' No such character exists in the source material, so it's not clear if Showtime are simply unconcerned with making a faithful adaption of the source material, or if this is just a new story in the universe.
The dynamic between the two characters should be interesting. It's easy to a Logan-esque relationship develop between them both, but as a child from the Outer Colonies, Quan will likely see Master Chief as the enemy. The Chief fights for the United Nations Space Command (UNSC), the governmental organisation that oversees Earth's military operations in space. The UNSC have struggled to maintain control of the Outer Colonies for some time, with the humans living there wanting to separate themselves from Earth altogether. A bitter civil war breaks out between the UNSC and Insurrectionists, and continues well after the Covenant first attacked humanity.
Things will probably be quite tense between Quan and Chief, though you'd imagine that will soften as their bond inevitably grows stronger throughout the series. This is indicative of Showtime's statement on Halo, which they say will 'weave deeply drawn personal stories with action, adventure and a richly imagined vision of the future'.
The show will film in Budapest at the end of the year, and will loosely follow the plot set out in the games. Kyle Killen (Awake) and Steven Kane (The Last Ship) will serve as co-showrunners and executive producers on the show. Darryl Frank and Justin Halvey will also executive produce for Amblin Television in partnership with 343 Industries, the current custodians of the Halo franchise.
Kane apparently joined the series after Killen wanted a second-in-command to help with production. The TV show has had some troubles since being announced in 2014, as Rupert Wyatt (The Escapist, Rise of the Planet of the Apes) was originally hired to direct a number of episodes and executive produce, but had to depart due to scheduling conflicts. He has been replaced by Otto Bathurst (Black Mirror), and as a result, the episode count for the first season of Halo has been reduced from ten episodes to nine.
For more updates on the Halo TV series, stay tuned to Movie News Net.