RUMOR: Marvel Possibly Developing a 'Namor' Movie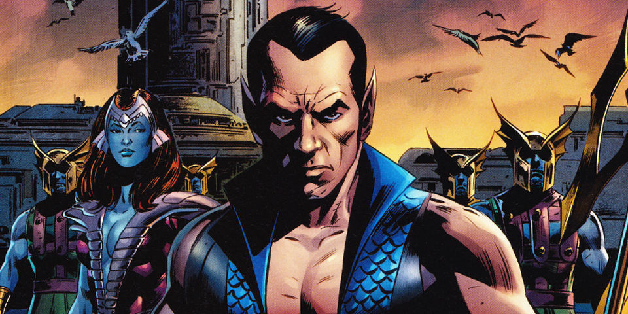 After the ludicrous levels of success that Warner Bros. and DC's Aquaman reached, it only feels like a matter of time before Marvel present their own answer to the situation. Depending on where the tea leaves fall, Namor may be appearing in the Marvel Cinematic Universe very soon, although it's not clear if he'll be getting his own movie or if he'll play a major role in another character's story.
The rights for Namor McKenzie have been… Complicated, to say the least. Universal bought the license to use the character ages ago, but they ultimately did not use them. However, unlike with most other rights associated with characters that Marvel licensed out, but reverted back to the company after a period of inactivity, Namor is still somehow in a state of apparent limbo at Universal. It's believed that Marvel can use him in crossover movies, but not allow him to head his own franchise (a situation that also applies to the Hulk). Also, if Marvel ultimately do have approval to use the Sub-Mariner himself, then Disney's Fox acquisition means that they can identify him as being not only an Atlantean, but a Mutant as well.
From the sound of things, it seems like Namor has a future at Marvel Studios, as the company is rumored to have worked out something with Universal to make sure that there are no legal issues with using him. Insider Charles Murphy looked into things behind-the-scenes, but he was never able to definitively confirm anything in time for his retirement from the scoop game. So he instead opted to share what he knew about the Sub-Mariner and his potential future within the MCU:
I will tell you this even though I know it'll get misinterpreted and twisted and I'll get slammed for "being wrong."
About 3-4 months ago, Namor rumors started coming my way from several different sources. Rumors that Disney was scouting locations to use for Atlantis.

— Charles Murphy (@_CharlesMurphy) April 6, 2019
The speculative comic market can sometimes be a predictor of upcoming films. Other times it's just people guessing.

— Charles Murphy (@_CharlesMurphy) April 6, 2019
I figured since I'll never finish the job on Namor, I'd share what I knew and see if anyone else can find out anything.

— Charles Murphy (@_CharlesMurphy) April 6, 2019
Not that long ago, Doctor Strange director Scott Derrickson shared a cryptic image of Namor fighting the Sorcerer Supreme, leading to some speculation that the Sub-Mariner may be appearing in the as-of-yet untitled Doctor Strange 2. The image was quickly taken down, but that didn't stop the speculation train from chugging along as people screengrabbed what he posted:
? Deleted tweet from
Mr. Scott Derrickson

? If you can get your mind together

Then come across to me
We'll hold hands an' then we'll watch the sun rise

From the bottom of the sea

But first

Are You Experienced? ?

–Jimi Hendrix Experience

…Namor…Holy Shit?! Namor! pic.twitter.com/wgyit8fTU0

— SuperheroPOLL! Plus+ (@SuperheroPOLL) March 13, 2019
One other insider chipped in to Murphy's conversation and suggested that he had heard that Namor might not be getting his own solo film just yet, but the studio wants to use the character in an unexpected capacity: as an antagonist to an established character in their own movie.
Nice! This is why sharing is good.

— Charles Murphy (@_CharlesMurphy) April 6, 2019
Right now, it's looking likely that Namor appearing in Doctor Strange 2 is the most likely scenario, between Derrickson's tease and the character apparently being part of another character's movie. The other option is Black Panther 2, but it seems a bit early to show a full-scale war between Atlantis and Wakanda. Either way, one of Marvel's oldest superheroes is definitely a character that is long overdue for a big screen appearance, and who better to give him the red carpet treatment than Marvel Studios?!
As of right now, we do not officially know if there is a Namor film in development. Until then, you can wait around for news on Aquaman 2, which will hit theaters in 2022.

Grant Davis is a freelance writer who has covered entertainment news for more than four years. His articles have frequently appeared in Star Wars News Net as well as as other entertainment-related websites. As someone who grew up on Star Wars and comic book movies, he's completely thrilled with the current era of genre entertainment.