Will Smith Tells the Tale of 'Aladdin' in New TV Spot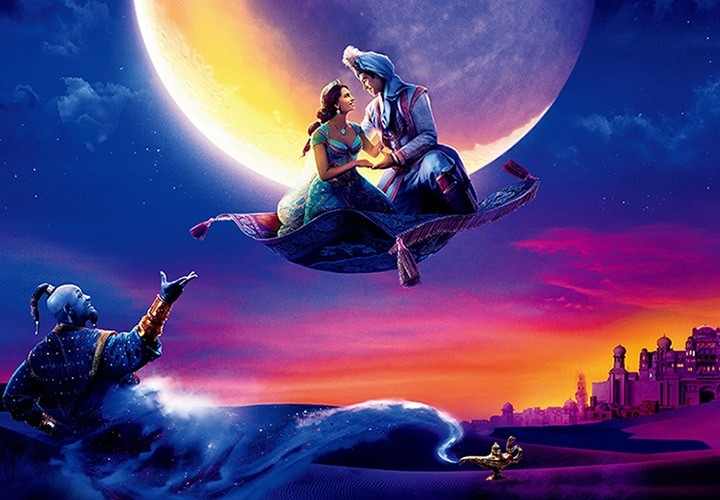 "It's time that I told you the story of Aladdin, the princess, and the lamp." Disney's next live action reimagining gets a new TV spot with Will Smith narrating the classic tale of the Diamond in the Rough.

Smith's opening narration of the new teaser could be seen as a small nod to the late, great Robin Williams, who, in addition voicing the Genie also provided the voice for the peddler at the start of the film (as, trade secret, they're the same character). It's currently unknown if the narrator in Guy Ritchie's reimagining will be the Genie in his peddler appearance, or in his regular form, like in the stage adaptation.
The new TV Spot, "Within", doesn't reveal much that wasn't already shown in the full trailer last month. Even so, it does treat us to some vibrant new shots from "Friend Like Me" and "Prince Ali". Both look incredible, but "Friend Like Me" especially looks to be shaping up to be a visual delight.
Perhaps most intriguingly, in a montage of shots that includes glimpses of Jasmine's tiger Rajah swiping at Iago, and a blink and you'll miss it shot of Abu clinging to the magic carpet in what appears to be the escape from the Cave of Wonders, we get a better look at Aladdin and Jasmine flying together on carpet. Only this image isn't from "A Whole New World", it looks to be from the film's action climax. We got a very brief glimpse of the subsequent shot of carpet being chased by Iago in the full trailer but couldn't make out who was flying. This time, we don't see Iago, but we can clearly see Aladdin and Jasmine riding the magic carpet. Clearly, Guy Ritchie is planning a much more action packed finale for Aladdin, and one where Jasmine plays a key role instead of being trapped inside an hourglass.
Aladdin begins granting wishes May 24, 2019.