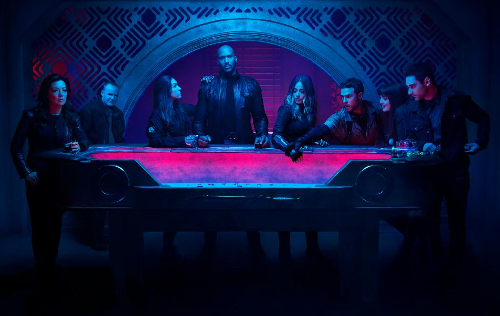 Since Marvel's Agents of S.H.I.E.L.D. was renewed, fans have been left to wonder about a lot of things, ranging from whether or not Thanos's snap would affect the cast and crew to who the new character who looks like Phil Coulson (but isn't) is. The dedicated panel at WonderCon provides some hints at answers, along with some new questions that fans hadn't thought to think up until now.
The entirety of "Missing Pieces", the season premiere, was shown at the panel, revealing that the show won't concern itself with the timeline of Avengers: Infinity War and Avengers: Endgame by skipping forward a year after the events of the latter film. Probably not that surprising, given that the show didn't just reunite its cast again for only half of them to be needed, but it's worth noting considering that Thanos was name-dropped multiple times, and the last episode's final scene was hours before the snap happened. There's one key difference about the world before and after Endgame, though, and it's that S.H.I.E.L.D. is back in full force, operating in public once again.
People worried about other Endgame spoilers should have nothing to worry about, from the sound of things, as the story doesn't focus on who lived or died in the films, but the offscreen demise of exceptional S.H.I.E.L.D. agent Phil Coulson. Even though his most famous character is dead, actor Clark Gregg will not be absent from the show, as a mysterious new figure with Coulson's likeness has appeared. And although this new individual has not heard of S.H.I.E.L.D., he initially appears to be on their side, packing what appears to be alien weaponry in his arsenal. ABC released a short, out-of-context clip of the character's rescue of Melinda May from two unidentified assailants:
"S.H.I.E.L.D.? Never heard of it." Get a jaw-dropping look at @clarkgregg's new role on Marvel's #AgentsofSHIELD! pic.twitter.com/CMV3PCe84s

— Marvel's Agents of S.H.I.E.L.D. (@AgentsofSHIELD) March 30, 2019
Attendees at the panel got to watch a full episode. Apparently, half of the team stays on Earth to deal with some extradimensional threat, while the other half goes into space to recover Fitz's cryogenically frozen body. Early reactions indicate that the visual effects for the show are at an all-time best, which only makes sense considering that with fewer episodes, they have more budget to make the show itself look better. It helps that the budget for the show seems to be higher than it was for the last season, in spite of there being fewer episodes. Oh, and the episode is dedicated to the late Stan Lee.
Two of the cast members told audiences to tune in at ABC starting on May 10, although they weren't sure about the time the series would be airing:
Thanks for joining us today! Ready to see more of our agents May 10 when Marvel's #AgentsofSHIELD Season 6 premieres on ABC! pic.twitter.com/GD5FBfXUWk

— Marvel's Agents of S.H.I.E.L.D. (@AgentsofSHIELD) March 31, 2019
One last thing to note is that, in spite of Clark Gregg's previous hints to the contrary, Season 7 does not seem to be the end to the series. Marvel TV Executive Vice President Jeph Loeb told a fan that they're not worried about the show ending next year:
BOOM: Loeb confirms that #AgentsOfSHIELD Season 7 isn't being eyed as the final season. #WonderCon pic.twitter.com/xCruna2lH0

— Andy Behbakht @WonderCon (@AndyBehbakht) March 30, 2019
Jeph Loeb on the series ending next season: "We're not ending. Stop it." #Age #AgentsOfSHIELD #WonderCon

— Shawn Madden @ Home In His Bed Not WonderCon (@neddamnwahs) March 30, 2019
You can watch the whole Agents of S.H.I.E.L.D. panel below:
Agents of S.H.I.E.L.D. Season 6 will air on ABC starting May 2019. The show has also been renewed for a Season 7, which does not yet have a release window.

Grant Davis is a freelance writer who has covered entertainment news for more than four years. His articles have frequently appeared in Star Wars News Net as well as as other entertainment-related websites. As someone who grew up on Star Wars and comic book movies, he's completely thrilled with the current era of genre entertainment.