'Godzilla: King of the Monsters' TV Spot Shows Titans in Flight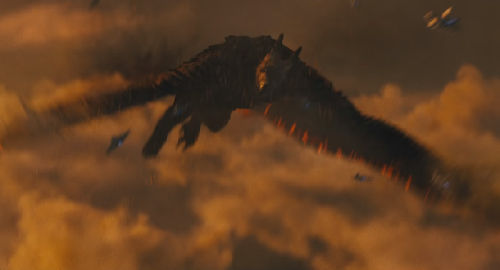 A new television ad for Godzilla: King of the Monsters has arrived, showcasing various Titans (including Rodan, Mothra, and King Ghidorah) in flight to a haunting instrumental rendition of "Somewhere Over the Rainbow".
The first half of the new TV spot emphasizes the many other monsters in the movie while emphasizing that Godzilla is humanity's only hope of survival. The TV spot also hints at the addition of two other Titans, one of which causes a mountain to collapse upon itself after burrowing beneath it, and the other of which attacks an oil field in the desert. Meanwhile, the second half focuses on the Big G himself and how lucky humanity is to have him as their ally.
With all the hype going toward Avengers: Endgame right now, I think that people are really sleeping on this one. It looks absolutely stunning, and more than a worthy sequel to the first film as the MonsterVerse franchise continues to grow. Hopefully, King of the Monsters will end up being a monster hit, so that this franchise can continue past Godzilla vs. Kong next year.
The film's synopsis is as follows:
Following the global success of Godzilla and Kong: Skull Island comes the next chapter in Warner Bros. Pictures' and Legendary Pictures' cinematic MonsterVerse, an epic action adventure that pits Godzilla against some of the most popular monsters in pop culture history. The new story follows the heroic efforts of the crypto-zoological agency Monarch as its members face off against a battery of god-sized monsters, including the mighty Godzilla, who collides with Mothra, Rodan, and his ultimate nemesis, the three-headed King Ghidorah. When these ancient super-species – thought to be mere myths – rise again, they all vie for supremacy, leaving humanity's very existence hanging in the balance.
Godzilla: King of the Monsters is directed by Michael Dougherty and roars into theaters on May 31, 2019.

Grant Davis is a freelance writer who has covered entertainment news for more than four years. His articles have frequently appeared in Star Wars News Net as well as as other entertainment-related websites. As someone who grew up on Star Wars and comic book movies, he's completely thrilled with the current era of genre entertainment.