'Army of the Dead': Dave Bautista May Star in Netflix Zombie Movie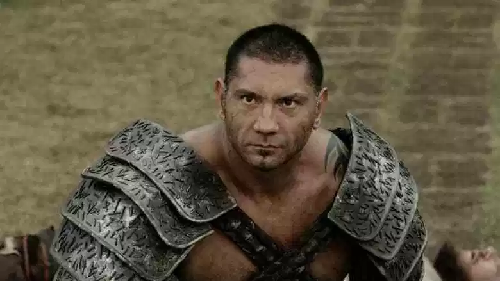 Dave Bautista is set to star in Zack Snyder's Netflix film Army of the Dead, according to some new production updates.
Bautista recently shared some information that he would be involved in an upcoming Zack Snyder project, and not too long after that, it's been seemingly confirmed by Production Weekly that the project in question is the recently-announced Army of the Dead. Other roles in the film have not been cast at this time. Despite Snyder's involvement as a director of the James Gunn-written remake of Dawn of the Dead, Army of the Dead is not at all related to that movie. Involving a world where a zombie outbreak was quarantined to the city of Las Vegas, a crew of badasses infiltrate the city in order to pull off an ambitious heist. Filming on Army is set to begin on July 15.
Bautista, meanwhile, has a lot on his plate in the near future if everything pans out just right. He's filmed scenes as Drax the Destroyer for a supporting role in Avengers: Endgame, which is kept entirely under-wraps as is the case of all of Thanos's victims. He's already completed work on Fox's Stuber, an action-comedy set to hit this Summer, where he portrays a hardboiled detective that gets a hapless Uber driver named Stu involved in a manhunt with an international terrorist. He's set to reunite with Denis Villenueve for Dune after working with him on Blade Runner 2049. James Gunn has him in mind for a specific role in The Suicide Squad. He's one of the actors on the shortlist for a potential role in Dungeons and Dragons. And he may or may not return as Drax for one last role on his contract with Guardians of the Galaxy Vol. 3, which is set for a 2022 release window, but that depends entirely on whether or not he's still mad about Gunn's firing, or if he's content with Gunn finding work elsewhere as long as the third Guardians outing sticks to his script as much as it can.
The movie's premise is as follows:
"The adventure [of Army of the Dead] is set amid a zombie outbreak in Las Vegas, during which a man assembles a group of mercenaries to take the ultimate gamble, venturing into the quarantined zone to pull off the greatest heist ever attempted."
Army of the Dead is in development at Netflix, and it does not currently have a release date.

Grant Davis is a freelance writer who has covered entertainment news for more than four years. His articles have frequently appeared in Star Wars News Net as well as as other entertainment-related websites. As someone who grew up on Star Wars and comic book movies, he's completely thrilled with the current era of genre entertainment.