Movies Coming Out This Week: 'Wonder Park'

Though Captain Marvel will probably retain strong numbers at the box office during it's second week in theaters, audiences can still get the chance to check out a handful of new movies this week; one of which includes the animated kids movie, Wonder Park.
Wonder Park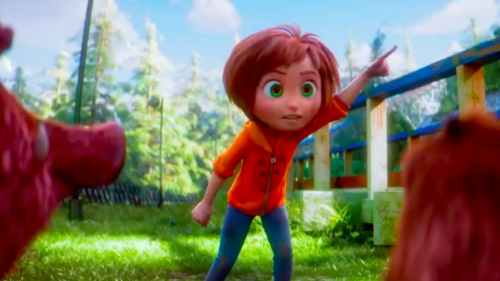 Wonder Park is an animated adventure film produced by Paramount and Nickelodeon. Though the movie has yet to be released, Nickelodeon already announced pans on a television series based on the film. Wonder Park marks the third animated film from Nickelodeon to spawn an animated series – the first two being Jimmy Neutron: Boy Genius and Barnyard. Though I personally have no interest in seeing this movie based on the target demographic, I would never underestimate how successful an animated movie can be at the box office. With that being said, Wonder Park may still face some stiff competition since How to Train Your Dragon: The Hidden World and The Lego Movie 2: The Second Part are still playing in theaters, and both films were very positively received.
Wonder Park stars the voice talents of Matthew Broderick, Jennifer Garner, Kenan Thompson, Ken Jeong, Mila Kunis, John Oliver, and David Cross.
Synopsis:
A creative young girl named June is running through the woods one day when she suddenly finds herself in Wonderland, an amusement park she had created in her imagination a long time ago. All of the rides and characters that she had imagined are brought to life, but they are falling into disarray without her. Now, June will have to put the wonder back in Wonderland before it is lost forever.
Five Feet Apart
A romantic drama directed by Justin Baldoni, who is best known for starring in the TV sitcom Jane the Virgin. Though Baldoni has had some experience with being behind the camera, Five Feet Apart seems to be his first feature-length narrative film. The script was written by Mikki Daughtry and Tobias Iaconis, the duo who also penned the screenplay for the upcoming horror film, The Curse of La Llorona. Five Feet Apart stars Cole Sprouse of The Suite Life of Zack and Cody and Riverdale fame, along with Haley Lu Richardson from The Edge of Seventeen and Split.
Synopsis:
Stella Grant is a typical seventeen-year-old girl, but she spends much of her time living in a hospital as a cystic fibrosis patient. Though her life is full of boundaries and self-control, Stella can't help her attraction to a fellow CF patient named Will Newman. Restrictions dictate that the two must maintain a safe distance between themselves, but as their connection intensifies, so does the temptation to throw those rules out of the window. However, Will complicates the situation by refusing to take his ongoing medical treatment. Can Stella save the person she is falling for when even a single touch is off limits?
Nancy Drew and the Hidden Staircase
A teen mystery film directed by Katt Shea, based on the book of the same name. The Hidden Staircase is the latest adaptation of Carolyne Keene's Nancy Drew novels, and the second adaptation of The Hidden Staircase story since 1939. Produced by Ellen DeGeneres, and with a screenplay by Nina Fiore and John Herrera, Nancy Drew and the Hidden Staircase stars Sophia Lillis from It and HBO's Sharp Objects.
Synopsis:
After the death of his wife, Carson Drew decides to leave Chicago behind and make a fresh start with his daughter in River Heights. But for 16-year-old Nancy Drew, life in a small town is mighty dull. Longing for excitement, adventure, and the chance to make a difference, Nancy gets decides to help solve the mysterious ghostly activity that has been occurring at the Twin Elms mansion. Nancy Drew is on the case!
Limited Theatrical Releases/Streaming Releases
The Aftermath
A postwar drama starring Keira Knightley, Alexander Skarsgård, and Jason Clarke. The film follows a woman named Rachael Morgan as she develops intimate feelings for a German widower that her husband allowed to live with them. Directed by James Kent – who is best known for helming TV movies/documentaries/mini-series – the film is written by Joe Shrapnel and Anna Waterhouse, based on the novel of the same name by Rhidian Brook.
Captive State
A science fiction crime thriller from Rupert Wyatt, the director of Rise of the Planet of the Apes. Set in Chicago, the film follows a group of people who have lived in a neighborhood that has been under extra-terrestrial occupation for a decade. The film stars John Goodman, Ashton Sanders, Machine Gun Kelly, and Vera Farmiga.
The Mustang
An American-French-Belgian drama film, directed by Laure de Clermont-Tonnerre, that follows a convict who participates in a state-mandated social rehabilitation program that involves selective wild horse training. The film stars Matthias Schoenaerts, Jason Mitchell, and Bruce Dern.
The Highwaymen
A crime film written by John Fusco, starring Kevin Costner and Woody Harrelson as two Texas Rangers who attempt to track down and apprehend the notorious criminals Bonnie and Clyde. The film is directed by John Lee Hancock, who previously helmed acclaimed movies such as The Founder, Saving Mr. Banks, and The Blind Side. The film will get a theatrical run this week, and receive a Netflix release on March 29.
Finding Steve McQueen
A heist thriller directed by Mark Steven Johnson, the writer/director behind movies like Daredevil and Ghost Rider. The film tells the story of a gang of thieves who attempted to steal $30 million in illegal campaign contributions from President Richard Nixon's secret fund, prompting the biggest manhunt in FBI history. The movie stars Travis Filmmel of Vikings fame, Rachael Taylor of Jessica Jones fame, as well as Forest Whitaker and William Fichtner.
Starfish
A sci-fi drama which follows a mysterious signal that triggers the end of the world. Aubrey Parker tries to uncover the secrets of this signal once she finds a cassette tape labelled 'THIS MIXTAPE WILL SAVE THE WORLD'. From first-time writer/ director A.T. White, Starfish currently sits at a 100% fresh rating on Rotten Tomatoes based off of only 10 reviews.
The Hummingbird Project
A Canadian-Belgium drama thriller written and directed by Kim Nguyen. Starring Jesse Eisenberg, Alexander Skarsgård, and Salma Hayek, the movie follows players in a high-stakes game of High-Frequency Trading, who attempt to build a straight fiber-optic cable line between Kansas and New Jersey in order to make millions of dollars.
Hurricane
The story of a group of brave Polish pilots during World War II known as Squadron 303. The film stars Iwan Rheon, best known for his portrayal of Ramsay Bolton from Game of Thrones.
Iceman
In 1991, scientists uncovered a frozen body in the The Ötztal Alps. Originally thought to be a hiker, the body was later revealed to be over 5,300 years old. Iceman attempts to tell the story of how this Neolithic man once lived.
Faith, Hope & Love
A romantic comedy that follows a recent divorcee as she enters a dance contest in a desperate attempt to save her dance studio. Through her dance partner, she discovers a new perspective on life, love, and faith, Produced, written, and directed by Robert Krantz.
Chimera Strain
A science fiction thriller about a genius but mentally unbalanced scientist who tries to save his terminally-ill children by freezing them alive and working on genetic modifications that could potentially give them the regenerative abilities of the "immortal" Turritopsis jellyfish.
The Sex Trip
Originally made back in 2017, The Sex Trip is getting a limited release this week. The movie tells the story of a lothario with a self-help book on how to bed women, who is then cursed and turned into a woman himself. Through this strange turn of events, he discovers new revelations about sex, love, and inner beauty.
Which movies are you looking forward to? Do you plan on seeing any new movies this week, or are you going back to watch Captain Marvel again? Let us know in the comments section.