The cast and crew of Game of Thrones have spoken out about the show's eighth season, teasing fans about what to expect in the final six episodes.
The final season is hotly anticipated. Game of Thrones is one of the few TV shows out there that is still considered an event, and the people behind the scenes promise that it won't disappoint. "The fans will not be let down," promised David Nutter, one of the directors for the final season, in an interview with Entertainment Weekly (EW). "There are a lot of firsts in these episodes. There's the funniest sequence I've ever shot, and there's one scene where there's so many [major characters] together it feels like you're watching a superhero movie."
Nutter is listed as the director of three episodes, half of the season's runtime, while showrunners Dan Weiss and David Benioff directed the final episode. 'When something has been sitting with you for so long, you have such a specific sense of the way each moment should play and feel,' Weiss explained. 'Not just in terms of 'this shot or that shot,' though sometimes it's that as well. So it's not really fair to ask somebody else to get that right. We'd be lurking over their shoulder every take driving them crazy making it hard for them to do their job. If we're going to drive anybody crazy it might as well be ourselves.'
EW revealed that one of Nutter's episodes was an intimate 'calm before the storm'. This is presumably the episode before the season's big battle episode, which will see our Westerosi heroes finally face off against the Night King and his White Walkers in a decisive battle.
This battle episode will be one of two directed by Game of Thrones action sequence expert Miguel Sapochnik, who was also responsible for Season 5's epic ninth episode, 'Hardhome', and Season 6's legendary 'Battle of the Bastards'. EW report that fan favorites Jon Snow, Daenerys Targaryen, Tyrion Lannister, Arya Stark, Sansa Stark and Brienne of Tarth among others will be fighting for their lives against the White Walkers. The battle is apparently the longest consecutive battle sequence ever committed to film, bringing together the largest number of major characters together since the show's pilot episode.
Bryan Cogman, co-executive producer, echoes David Nutter's thoughts on the upcoming season:
"What we have asked the production team and crew to do this year has never been done in television or in a movie. This final face off between the Army of the Dead and the army of the living is completely unprecedented and relentless and a mixture of genres even within the battle. There are sequences built within sequences built within sequences. David and Dan [wrote] an amazing puzzle and Miguel came in and took it apart and put it together again. It's been exhausting but I think it will blow everyone away."
Cogman's words teasing a mixture of genres within the battle are backed up by the new trailer, which sees Maisie Williams (Arya Stark) running in terror through the halls of Winterfell in footage very reminiscent of a horror/thriller movie.
Maisie Williams shared her own experience of filming the battle episode. "I skip the battle every year, which is bizzare since Arya's been training the most," she commented. "This is my first taste of it. And I've been thrown in at the deep end." Apparently Sapochnik phoned Williams a year before filming began, warning her to "Start training now… because this is going to be really hard."
It wasn't until filming began that Williams realized how right he was. "But nothing can prepare you for how physically draining it is," she claimed. "It's night after night, again and again, and it just doesn't stop. You can't get sick, and you have to look out for yourself because there's so much to do that nobody else can do… there are moments you're just broken as a human and just want to cry."
Maisie wasn't the only one feeling the strain during filming. Iain Glen (Ser Jorah Mormont), echoed her feelings. "It was the most unpleasant experience I've ever had on [Game of Thrones]," he revealed. "A real test, really miserable. You get to sleep at 7 in the morning and when you wake in the midday you're still so spent you can't really do anything, and then you're back. You have no life outside of it. You have an absolutely fucked bunch of actors. But without getting too method [acting] about it, on screen it really bleeds through to the reality of the Game of Thrones world."
Rory McCann (Sandor "The Hound" Clegane), agreed. "Everybody prays they never have to do this again." But the crew it had it worse. "I heard the crew was getting 40,000 steps a day on their pedometers," said Liam Cunningham, (Davos Seaworth). "They're the fucking heroes."
Miguel Sapochnik did a lot of research for the episode. Knowing it was going to be an incredibly long battle sequence, he tried to find a longer sequence in cinema history and failed. The only one that came close was the 40-minute "Battle of Helm's Deep" sequence in Lord of the Rings: The Two Towers, so we know that the battle will at least be longer than that. Sapochnik really wanted to figure out at what point the audience would grow tired of all the constant fighting on screen. "It feels like the only way to really approach it properly is take every sequence and ask yourself: 'Why would I keep watching?' One thing I found is the less action – the less fighting – you can have in a sequence, the better."
One of the director's other strategies was to constantly remind the actors what their character was fighting for and how they were feeling in between scenes when their character was off-screen. "We may not have seen Sam for 10 minutes," explains John Bradley (Samwell Tarly). "But something has happened to Sam in those 10 minutes – you've been fighting, you've been running, or you've been hiding. How has your story developed. You have to hold in your mind what's happened since we saw you last."
McCann elaborated on his interactions with the director. "You're in the middle of a battle and Miguel comes up and goes, 'Why are you here?' Why am I here? It gets me thinking. Then he'll go to another actor and go, 'What are you fighting for?"' Glen adds, "Everybody is fighting for a personal reason and Miguel tries to imbue every moment in that."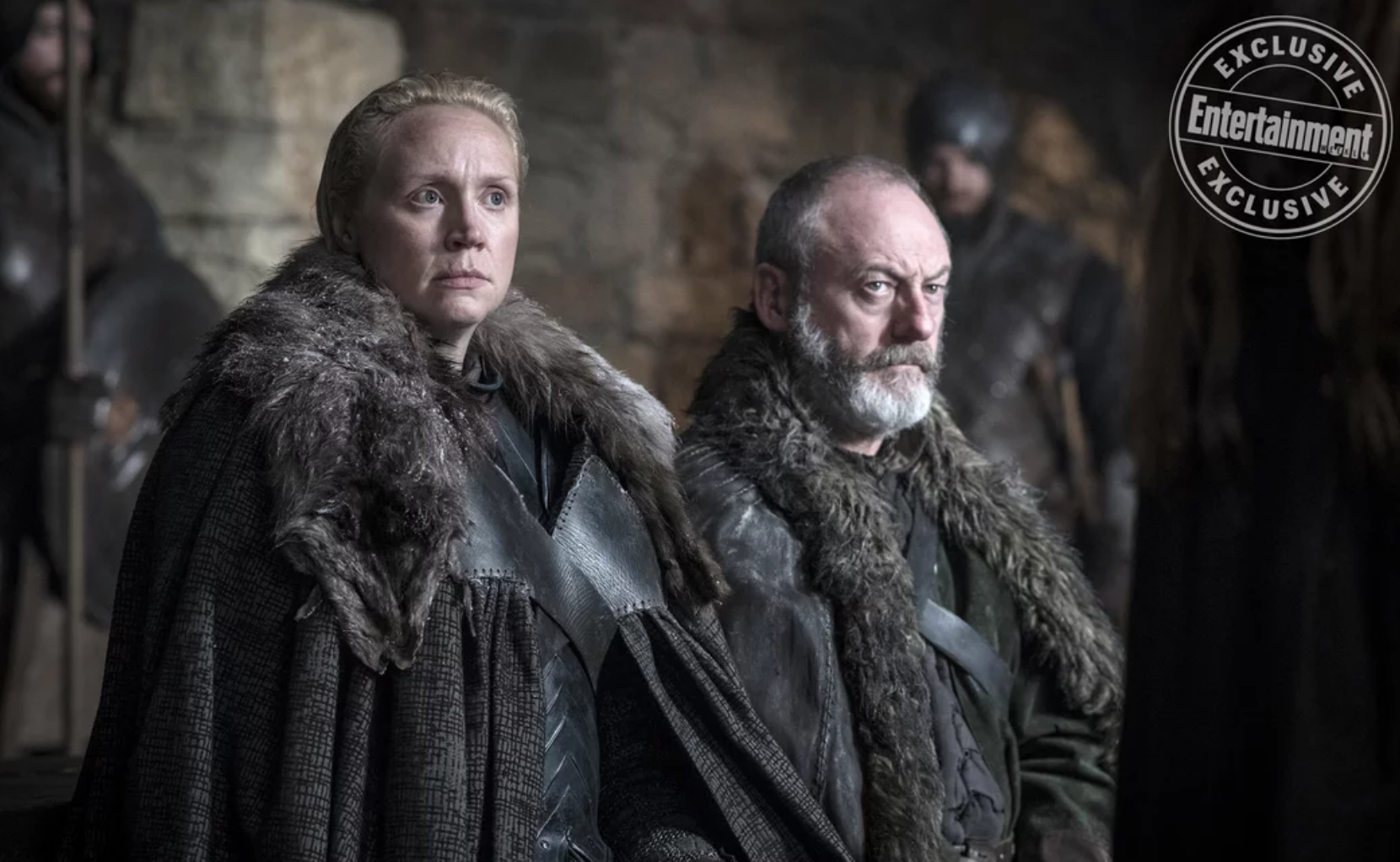 Miguel Sapochnik's approach to filming changed during production. Originally, the schedule would be easier by breaking up filming into short, specific shots that would require a smaller cast and crew at one time.
"We built this massive new part of Winterfell and originally thought, 'We'll film this part here and this part there,' and basically broke it down into so many pieces it would be shot like a Marvel movie, with never any flow or improvisation. Even on Star Wars, they build certain parts of the set and then add in huge elements of green screen. And that makes sense. There's an efficiency to that. But I turned to the producers and said, 'I don't want to do 11 weeks of night shoots and no one else does. But if we don't we're going to lose what makes Game of Thrones cool and that is that it feels real."
Benioff agreed, revealing that the long shooting scheduled was nicknamed 'The Long Night', a name that will be very familiar to anyone who knows the lore of Game of Thrones.
The Long Night didn't affect anyone's attention to detail. One journalist on-set remarked that Sam looked like a badass, which prompted Cogman to turn to the crew: "You hear what he just said? That's the problem. Sam isn't supposed to look like a badass." John Bradley quickly adjusted his performance to look more scared and startled as he came face-to-face with a White Walker. "When doing these fight sequences, you get carried away sometimes," he explained. "You want to make yourself look as good as possible. Miguel said to me, 'I know you want to show you're quite good at this. But remember your character. Sam's not that good at this. You have to play him because that's what's going to be truthful. So stop being so good!'"
Executive Producer Bernadette Caulfield remarked that "If Miguel lives through it, this will be the hardest thing he's ever done… the hardest thing all of us have ever done." The cast and crew now own jackets with the words "We survived The Long Night". A less permanent mark of the experience than when the Lord of the Rings cast got tattoos to mark the end of their time together, but a touching reminder all the same. "The hard work pays off on this show," said Maisie. "After one of those really tough days, you know it's going to be part of something so iconic and it will look amazing."
The cast and crew's hyping of this "completely unprecedented" final battle might disappoint those fans who want Game of Thrones to return its focus to the political intrigue around the fight for the Iron Throne, rather than a classic fantasy fight between humans and ice liches with an army of zombies.
There's no reason to give up hope, though. It would seem that the season's big battle episode is not the final one that will end the show, as the final episode is still shrouded in secrecy. It's likely that by the time we reach the final episode, the Night King will have already been vanquished. Once that is done, there will still be one final question remaining; who will sit on the Iron Throne?
Dan Weiss is well aware that the quality of that answer will be judged to the highest standards.
"We want people to love it. It matters a lot to us. We've spent 11 years doing this. We also know no matter what we do, even if it's the optimal version, that a certain number of people will hate the best of all possible versions. There is no version where everybody says, 'I have to admit, I agree with every other person on the planet that this is the perfect way to do this' — that's an impossible reality that doesn't exist. I'm hoping for the Breaking Bad [finale] argument where it's like, 'Is that an A or an A+?'"
"From the beginning we've talked about how the show would end," Benioff added. "A good story isn't a good story if you have a bad ending. Of course we worry."
When the finale airs on May 19, fans will be able to see whether Weiss and Benioff had cause to worry after all. But whatever the reaction, there can be no doubt that these people put their hearts and souls into making the last Game of Thrones episodes some of the best that anyone has ever seen.
Game of Thrones will begin its final season starting on April 14, 2019.
Josh is a huge a fan of Star Wars, superheroes and video games. He spends most of his time wondering who would win in a fight between Boba Fett and Star Lord.