Rumors on 'The Eternals' Suggest the Movie Will Have Marvel's First Openly-Gay Lead Actor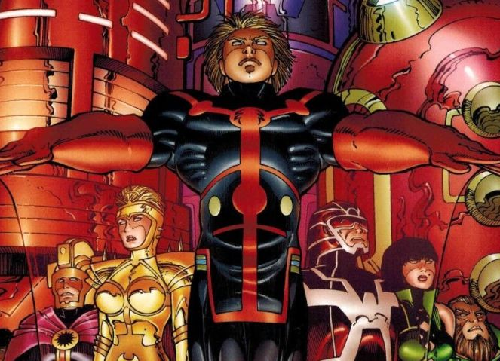 New rumors for The Eternals have arrived as the project gets closer to starting production, with one suggesting that Marvel Studios is looking for an openly-gay actor for a major role.
That Hashtag Show has issued a new report revealing the progress of casting for The Eternals. It's been said that director Chloe Zhao has a favorite in mind for the role of Ikaris, one of the lead characters in the movie. There's also a role that both Cameron Britton and Tomasz Kot have been considered for a role requiring an intimidating presence, although no offer has been made for either actor just yet. But the most interesting part of the report is that director Chloe Zhao is looking for someone aged 30-49 to portray one of these characters – and that she would like to cast a an openly-gay actor in the role. As of right now, no actor has been selected for this role.
Such a move would not be too surprising. Spider-Man: Far From Home already has an LGBT presence in the form of transgender actor Zach Barack in a supporting role. While this move may end up seeing resistance in certain markets, where homosexuality and related ideas about sexuality are looked down upon, the sheer power of Marvel movies at the box office make it seem like these markets will likely have little choice but to relent for the sake of their film industries.
Right now, it's not clear if the actor's sexuality is a trait that may be shared with the character, but it's worth noting that Hercules, a character suggested to be a part of this movie's ensemble, has been implied to be bisexual within the Marvel Comics Universe (as he explicitly is in Greek and Roman Mythology). So if Marvel is looking to hire a gay actor to represent a character who is gay or bisexual, then Hercules could be that character.
The Eternals is currently in development at Marvel Studios and is currently without a release date. Production is expected to begin in September and conclude in January of next year.

Grant Davis is a freelance writer who has covered entertainment news for more than four years. His articles have frequently appeared in Star Wars News Net as well as as other entertainment-related websites. As someone who grew up on Star Wars and comic book movies, he's completely thrilled with the current era of genre entertainment.