Marvel and Netflix's 'Jessica Jones' and 'The Punisher' Cancelled; Could They Continue at Hulu?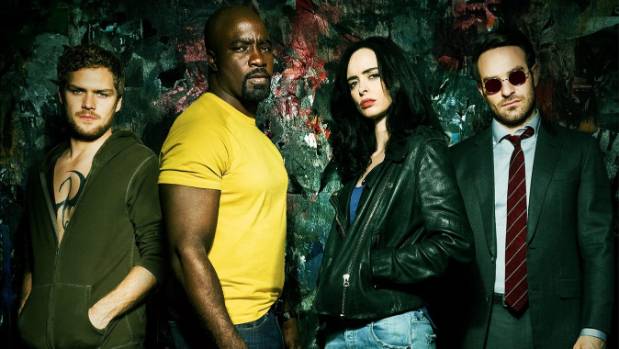 Marvel and Netflix are officially calling it quits with the sadly-predictable cancellations of The Punisher and Jessica Jones, with the third season of the latter still to air on the platform.
Back in August 2017, Marvel did their first (and only) major Netflix crossover with The Defenders, a show that would curiously not get renewed for another season, even though it was never officially cancelled either. Fans found that detail rather suspicious, but what I've dubbed "Netflix's Marvel Massacre" officially began over a year later in October 2018, with the cancellation of Iron Fist. That move was considered unsurprising due to the show being widely-considered as the runt of the litter, even though many had seen the show's second season as a marked improvement over the first. People started to get suspicious when it was announced that Luke Cage was also being axed on the same day that the third season of Daredevil premiered, even with the official reason being given was that the showrunner and Marvel themselves had creative differences over the direction the series would take.
By the time that Daredevil was cancelled after coming off of an incredibly-well-reviewed third season, people realized exactly what was going on: the partnership between Netflix and Marvel was coming to an end in the wake of Disney's own entrance into the streaming field. Netflix needed popular IP from companies like to get eyes on their streaming service when the partnership was first announced in 2013, but now that it's got plenty of its own IP and has secured other deals to develop, it appears that they'd rather spend their money on that instead. As of today, it looks like Netflix's Marvel Massacre is complete as of today, with Deadline reporting that the streaming giant has elected to cancel both The Punisher and Jessica Jones in one fell swoop. It should be noted that the third season of Jessica Jones is still going to see the light of day on the platform, with Disney CEO Bob Iger previously mentioning that the show is expected to arrive in Summer 2019. Punisher actor Jon Bernthal confirmed the news through his Instagram, thanking the fans for supporting his role from Daredevil Season 2 to The Punisher Season 2:
And Netflix themselves issued the following statement regarding their partnership with Marvel:
"We are grateful to Marvel for five years of our fruitful partnership and thank the passionate fans who have followed these series from the beginning."
There's a misconception worth dispelling here as well: Marvel and Disney were not the ones to cancel these shows. Those calls have all of been on Netflix. That distinction is worth making, as the executive vice president of Marvel Television (Jeph Loeb) has indicated that the show might not be over just yet for these characters at the end of his own letter thanking Netflix for their partnership:
"Our Network partner may have decided they no longer want to continue telling the tales of these great characters… but you know Marvel better than that. As Matthew Murdock's Dad once said, 'The measure of a man is not how he gets knocked to the mat, it's how he gets back up.' To be continued…!"
The clear hint here is that Marvel themselves have an interest in taking these shows forward, with new seasons likely being developed for Hulu if they are revived. While it remains to be seen if development on future Marvel TV content will fall closer in line with what Marvel Studios are developing going forward, as previously rumored, one thing that's clear is that Hulu's representatives are open to the idea. Disney+ will not get this content due to that service being an extension of Disney's family-friendly image, while Hulu does not have an image like that attached to it and will be the go-to place for any TV-MA or R-rated content.
One issue that would keep these shows from continuing on a different streaming service is that there are apparently exclusivity contracts with Netflix that state that the characters can't appear anywhere else until two years after their shows are cancelled, but as of right now, Marvel seem to be treating those as a non-issue. It will likely be a while before future seasons of these shows are even greenlit, but even if Marvel wants to start earlier, they can always renegotiate the terms of the contract to get these shows on their platform that much sooner. Either way, expect big things to come out of Marvel as the battle for streaming supremacy commences.
All seasons of Daredevil, Luke Cage, Iron Fist, The Defenders, and The Punisher are available to stream on Netflix right now. The first two seasons of Jessica Jones are also available to stream right now, and the third will arrive on Netflix sometime in Summer 2019.

Grant Davis is a freelance writer who has covered entertainment news for more than four years. His articles have frequently appeared in Star Wars News Net as well as as other entertainment-related websites. As someone who grew up on Star Wars and comic book movies, he's completely thrilled with the current era of genre entertainment.